January 4, 2017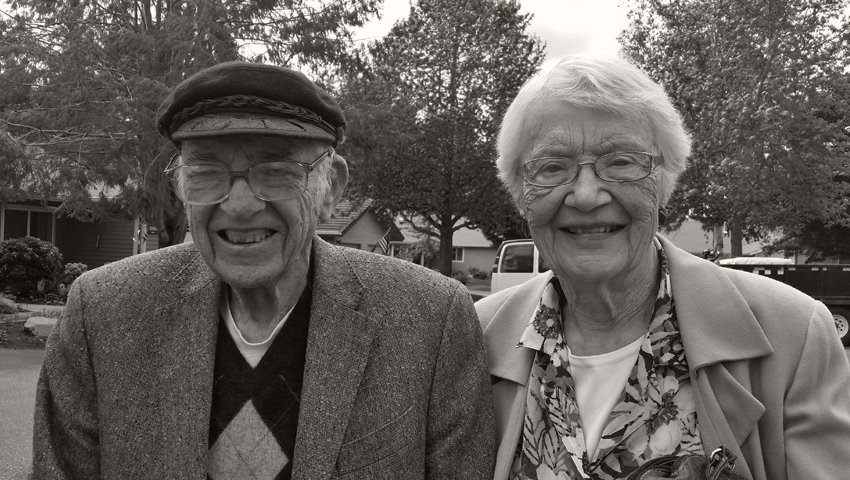 ME Alumnus Frank Alberti and his wife Reta.
In August, three students traveled to Lacey, Washington, to present their Engineering Innovation in Health (EIH) projects to Frank Alberti, '44.
Alberti, who spent his career enhancing safety through forensic engineering, passed away on September 30, 2016. He was 99 years old.
A longtime friend of the department, Alberti had recently made a major commitment to support ME's advancements in engineering and health.
EIH is one example of the department's expansion in this area. A yearlong program in which students partner with engineering faculty and medical professionals to develop working, cost-effective solutions to today's pressing clinical challenges, EIH prepares the next generation of engineers in medical device development and innovation. The program hosts a symposium each spring, at which student teams present their designs and prototypes. Alberti had hoped to attend last spring's showcase but was unable to do so.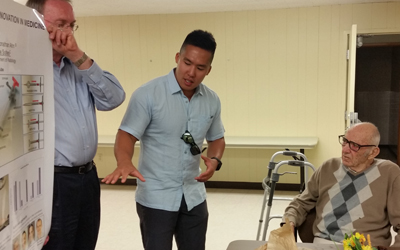 Professor John Kramlich and ME student John Ahn present EIH research to Frank Alberti.
To show gratitude for his contributions to engineering and health research, ME professor John Kramlich, ME students John Ahn and Jessica Zistatsis, and rehabilitation science major Elizabeth Halsne took three of this year's EIH projects on the road to share with Alberti and his wife, Reta. The projects included a support harness for parastomal hernia, an improved gastronomy tube device and PlayGait, a therapeutic exoskeleton for pediatric rehabilitation.
Shortly after the students' visit, Alberti wrote that his own experiences in receiving care had persuaded him of "a need for support of engineers who would focus on health care issues, especially for the elderly." In response to the EIH student presentations, he said, "Let the good work continue."