Student engineering societies COE Office of Diversity & Access University resources
The best things we do as mechanical engineers, we do as a team and as a community. We value the perspectives and contributions that each unique individual, including women, ethnic and racial minorities, LGBTQ+, differently-abled, veterans and underserved individuals, can bring to our discipline.

There are deeply rooted, systemic challenges and discriminations faced by people who are underrepresented in engineering. The UW department of mechanical engineering is committed to recruiting, welcoming and supporting a diverse and multi-faceted population of undergraduates, graduate students, faculty and staff. Our department strives to attract talented engineers from all cultures, distinctions and identities, and create an environment where everyone can excel. This effort takes place both within our department and through partnering with many other organizations at the university (see examples below, particularly the links to College of Engineering programs and groups).
With a curriculum focused on the ways humans, machines and systems can solve society's problems and build a better future, the department also recognizes the structural ties between social, economic and environmental justice, and the key role of engineers in building healthy systems rather than reinforcing faulty ones. We expect everyone in the department to adhere to the codes of ethics defined by ABET and the Order of the Engineer, to follow the diversity and inclusion guiding principles stated by ASME, and to reflect the core values set across the UW. Beyond that, we also need to hold ourselves to be accountable, recognize our imperfections as individuals and a community, and make ongoing improvements to make the most inclusive and welcoming department possible.
Unequivocally, there is no place for sexism, racism or other bias in the ME department. If you do experience bias, witness bias in action or know of anyone facing these issues, please speak up and help the department be accountable. Report the events to trusted professors, contact the department chair and student advisers, or take advantage of the resources offered by UW such as SafeCampus and College of Engineering's Bias Incident, Bias Concern, Non-Discrimination and Sexual Harassment Resources.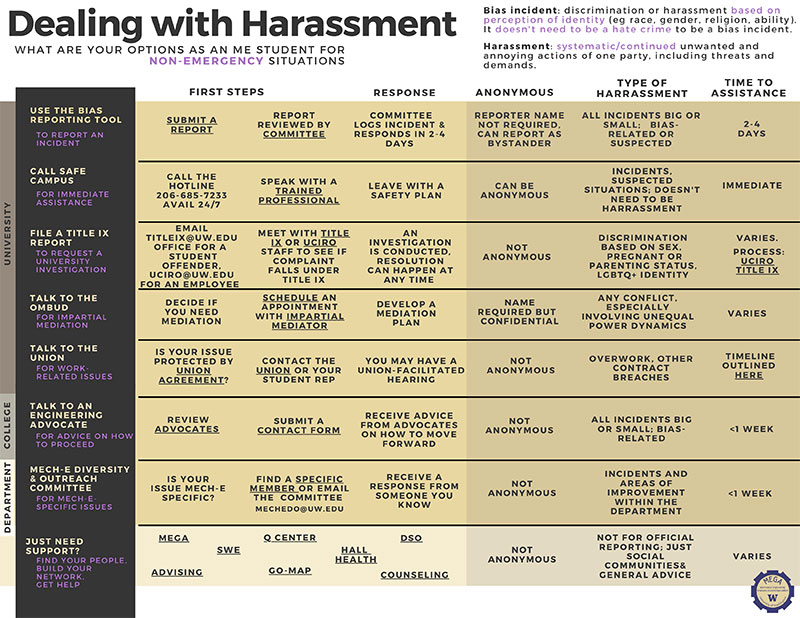 The ME Graduate Student Association (MEGA) has created a guide to help you understand and navigate possible options for dealing with any incidents of harassment or bias as an ME student.
Mechanical Engineering Diversity & Outreach Committee
ME's Diversity & Outreach Committee is focused on developing and implementing ideas for improving the support for and recruitment of undergraduates, graduates, postdocs, faculty and staff of all backgrounds, and in particular those who are from underrepresented groups in the field of mechanical engineering. You're welcome to email our entire committee or reach out to one of the representatives below if you have questions, suggestions or concerns.
Faculty representative: Nate Sniadecki
Staff representative: Kendra Burdett
Graduate student representative (MEGA): Lynda Brady
Undergraduate student representative (ASME): Julia Tanner
Student engineering societies
Engineering students can find opportunities for community and support within an array of organizations, including many that connect engineers from specific racial, cultural and diverse backgrounds.
College of Engineering Office of Diversity & Access
At the College of Engineering, the Office of Diversity & Access implements student-centered, effective outreach, recruitment and retention programming to increase student diversity and foster excellence.
The College of Engineering was recognized by the American Society for Engineering Education as one of the nation's leaders in inclusive excellence.
College of Engineering Commitment to Diversity »
College of Engineering Diversity Programs »
Bias Incident Reporting »
The College of the Engineering and the UW are committed to protecting the rights and dignity of each individual in the University community. If you encounter or suspect incidents of bias, we encourage you to fill out a report or contact an engineering advocate who can serve as a resource to support you.
University resources
A variety of programs and organizations on campus also provide social, cultural and academic support to all students.
Office of Minority Affairs and Diversity »
The Office of Minority Affairs and Diversity (OMAD) offers social, cultural, academic, and professional support. Their services include pre-college and recruitment, student services and retention, graduate and professional preparation, alumni and community resources, and diversity initiatives and committees.
Ethnic Cultural Center »
The Samuel E. Kelly Ethnic Cultural Center is an inclusive and affirming space that cultivates a transformative student experience. The center serves and empowers historically marginalized and underrepresented students by providing educational and cultural opportunities for holistic development.
Graduate Opportunities & Minority Achievement Program (GO-MAP) »
A program of the UW Graduate School to serve the needs of students of color and students from other underrepresented groups, while fostering an educational and social environment in which all students can learn and develop through experiences rich in cultural, ethnic, and racial diversity.
UW Disability Services »
Services for all students, staff and faculty with disabilities, including accommodation advice and support, assistive equipment, interpreters (sign language, oral and tactile), real-time captioning, coordination of disabled parking and transportation.
UW Diversity Minor Program »
The Diversity Minor Program to strengthen students' understandings of how race, class, gender, disability, ethnicity, nationality, sexuality, religion, and age interact to define identities and social relations.
UW Q Center »
A primarily student-run, brave, affirming and celebratory environment for students, faculty, staff and alumni of all sexual and gender orientation, identities and expressions.
UW Women's Center »
A vital place where women and men partner to build a culture of gender equity campus-wide, locally and globally. We provide educational programs, individualized services, skills training, research and community outreach.
UW Student Organizations »
A list of all UW Registered Student Organizations (RSOs) for the current school year.