March 2, 2017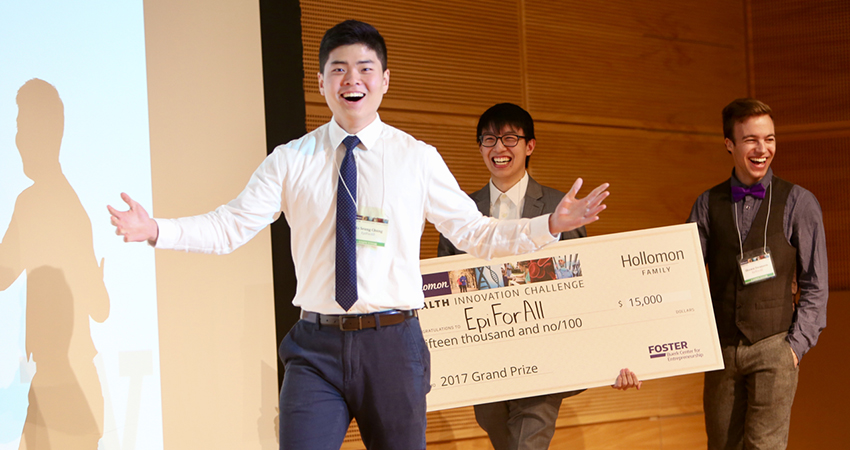 Photo credit: Matt Hagen / UW Buerk Center for Entrepreneurship
Congratulations to EpiForAll and PlayGait, two student teams that placed first and third in the 2017 Hollomon Health Innovation Challenge (HIC) hosted by the Foster School's Buerk Center for Entrepreneurship!
EpiForAll took home the $15,000 Hollomon Family grand prize. The team consists of ME, business and pharmacy students. This was their second year of competing with their affordable emergency epinephrine auto injector used to treat anaphylaxis, a potentially life-threatening allergic reaction.
The judges awarded PlayGait the $5,000 Fenwick & West third place prize. The team of ME and business students developed an adjustable, affordable, non-electric exoskeleton to support in-home walking practice for kids with neuromuscular disorders.
Two $1,000 "Judges Also Really Liked" (JARL) awards were handed out to ACBI and Quinton PHSH. ACBI has developed an automated continuous bladder irrigation process for urology patients post-surgery, and Quinton PHSH has created belt that provides stoma protection and abdominal wall support against herniation.
This year's HIC competition featured 20 student teams seeking to address problems in health, wellness and healthcare through innovation. EpiForAll, PlayGait, ACBI and Quinton PHSH all originated through ME's Engineering Innovation in Health program, as did another participating team, FistuSeal.