June 18, 2018
Image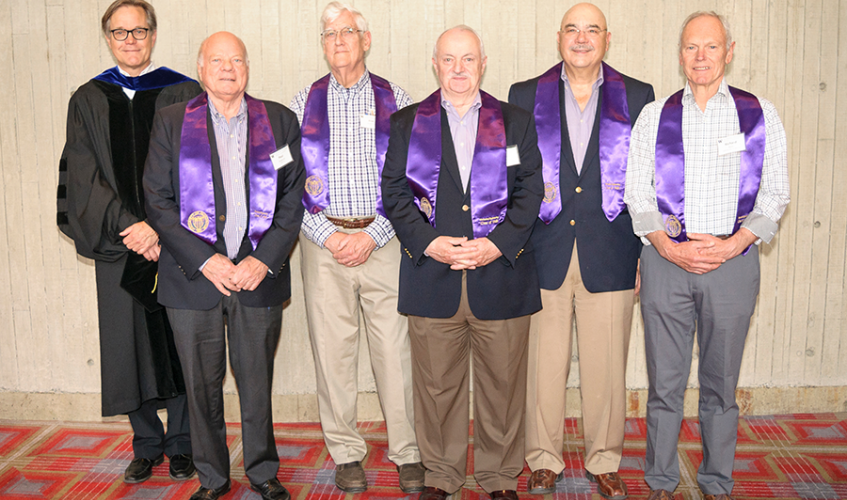 From left to right: ME Professor and Chair Per Reinhall, Paul Skoglund, Alan Anderson, Allen Israel, Kenneth Becker and Richard Bock.
Special thanks to the Mechanical Engineering Class of 1968 graduates who joined us at this year's graduation celebration! The following alumni were honored with a 50th reunion reception and recognized during ME's graduation ceremony; a hosted celebrant luncheon followed the festivities. These alumni served as engineers for a combined 200+ years, and utilized their ME degrees in fields as diverse as aviation and law.
Alan Anderson, BSME '68
Kenneth Becker, BSME '68
Richard Bock, BSME '68, BSIE '73, MBA '76
Allen Israel, BSME '68, MBA '71, JD '78
Paul Skoglund, BSME '68
For 2017-18, ME awarded nearly 135 bachelor's degrees, 115 master's and 15 doctoral degrees to graduating students.
This year's graduation address was delivered by Steve Chisholm, BSME '86. Chisholm is the Boeing Commercial Airplanes (BCA) Director of Structures Engineering and has been a member of ME's External Advisory Board since 2013. During that time he has worked to deepen the department's relationship with The Boeing Company by developing opportunities for Boeing engineers to collaborate with ME faculty and students.
For those interested in information about future 50th reunion gatherings and other ways to stay connected with ME, please contact Caitlin Karbula at caitlk2@uw.edu or Sue Brennan at suemb7@uw.edu.