By Lindsey Doermann and Chelsea Yates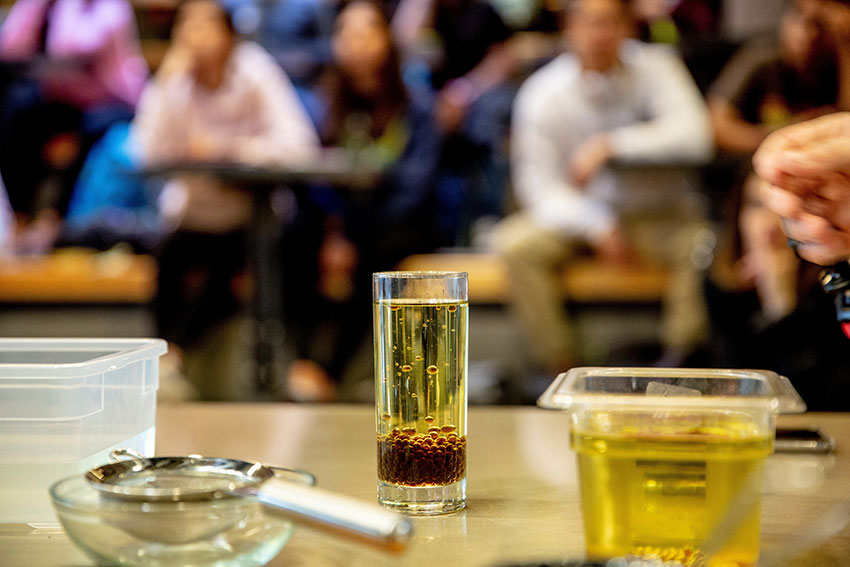 Cooking is an art and a science. And if you ask UW professors Lilo Pozzo and Nate Sniadecki, it's also the perfect window into a smorgasbord of engineering concepts.
Pozzo, a chemical engineering professor, and Sniadecki, of ME, have created a culinary-focused first-year course called Kitchen Engineering to introduce students to fundamental concepts across all of the engineering disciplines. As incoming UW students can now be accepted directly into the College of Engineering, this new class can help them make the best choice from their menu of engineering options.
"The kitchen is the first laboratory most of us are exposed to, and it's a great place to explore and introduce engineering concepts," Sniadecki says.
In a way, it levels the engineering playing field. Not everyone has access to a 3D printer or robotics club in high school, but nearly everyone is familiar with the kitchen.
Pozzo says that developing this course made her think about how cooking — a personal interest of hers — relates to more than just chemical engineering. Colloids, her research focus, show up everywhere in the kitchen in the form of foams (think: whipped cream), emulsions (think: mayonnaise), smoke and more. But chefs also need to know about the structure of muscle, as do bioengineers. And developing designs for stand mixers, microwaves, dishwashers and even efficient kitchen layouts are, at their core, engineering problems.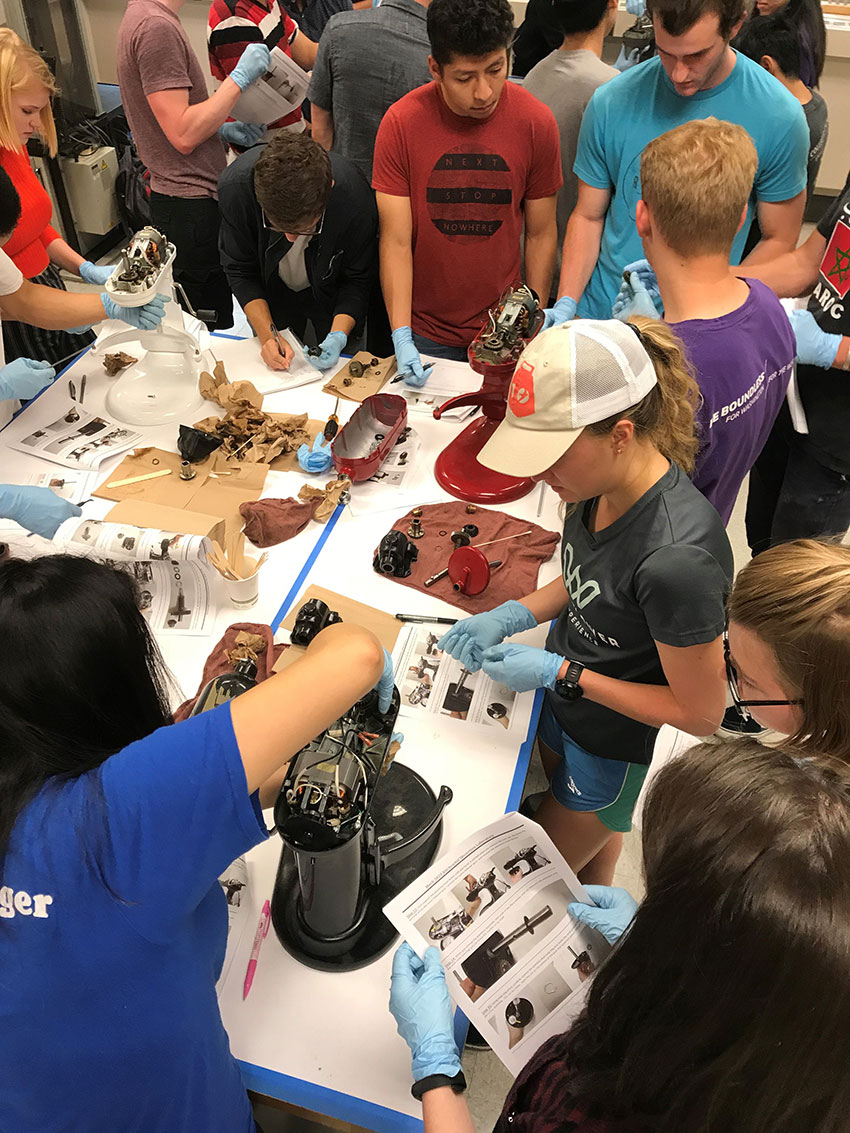 Sniadecki especially enjoys leading the class in a "Kitchenaid autopsy," during which students disassemble broken Kitchenaid mixers to investigate product design.
"A lot of students have experience using kitchen appliances like mixers, microwaves and dishwashers but know very little about their 'guts.' So we take them apart and see what's going on inside," he says.
Pozzo and Sniadecki collaborate with area chefs to present their lectures. The course is designed so that one class per week features cooking demonstrations, while the other dives deeper into the related engineering concepts. In the investigation of heat transfer, for example, chefs compare how cooking duck breasts differs by starting them skin up versus skin down. The results clearly show how the skin, when facing down first, insulates the meat and prevents it from overcooking. At the same time, the fat renders nicely and the skin crisps.
Outside of class, students must complete homework assignments in their own kitchens. For their final project, they're asked to propose a new kitchen device, technology or recipe based on topics covered throughout the quarter.
The professors won a Strategic Instruction Initiative award from the College of Engineering to develop Kitchen Engineering. The purpose of the award is to move the curriculum toward more project-based learning to engage first- and second-year students. They debuted the course in spring 2018 and are offering it again this spring.
"Food is a great way to build community," Sniadecki says. "We learn about others and other cultures through food — why not extend that into the first-year engineering student experience?"
Just imagine the outcome: college students who have a deeper sense of community along with their enthusiasm for engineering — and really know their way around a kitchen.
---
An earlier version of this story appeared on UW Chemical Engineering's website.