June 28, 2019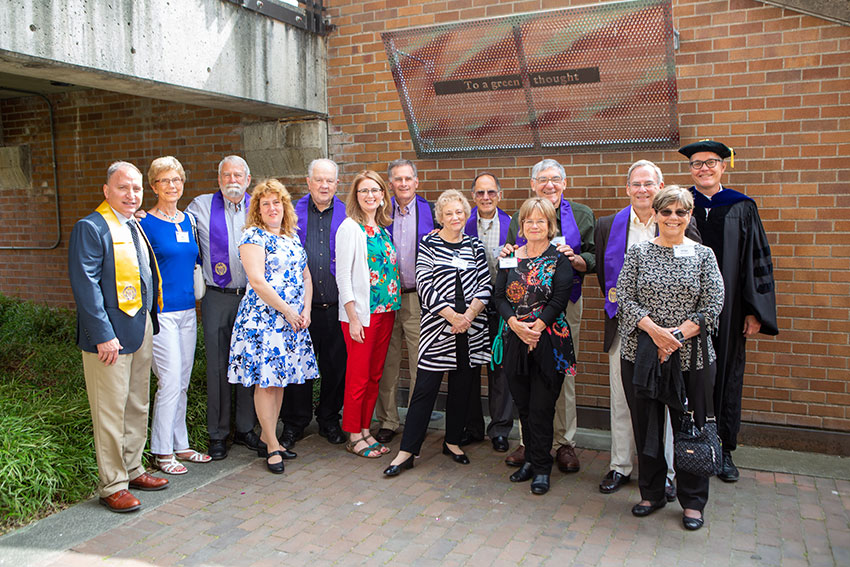 Special thanks to the Mechanical Engineering Class of 1969 graduates who joined us at this year's graduation celebration! The following alumni were honored with a 50th reunion reception and recognized during ME's graduation ceremony; a hosted celebrant luncheon followed the festivities. These alumni have served as engineers for a combined 300+ years.
George Gasper, BSME '69
Douglas MacGowan, BSME '69
Ivan Metcalf, BSME '69
William Miller, BSME '69
Dennis Radtke, BSME '69
Jay Willenberg, BSME '69, BSIE '70
For 2018-19, ME awarded nearly 180 bachelor's, 150 master's and 25 doctoral degrees to graduating students.
This year's graduation address was delivered by Jon Battles. A recognized leader in the material handling industry, Battles is the Director of Worldwide Engineering Advanced Technologies at Amazon and has been a member of ME's External Advisory Board since 2018. Having been with Amazon for over 10 years, he is responsible for developing the next generation of fulfillment technologies, and has overseen more than $3 billion in capital investments and tens of millions of square feet of real estate expansion. Battles shared his perspective on innovation, technology and society during his remarks.
For those interested in information about future 50th reunion gatherings and other ways to stay connected with ME, please contact Caitlin Karbula at caitlk2@uw.edu or Sue Brennan at suemb7@uw.edu.