Environmental impact
By Sarah McQuate
June 14, 2019
Harvesting power from the ocean, through spinning underwater turbines or bobbing wave-energy converters, is an emerging frontier in renewable energy.
Researchers have been monitoring how these systems will affect fish and other marine life. But with most available technology, scientists can get only occasional glimpses of what's going on below.
So a team led by ME associate professor Brian Polagye and in collaboration with the UW Applied Physics Lab (APL) created a mechanical eye under the ocean's surface. The device, called an Adaptable Monitoring Package (AMP) lives near renewable-energy sites and uses a series of sensors to continuously watch nearby creatures. They're currently testing the latest version of their AMP at the Pacific Northwest National Laboratory-Marine Sciences Laboratory near Sequim, Washington.
"The big-picture goal of the AMP when it started was to try to collect the environmental data necessary to tell what the risks of marine energy were," says Polagye, who recently became the director of the Pacific Marine Energy Center, an academic consortium between the UW, Oregon State University and the University of Alaska Fairbanks. "But we ended up with a system that can do so much more. It's more of an oceanographic Universal Serial Bus. This is a backbone, and you can plug whatever sensors you want into it."
Seals, turtles, fish and more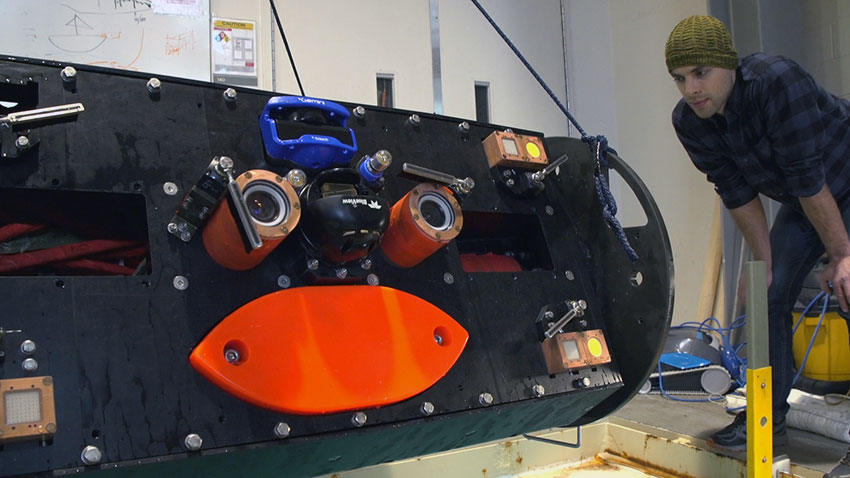 The newest member of the AMP family has the biggest variety of sensors yet, including an echosounder, which uses sonar to study schools of fish. It also contains the standard set of instruments that all previous AMPs have supported, including a stereo camera to collect photos and video, a sonar system, hydrophones to hear marine mammal activity and sensors to gauge water quality and speed. This new system does more processing in real time than its predecessors.
"We want the computer to not just collect data, but actually distinguish what it sees," says ME doctoral student Emma Cotter. "For example, we'd like to program it to automatically save images if sea turtles swim by the AMP."
Each sensor type generates a different type of data, so with the device in Sequim Bay, the researchers want to ensure that all the data streams can be analyzed collectively in real time.
More "AMP"plications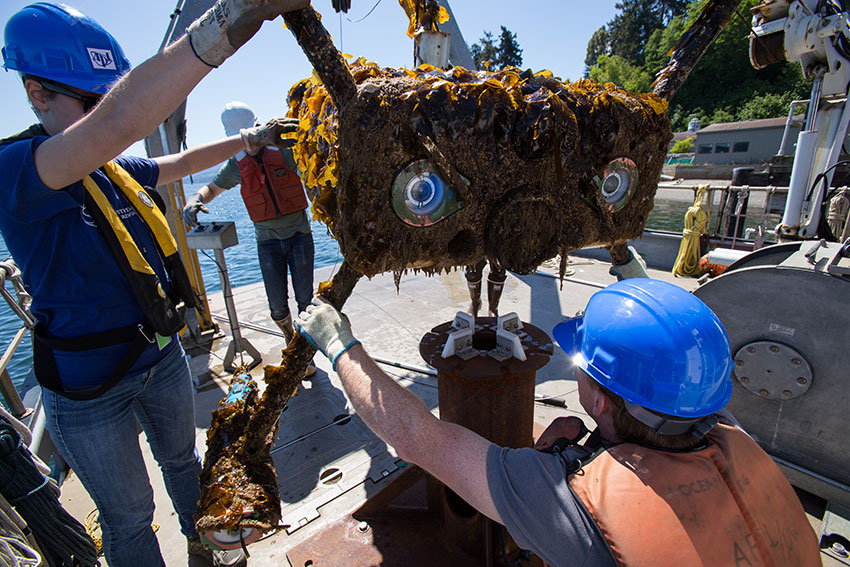 The team has developed additional AMPs that are more specific to other types of oceanographic research. Last fall, an AMP was deployed to survey sea life off the coast of Hawaii while powered by a yellow metal ring, called the BOLT Lifesaver, through a partnership with the Navy, the U.S. Department of Energy, University of Hawaii and the company Fred. Olsen.
"They were interested in what happens if whales and sea turtles encounter the mooring lines that connect the Lifesaver to the seabed," Cotter says. "The best way to answer that question is with an AMP."
The Lifesaver is a wave-energy converter — a device that converts the bobbing of waves into electricity — that powered this AMP.
"This was the first example of using wave energy to power oceanographic sensors," Polagye explains. "Previously people collected wave energy and sent it back to shore. But this AMP was completely self-reliant."
The research group is also working on a vessel-based version of the AMP, which will ride aboard APL's newest research vessel, R/V Russell Davis Light. The team plans to test tidal turbines on the boat, so the vessel-based AMP will let the researchers see if anything happens to nearby fish.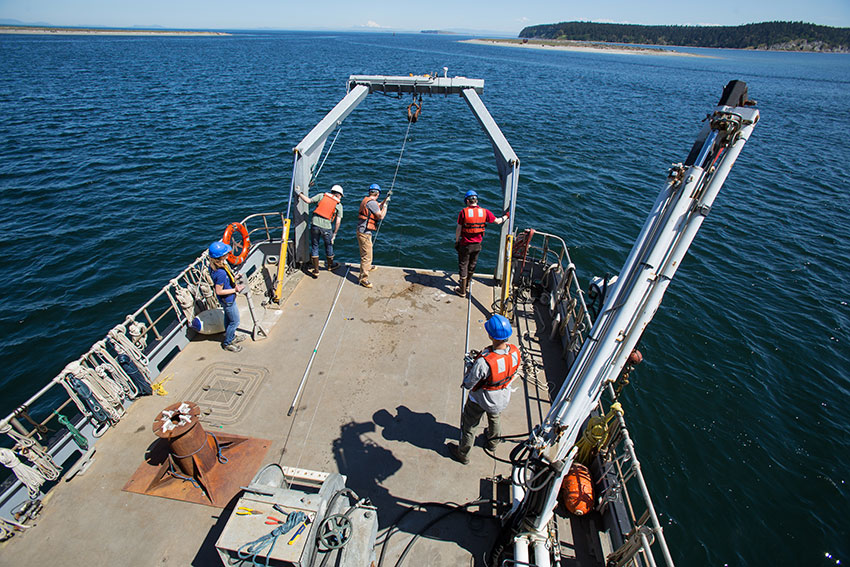 They hope to commercialize the AMP platform through a UW spinout company called MarineSitu, founded by ME alumnus and APL mechanical engineer James Joslin, '15 PhD. That way other researchers can purchase AMPs with sensor packages specific to their goals.
"The renewable energy industry needs this technology to grow, so it's especially important to make it accessible and customizable to turbine developers and other marine energy companies," Joslin says. "Increased adoption of AMP technology will improve our understanding of marine environments and lower regulatory barriers to future projects."
---
Keep up with the team's work at pmec.us