May 23, 2019
Image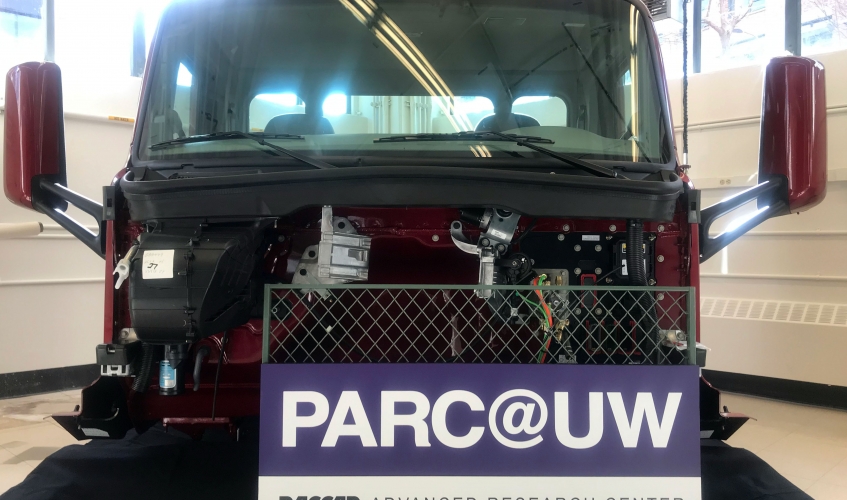 "Partnerships like this support an exciting trend in engineering education where students learn by doing, through close interaction with industry."
The PACCAR Technical Center (PTC) — PACCAR's test and development site — and ME celebrated a new campus research space this spring. The PACCAR Advanced Research Center provides students a dedicated lab for PACCAR-sponsored capstone projects with goals of expanding into a collaborative research space for students, faculty and PACCAR engineers.
"PACCAR is one of the world's largest truck manufacturing companies, and their projects present challenging opportunities for students interested in areas ranging from autonomous vehicle operations to advanced manufacturing to environmental impact," says ME professor and chair Per Reinhall. This year PTC sponsored eight capstone projects representing transportation and manufacturing challenges in sensor technology and development, supply chain and assembly production, fuel efficiency and driver alertness monitoring.
The workspace and experiential learning opportunities build on several years of partnership. In 2001, PACCAR established an endowed professorship in ME, a position held by James Riley until his retirement and recently awarded to Alberto Aliseda. PTC's director of advanced powertrain Carl Hergart has served on ME's External Advisory Board since 2016. PTC has also been a longtime supporter of ME's EcoCAR and Formula Motorsports teams and has a history of hiring ME students from capstone projects as interns and engineers.
"Partnerships like this support an exciting trend in engineering education where students learn by doing, through close interaction with industry," Reinhall says. "It's a win-win for everyone: Students train using industry tools, faculty are exposed to industry needs, and industry gets access to our world-class researchers."