By Chelsea Yates
Photo credit: Mark Stone / University of Washington
December 6, 2016
For over 15 years, ME has partnered with the Seattle VA's Center for Limb Loss Prevention & Prosthetic Engineering. This collaboration has resulted in hands-on research opportunities for more than 50 ME students and has helped propel UW biomechanics research in new directions.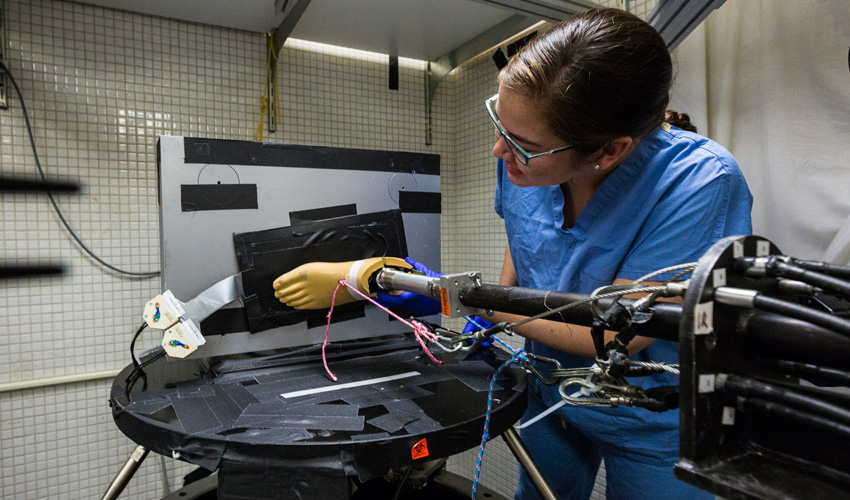 ME graduate student Lynda Brady demonstrates the set-up of a gait simulator, which she uses to investigate the structural properties of foot muscles and soft tissue.
PhD student Lynda Brady always knew she wanted to work in the medical field but wasn't interested in becoming a doctor. While completing her bachelor's degree in bioengineering from Syracuse University, she decided to explore graduate programs with strong biomechanics concentrations.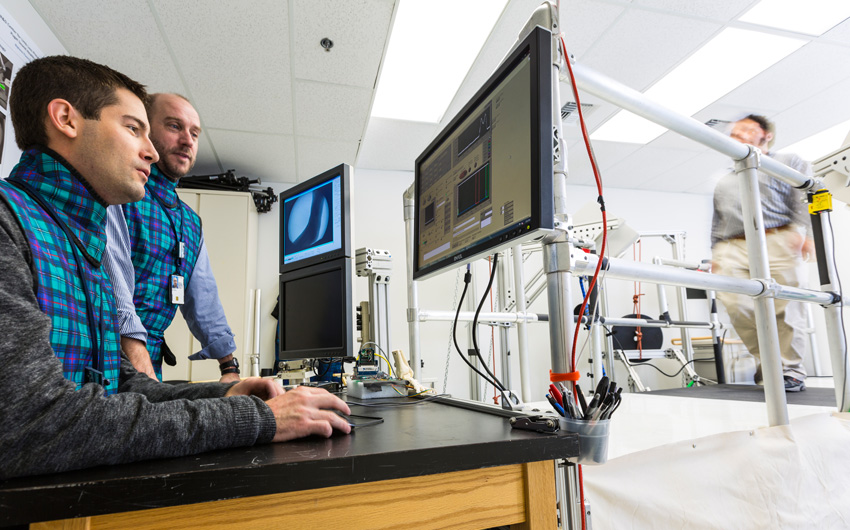 ME grad student Eric Thorhauer and UW affiliate faculty William Ledoux collect data from a dual X-ray device that allows for precise tracking of foot bone motion.
"When I learned about UW Mechanical Engineering's partnership with the VA's Center for Limb Loss Prevention & Prosthetic Engineering, I applied right away," she says. "In fact, I chose to attend the UW because of the opportunities the Center provides to students."
Brady is one of ten ME graduate students pursuing research projects this year through the Center, which was established in 1997 to help improve the quality of life and functional status of veterans and service members who have either undergone or are at risk of undergoing lower limb amputations.
Leading-edge graduate student experience
Glenn Klute, '86, '99, is a research investigator at the Center; he also holds an affiliate professorship in ME. "The Center's work is concentrated in three areas," he explains. "One is prevention — the more we understand body mechanics, the more we are able to prevent limb loss for at-risk patients. Another has to do with prostheses; when amputations occur, we assist patients as they begin using prosthetic devices and try to reduce discomfort and limitations in mobility. And last is rehabilitation — working with patients through long-term care."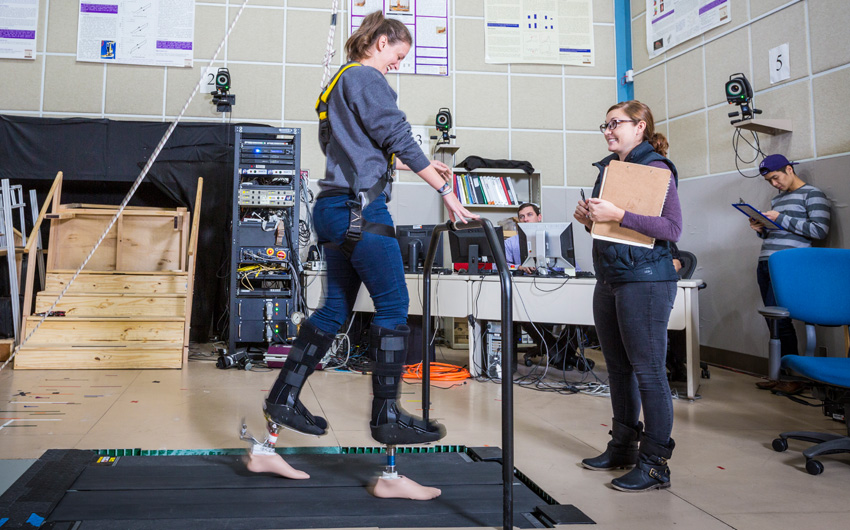 ME students and VA researchers measure gait and assess the performance of prosthetic lower limb devices.
Supporting students has always been at the Center's core. Klute himself started working at the VA as a graduate student and joined the Center as an investigator shortly after completing his PhD at the UW. "The Center is committed to advancing solutions and conducting research to help people," he says. "A major part of this is training the next generation of researchers to set them up for success. It benefits everything — the research, our patients, health care and society."
Because the VA is an intramural granting authority, it can contribute funding for project-oriented research, which is often the sort of research that benefits masters and doctoral students the most. The projects can be shorter-term, and large projects can be broken into smaller parts that students can tackle. At the VA, students design devices and experiments, run tests, build prototypes and work directly with volunteer patients, who are often veterans.
Brady, who is in her second year, is studying the effect of diabetes on the human foot. She's building on research that was initiated by a former student. "People with diabetes have a higher risk of developing ulcers on their feet, and in severe cases, they may need to have their feet amputated," she explains. "Using ultrasound and a gait simulator, we can investigate the structural properties of foot muscles and soft tissue — the foot mechanics, so to speak — to better understand why this happens and hopefully, ultimately, prevent the need to amputate." It's research that merges mechanical engineering and physiology, and the Center is the perfect site for this sort of interdisciplinary exploration.
"It makes my research seem more real."
"I'm grateful for the VA Center," says ME PhD candidate Jonathan Realmuto, who's held a research assistantship there for six years. "Honestly, I couldn't do my work without it. Because it's a research lab in a hospital, I have access to doctors, prosthetists and engineers with a variety of specializations, not to mention our volunteer patients."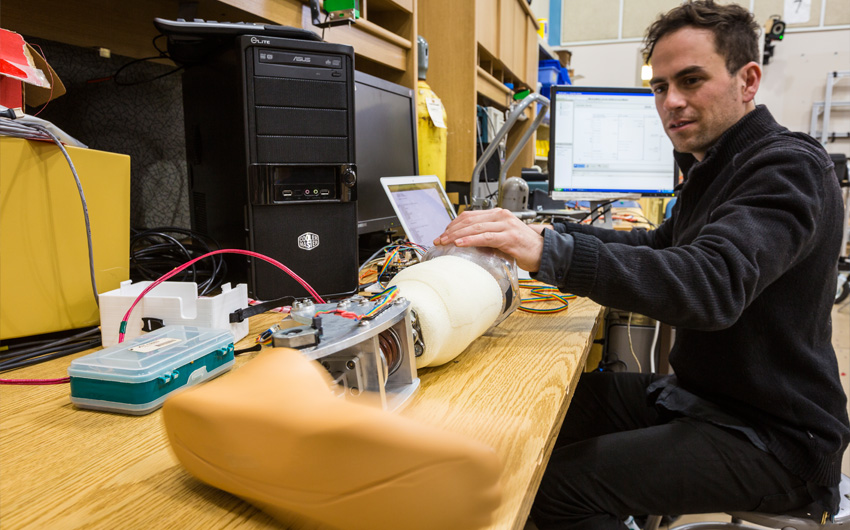 ME grad student Jonathan Realmuto is developing a prosthesis that adapts to an individual's walking style.
Realmuto is developing a powered ankle prosthesis that will adapt to the user's individual walking style. To do this, he is developing a learning algorithm that tries to optimize the user's gait symmetry.
"Everyone walks differently, including people with amputations," he explains. "Our approach is to create an individualized learning controller that adapts to any user."
Patient feedback is a crucial part of Realmuto's work. "It's been very rewarding to create a device, have someone put it on and then talk to me about it — how it feels, what works, what doesn't," he explains. "Our patients have an active role in the creation of our devices, and that's essential."
Brady agrees. She finds great value in being in a hospital environment. "It makes my research seem more real," she says.
Expanding health technologies together
"Just a few years after the Center was up and running, we started working with the ME department," says William Ledoux, also a research investigator at the Center and an affiliate ME professor. "ME faculty like Randal Ching and Santosh Devasia were doing important work in biomechanics, and it seemed like a wasted opportunity not to collaborate."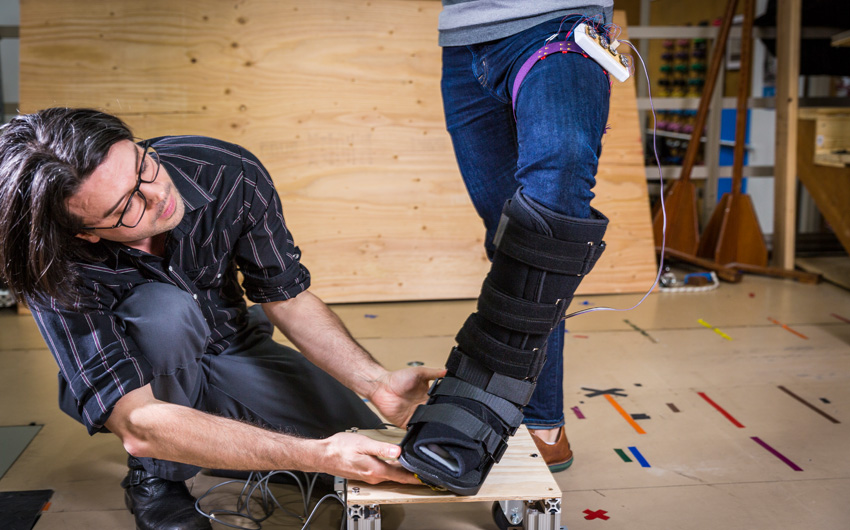 UW affiliate faculty Eric Rombokus fits a sensor-enabled boot on a volunteer to better understand foot placement and force when the volunteer descends a flight of stairs.
In addition to graduate research assistantships, the ME-VA partnership has also fostered joint research and teaching opportunities for ME faculty and VA staff. Since the early 2000s, Ledoux and Ching have co-taught graduate-level biomechanics survey courses. More recently, ME undergraduates interested in biomechanics and mechatronics have also benefitted; the Center has hosted students working on their capstone projects through ME's Engineering Innovation in Health program.
ME is not the only UW department that partners with the VA; Center staff also work closely with students and faculty in electrical engineering and, at UW Medicine, in orthopedics and radiology. But Klute and Ledoux agree that the growth opportunities through ME are unique.
"Faculty members like Kat Steele and Nate Sniadecki, who've joined ME in recent years, are expanding the department's biomechanics research in new directions, and we're excited to work with them," Ledoux says. Last year, ME faculty started a biomechanics research group that meets monthly. VA researchers and affiliate professors regularly attend.
Collectively the group is working to strengthen ME's graduate curriculum in biomechanics and, with the department, they are planning to institute an undergraduate certificate in biomechanics. They believe that one of the best ways to advance research is to set students up for success. "We're working together to educate future leaders," says Klute. "Today's students will be transforming lives tomorrow; it's our responsibility to equip them with the knowledge, experience, training and support they need."