By Chelsea Yates
Photos by EcoCAR and Mark Stone / University of Washington
A multi-phase challenge in which students work to convert a Camaro into a hybrid-electric car, EcoCAR is one of the projects offered through UW Engineering's VIP program.
Image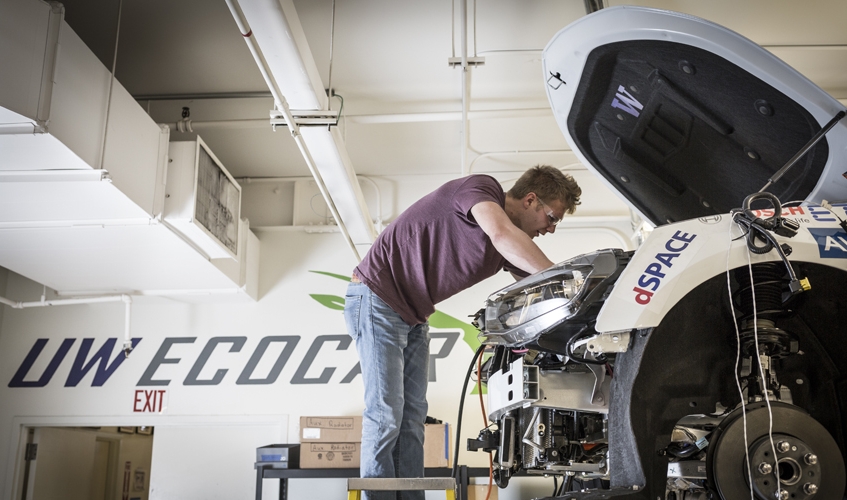 Working on EcoCAR3. This year students have focused on design implementation by removing the stock powertrain and integrating new components into the Camaro.
When asked why she decided to pursue mechanical engineering, Rachel Krause's answer is simple: EcoCAR. The ME junior learned about the student team during a campus tour after being accepted to the UW. "We visited the EcoCAR workshop, and although I knew nothing about cars or tools, there was something so exciting about what the EcoCAR team was doing," she says. "I applied to join as fast as I could, and as soon as I started classes, I was on the team."
Sponsored by the U.S. Department of Energy and General Motors (GM), EcoCAR is a multi-year, multi-phase challenge in which students work to convert a Chevrolet Camaro into a hybrid-electric car. The UW is one of 16 schools invited to participate in the competition. Cars are donated at the beginning of each project cycle, and teams are expected to remove their vehicle's stock powertrain and replace it with a more fuel-efficient powertrain that they design and build.
"The Camaro is perfect for a project like this," says UW EcoCAR's co-manager and electrical engineering graduate student Graham Arnold. "It's the ultimate muscle car, and it's a great challenge to convert it into something that still goes fast and sounds tough but also happens to be hybrid-electric."
This complex challenge provides students an opportunity to gain hands-on engineering experience and develop real-world problem-solving skills.
A "Vertically Integrated Project"
At the UW, EcoCAR is one of seven projects offered through the College of Engineering's Vertically Integrated Projects (VIP) Program, which provides a framework for project-based learning and research. For projects to qualify as VIP, they must be multidisciplinary, vertically integrated (meaning that they maintain a mix of undergraduates and graduate students each quarter) and long-term. Projects must also be real-world applicable and present experiential learning opportunities to students.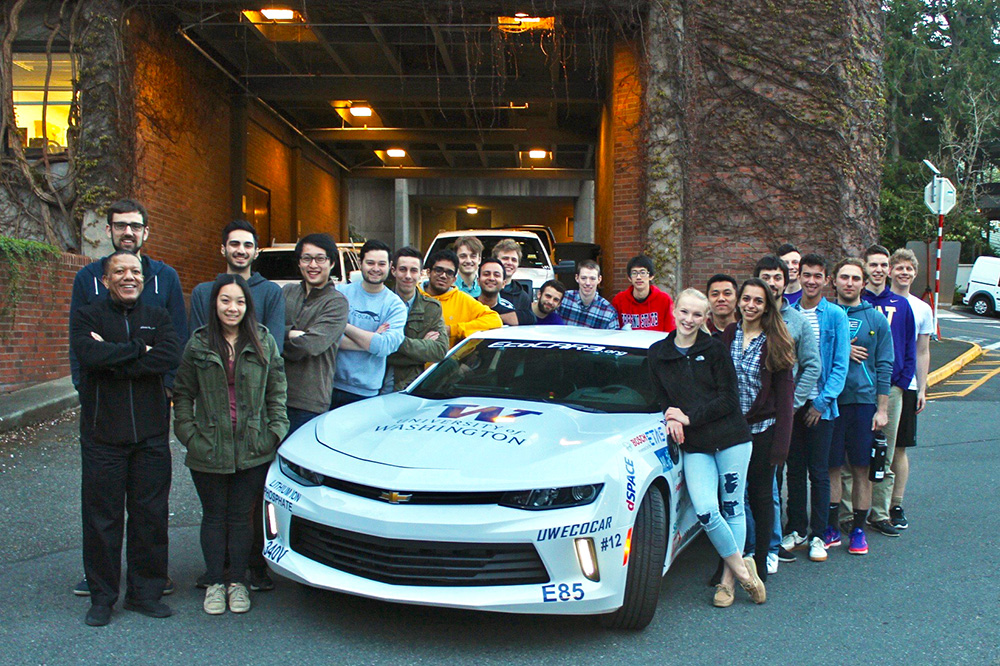 The 2016-17 UW EcoCAR3 team.
"Through VIP, students work in a more hands-on context than they do in the classroom," says electrical engineering graduate student Kevin Lybarger, who assists College of Engineering associate deans Brian Fabien and Eve Riskin in managing UW VIP. "While engineering classes provide a solid foundation in theory, they often don't include application, so VIP offers a space for students to apply and practice their classroom learning."
For Arnold, who has been involved with EcoCAR since his sophomore year and is now a team leader, this real-world application has been key. "Early on I was involved in the creative process — designing, computer modeling and testing — but as I've grown with the team, so have my skillsets," he explains. "I've gained experience with project management, time management and communications — skills that will serve me well in the professional world."
Arnold says that EcoCAR runs more like a business than a student organization. Students must contribute at least 5-10 hours each week. In addition to building the car, they also must secure sponsors and funding, manage community outreach and publicity efforts, and coordinate training and knowledge dissemination as students rotate on and off the team.
This is something that Lybarger says is indicative of many of VIP projects: "VIP seeks to provide students with as much 'work' experience as possible to develop skills that will translate well beyond their time on campus."
UW's EcoCAR team is large, comprising nearly 60 students — freshmen to graduate students across engineering departments, as well as from business, communication and design.
"Because of our diverse backgrounds, everyone brings different ideas and ways of thinking," says Krause. "Figuring out how to communicate with each other at times has been a good challenge. I suspect this happens a lot in industry, so it's great to practice it now."
Project-based learning
VIP supports multi-year projects that extend beyond a student's time at UW. Much like in industry, students join and leave projects, and in doing so must share knowledge to extend the project's life. Lybarger says that this information exchange significantly benefits larger, more complex research.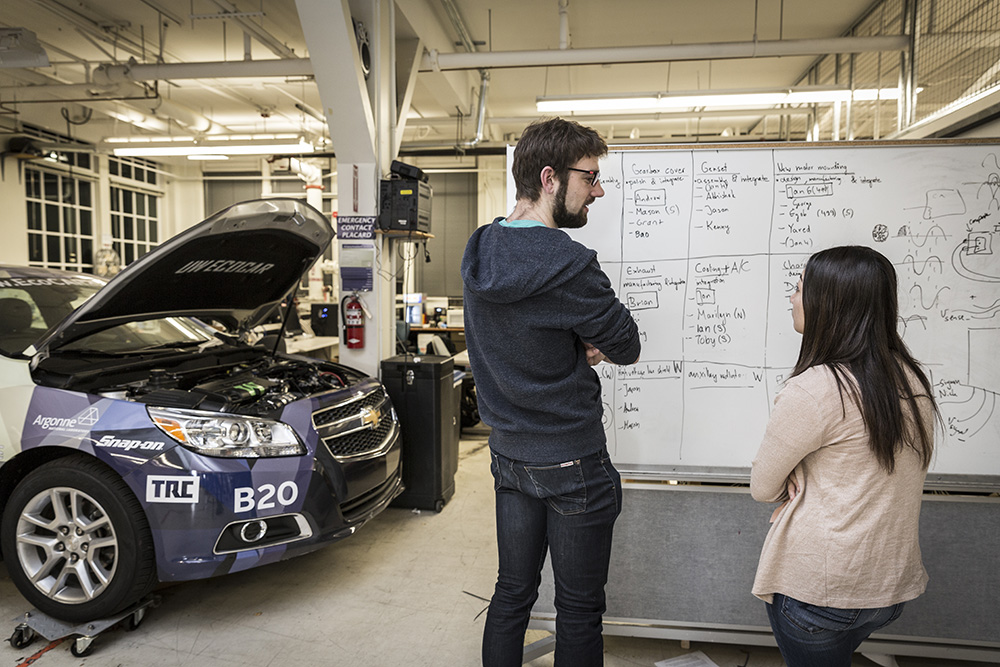 EcoCAR teammates consult about next steps. In addition to building the car, they must coordinate training and knowledge dissemination as students rotate on and off the team.
The EcoCAR project has a long life, and each iteration of it is multi-year. The current iteration, EcoCAR3, comprises four years and is divided into three phases. Phase One focused on design, in which the team explored architecture selection, component sourcing, part modeling and controls simulation. Phase Two — the project's current phase — has focused on design implementation by removing the stock powertrain and integrating new components into the Camaro. At a competition this month, cars will go through an array of performance evaluation tests.
Next year — the final year — will be Phase Three, refinement. The goal is that the car will hypothetically be 99% ready to be sold at a dealership.
While some students, like Arnold and Krause, serve on the team for multiple years, others only work for a few quarters. Either way works, Arnold says: "No matter how long students are able to commit, we make sure that their contributions are recognized and that they leave feeling their work mattered." The team uses social media to keep in touch with former teammates.
Through VIP, undergraduates may earn academic credit for their project participation. Arnold says that course credit allowed him to balance his coursework with his commitment to EcoCAR. "I didn't feel like I had to try to squeeze in EcoCAR," he explains. "Instead I felt like EcoCAR was just as important academically as the classes I was taking."
Krause agrees. "Having credit attached to my work helped me commit to the project and made me do my best work."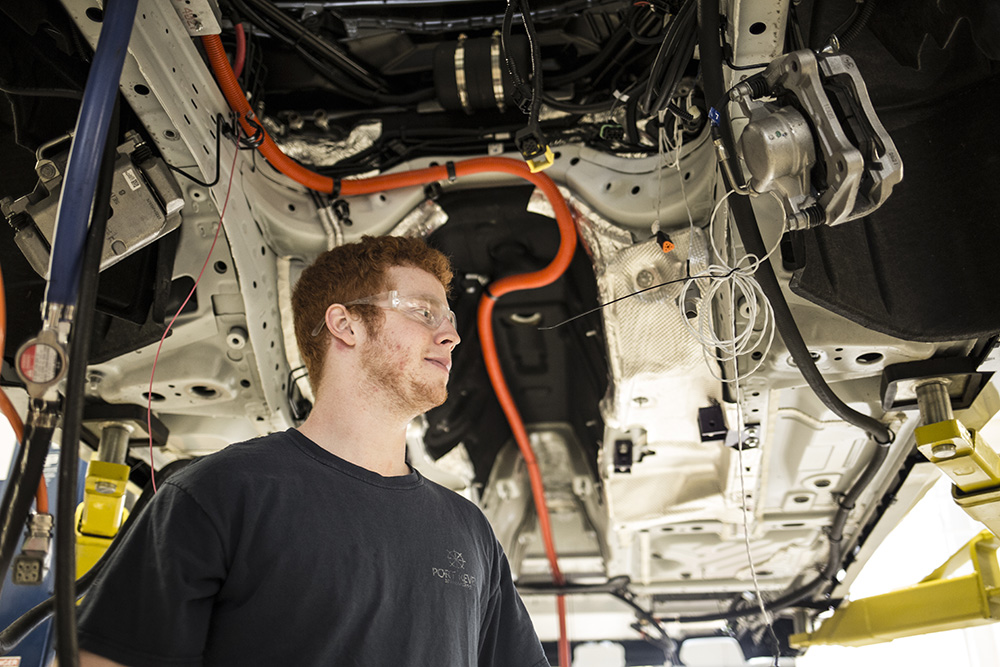 UW EcoCAR co-manager Graham Arnold.
In addition to course credit, EcoCAR students benefit from academic and professional mentorship. Fabien also serves as EcoCAR's faculty adviser. The team's GM mentor periodically visits to assist and advise them. Team members attend workshops where they receive hands-on training from industry professionals and talk with suppliers, and throughout the year, they must submit reports to ensure they are working in-line with competition benchmarks.
Arnold attributes the team's success to teamwork, work ethic and commitment. "EcoCAR is an opportunity to put our studies into action, to bring what we're learning in our classes to project and to take what we discover in the workshop back to our coursework," he says.
Though the original grant that allowed UW to establish a VIP program ends in December 2017, the College of Engineering is exploring plans to establish a permanent version with a focus on diversity and access. "There is room for any student in VIP, regardless of expertise, class standing or program," says Lybarger.
For Krause, this inclusiveness has made working with EcoCAR special. "Our EcoCAR community is incredibly supportive," she says. "As long as you're willing to do the work, there's a place for you."
Keep up with EcoCAR's progress, and learn more about VIP.
Originally published May 15, 2017