ME graduate student Jessica Zistatsis shares her journey through the commercialization process at the UW, thanks to Engineering Innovation in Health.
Image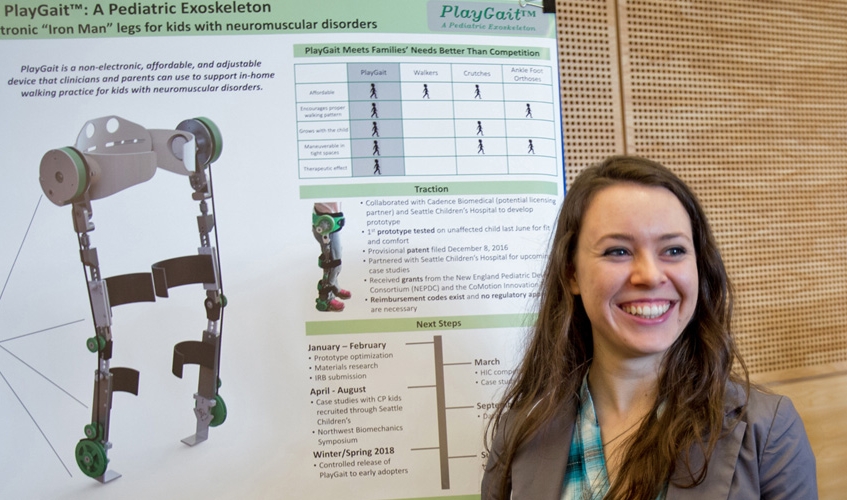 Jessica Zistatsis presents PlayGait at the 2017 Hollomon Health Innovation Challenge. Photo by Matt Hagen, courtesy of the UW Buerk Center for Entrepreneurship.
For graduate student Jessica Zistatsis, Engineering Innovation in Health (EIH) introduced boundless opportunities in health care innovation. Jessica is one of the innovators of PlayGait™, a pediatric exoskeleton that helps kids with cerebral palsy get more walking practice outside of therapy so they can learn to walk independently.
Jessica's goal is for PlayGait to be ready for market by the time she completes her MSME in 2018. She has secured a patent for the device and $95,000 to further research and development. She recently spoke with us about her journey through the commercialization process at the UW, thanks to EIH.
Why did you decide to study ME?
ME allows me to combine my interests in math, physics and design with my desire to help people. My vision is to engineer solutions that change people's lives so everyone has access to the same opportunities at work, school, home and in the community. EIH has shown me that I can bridge engineering, health care and entrepreneurship.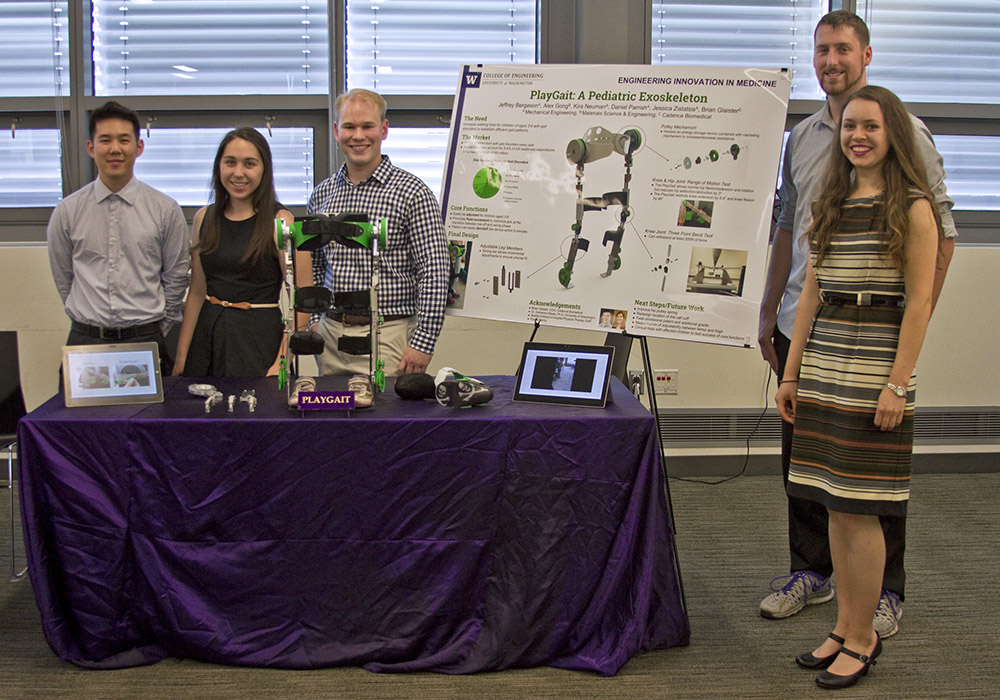 The PlayGait team at the 2016 Engineering Innovation in Health symposium. Photo by Connie Wellnitz.
How did the idea for PlayGait come about?
Brian Glaister of local medical device company Cadence Biomedical and ME professor Kat Steele proposed the idea to EIH. Cadence Biomedical makes exoskeletons that help adults with neurologic conditions walk, and they saw a need for similar devices for children. Before we began designing, my team worked closely with Brian during our first quarter to understand market need and interview potential stakeholders — physical therapists and parents of kids with gait disorders. We then spent winter and spring quarters deep in component prototyping, testing and documentation.
What's it been like to work with health care and industry partners?
We partnered with Kristie Bjornson, a physical therapist at Seattle Children's Hospital who works with children with cerebral palsy. Her expertise helped inform PlayGait's design specifications. At Cadence Biomedical, Brian works with a similar customer base, and since PlayGait follows a similar regulatory and reimbursement process to that of his device, he has been able to offer valuable guidance.
EIH also connected our team with UW CoMotion. CoMotion helped us file a provisional patent for PlayGait's intellectual property and discover external funding opportunities.
Why did you decide to continue developing PlayGait after you completed EIH?
Because I believe that PlayGait has the potential to transform kids' lives. I want to get PlayGait to a place where a medical device company will be able to license and mass-produce it. This project has given me so much purpose; how could I not see it through to market?
What's been your favorite part of this journey toward commercialization?
Thanks to EIH, I've been able to work on a "real world" project with health care professionals, industry partners, patients and their families. I'm developing a device that will have big impact on children, and that feels amazing.
I've also discovered a passion for entrepreneurship. I even started taking business development classes outside of ME. I don't know if I would've realized my interest in business had it not been for EIH.
---
Learn more about EIH at eih.uw.edu.
Originally published June 19, 2017