By Chelsea Yates
Photo courtesy of VICIS
Mechanical Engineering empowers students and faculty to learn, discover and build solutions to tomorrow's challenges.
Image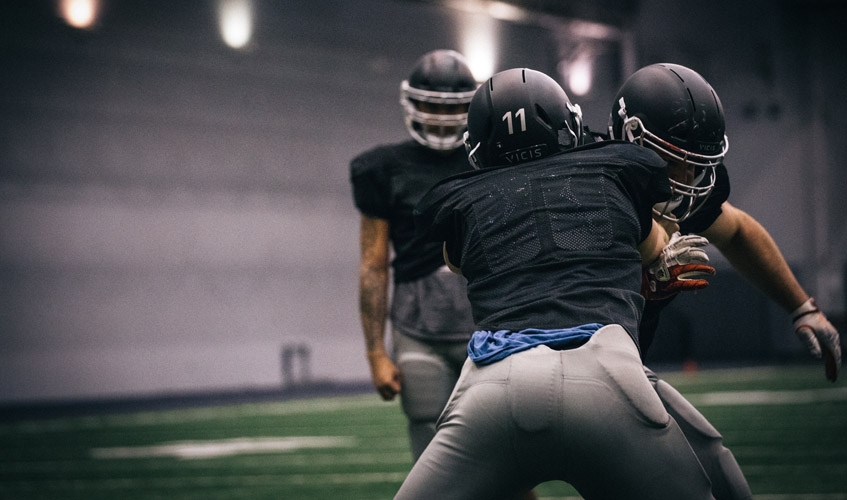 One of several ME startups, VICIS has developed a helmet designed to mitigate impact forces in NFL, college and youth football.
For over 100 years, the UW has graduated creative engineers and developed novel solutions through research, and Mechanical Engineering (ME) has been a leader on campus in transforming ideas into action.
"Innovation training in engineering is training for life, and UW ME is committed to this idea," said ME professor and chair Per Reinhall.
The Puget Sound is a global hub for advancing science, inventing new technologies and powering markets and industries, and much of that spirit is reflected in ME's labs and classrooms. From developing new football helmet technology that reduces impact forces to building generators that convert heat into electricity for communities in need, ME's faculty and students are doing their part to create a healthier, cleaner and safer world.
Students are introduced to innovation in their ME courses and are encouraged to participate in workshops, events and competitions offered by partners on campus, such as UW CoMotion and the Buerk Center for Entrepreneurship. They can also take part in the department's student clubs, which spark curiosity for discovery and collaboration, and have free access to ME's prototype shops and campus makerspaces.
The department's faculty members are encouraged to connect with the rich innovation community across campus. CoMotion, for example, can assist innovators in all stages of research translation — planning and developing strategies, navigating the commercialization process, identifying and securing funding. UW researchers can apply for and receive grants and seed funding through CoMotion's Innovation Fund and Amazon Catalyst.
To encourage research translation, ME supports and advocates for faculty and student partnerships with industry. Engineering Innovation in Health, ME's signature capstone program, is built around innovation, providing students and faculty the opportunity to collaborate with clinicians in the development of affordable solutions to pressing health care needs. And each winter, the department invites alumni and industry partners to present on topics such as entrepreneurship, commercialization and career development as part of ME's leadership seminar series.
"Innovation is equivalent with impact, and it's the best way to share our work with the end users for whom we're designing devices and technologies," said Reinhall.
"Because of their commitment to cutting-edge research and their entrepreneurial drive, our faculty and students have launched numerous successful startup companies and regularly license technology to industry partners. This not only fuels the economy; it also transforms lives," he added.
Learn more at me.uw.edu/innovation
Originally published December 5, 2017