By Chelsea Yates
Image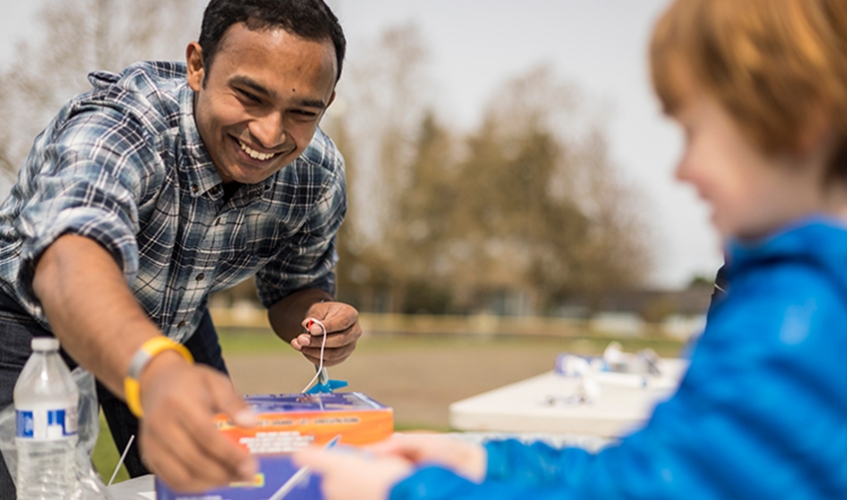 "When it comes to designing devices for the human body, mechanical engineers have to consider the body-machine interaction on several levels," explains ME doctoral student Gaurav Mukherjee. "Devices have to function well, look appropriate and feel good to the user."
Mukherjee has been thinking a lot about feelings these days in terms of sensing and perception: How do we perceive our limbs as our own? Why? For individuals who use prostheses and orthoses, how can engineers help develop more natural devices that better align with the user's sense of body?
Mukherjee believes that augmented and virtual environments provide opportunities to investigate these questions. Through collaborating with mechanical and neural engineering researchers and interning at the Facebook Reality Labs (formerly Oculus Research), he has been exploring the relationship between the human body and AR/VR technologies.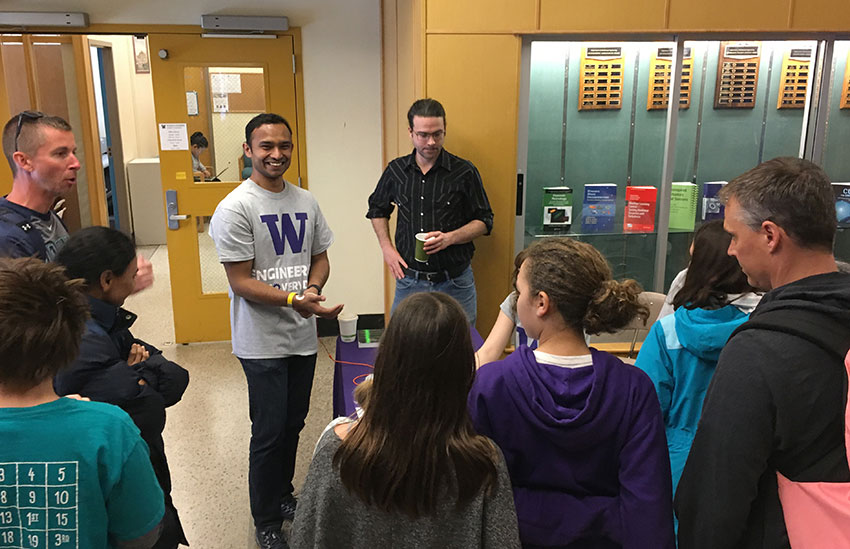 When he's not steeped in research, Mukherjee can be found pursuing his other passion: introducing science and engineering to K-12 audiences. We recently talked with Mukherjee about his path to ME, current research and why he makes time for STEM outreach.
Why did you decide to study ME at the UW?
While working on my master's degree at the University of Cincinnati, I learned about Dr. Kat Steele's research, which spanned user centered design to computational modeling. I wanted to understand the interface between wearable robots and the human body, so I looked into the UW's ME Ph.D. program.
When I visited Seattle to check it out in-person, I reached out to Eric Chudler, the executive director and education director at the Center for Neurotechnology (CNT). Eric is a big advocate for K-12 science outreach. When I realized that I could work with researchers at the forefront of biomechanics and neural engineering like Kat and Eric, I decided that the UW was the place for me.
Tell us about your research.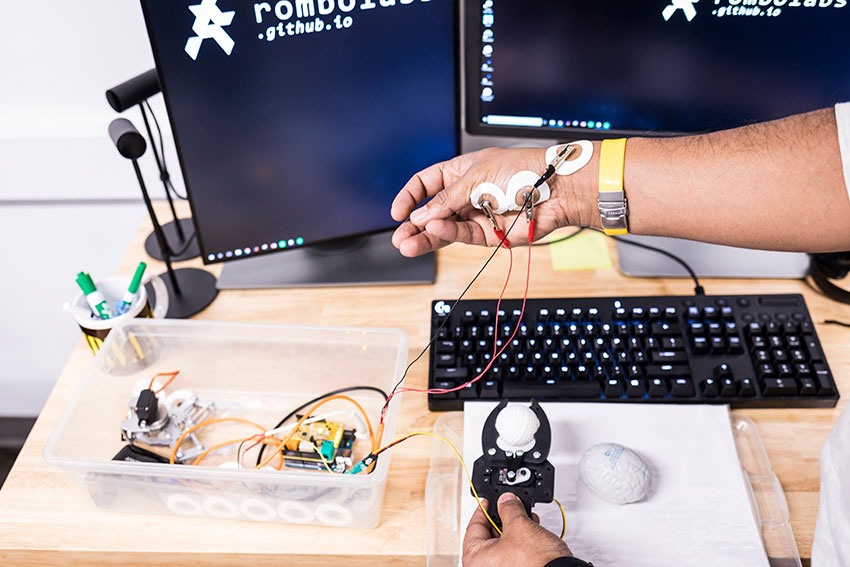 I'm interested in the elegant complexity of human hands – their structure and how they function. Understanding the biomechanics of our hands can help us design better interventions, such as prosthetic and orthotic devices, to enhance motor and sensory function and sensation. During my first three years at the UW, I worked in Professor Steele's Ability & Innovation Lab, thanks to a fellowship from the University of Washington Institute for Neural Engineering (UWIN), and focused on the biomechanics of the hand. I studied the challenges associated with hand function after injury to the central nervous system, such as in the case of cerebral palsy and spinal cord injury. The multifaceted nature of these problems helped me develop a diverse skillset in biomechanical and electrophysiological data acquisition and analysis, computational modeling, mechanical design and controls.
More recently, I've been working with Eric Rombokas and Patrick Aubin at the VA Puget Sound Center for Limb Loss and Mobility. I'm still focused on the human hand and have expanded my research in biomechanics to explore questions related to perception and sensation — specifically, how do people perceive ownership over their own hands? We use our body and brain's ability to create sensorimotor illusions to answer questions like this one, in the hope that we can eventually engineer a feeling of ownership over artificial limbs, both in the real world as well as in virtual reality.
You've been actively involved in engineering outreach since you arrived on campus. Tell us about your experiences.
I've been fortunate to work with many UW faculty who support K-12 and community outreach. Working with ME professor Brian Fabien, I helped to develop robotics curriculum for a middle school, which was very rewarding. Through the Washington Alliance for Better Schools, I've introduced STEM activities to high school teachers and co-taught an introductory neural engineering high school class. Last year, as a research assistant with the Northwest Earth and Space Sciences Pipeline, I taught robotics, circuits and rocketry in underserved schools across Idaho, Oregon, Montana and Washington.
Working with Professor Steele instilled in me the importance of including the community's perspectives when designing solutions. With her, I organized Seattle's first-ever "Handathon," a 24-hour hackathon-style challenge that brought together students, faculty and clinicians to build better 3-D printed prosthetic hands.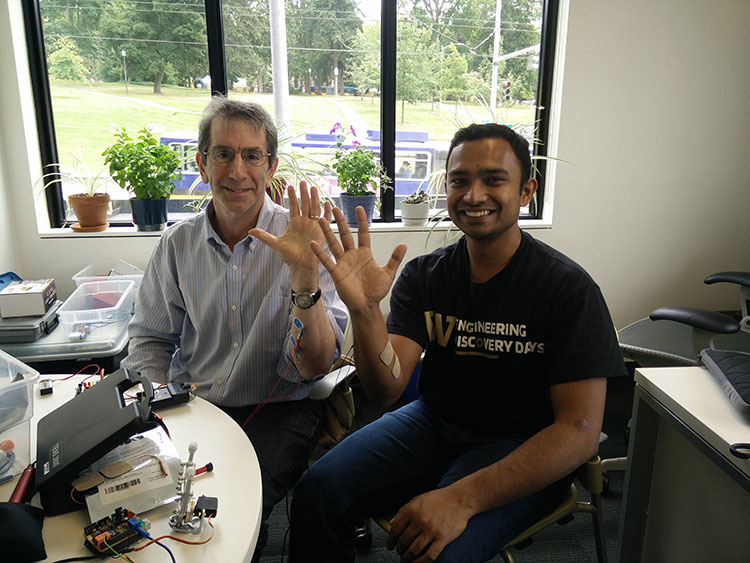 Professor Chudler at the CNT has been another incredible mentor and adviser for my outreach efforts. He's helped me shape my instruction and has supplied me with activities for K-12 audiences. I've especially enjoyed representing my labs and the CNT at Engineering Discovery Days, where I get to share the "robo gripper" with students — it's a robotic device powered by muscle nerve signals, and it's a lot of fun.
Why do you make time for outreach?
Learning how to do good research is a key aspect of being an effective scientist and engineer, but it's equally important to be able to communicate research findings and their impact to the public. Outreach allows me to practice this skill. I find working with people to be extremely invigorating — witnessing the enthusiasm and joy that a moving robot creates in an audience of middle schoolers infects me with similar curiosity and wonder. Trust me, you need a lot of that in grad school! Through outreach I also try to encourage young people to see themselves as future scientists and engineers.
What do you like best about being a part of the UW neural engineering community?
Neural engineering is a rapidly evolving field, and it can be overwhelming to figure out how to get involved. Centers and institutes like the CNT and UWIN provide opportunities for researchers from a variety of fields — engineering, medicine, ethics, education — to collaborate and exchange ideas.
There are also many opportunities for students: travel awards, challenges and competitions, presentations, and networking events to meet peers and mentors. Activities like these provide accessible entry points and help students discover pathways that align with their interests.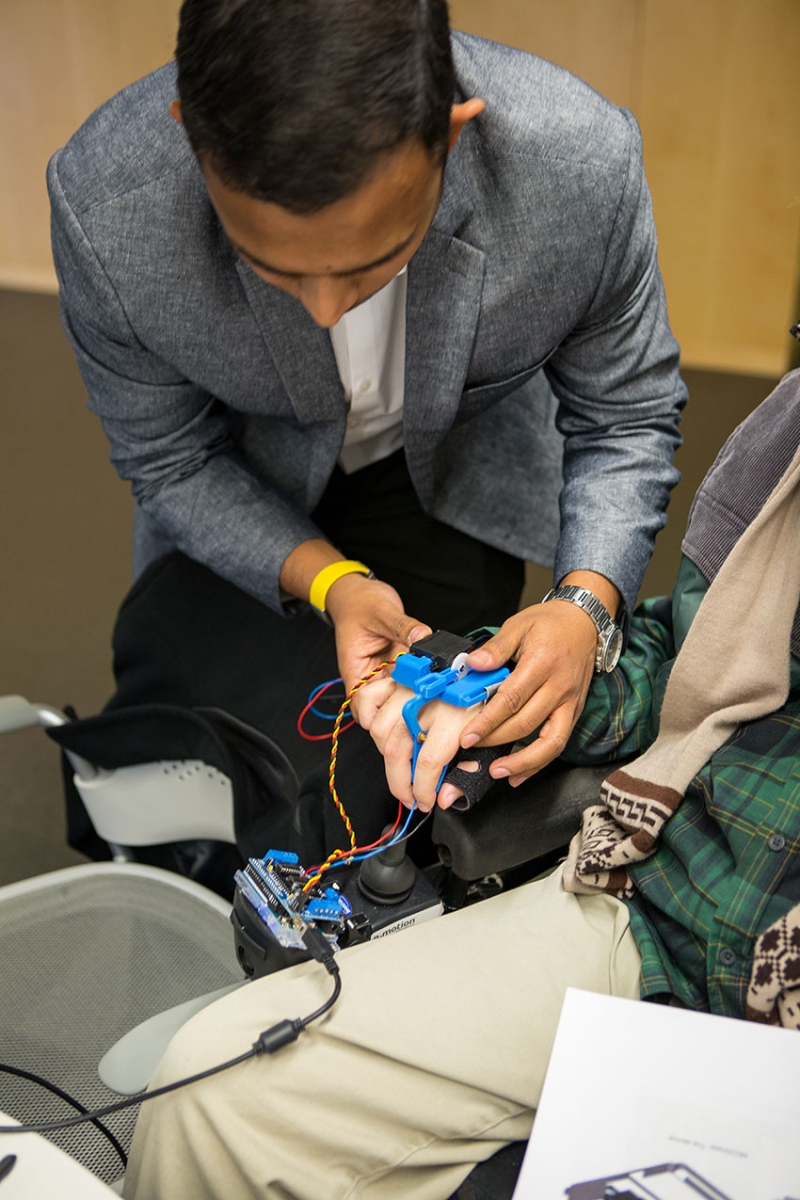 Above all, the UW neural engineering community values the end user's input and experience. This runs through much of the research that's happening across the UW — from Professor Steele's lab to the VA to the CNT and UWIN — and it's great.
How do mechanical engineers add value to the neural engineering community?
Mechanical engineers transform ideas into physical forms, working prototypes and mechanisms. Many aspects of neural engineering can benefit from this kind of translation and problem solving. Mechanical engineering is an incredibly diverse field, so those of us who study it are well-positioned to work across research areas, methodologies and disciplines.
Learn more about ME's doctoral program and the department's commitment to improving lives through innovations in health technologies.
Originally published August 20, 2018