By Andy Freeberg
June 21, 2021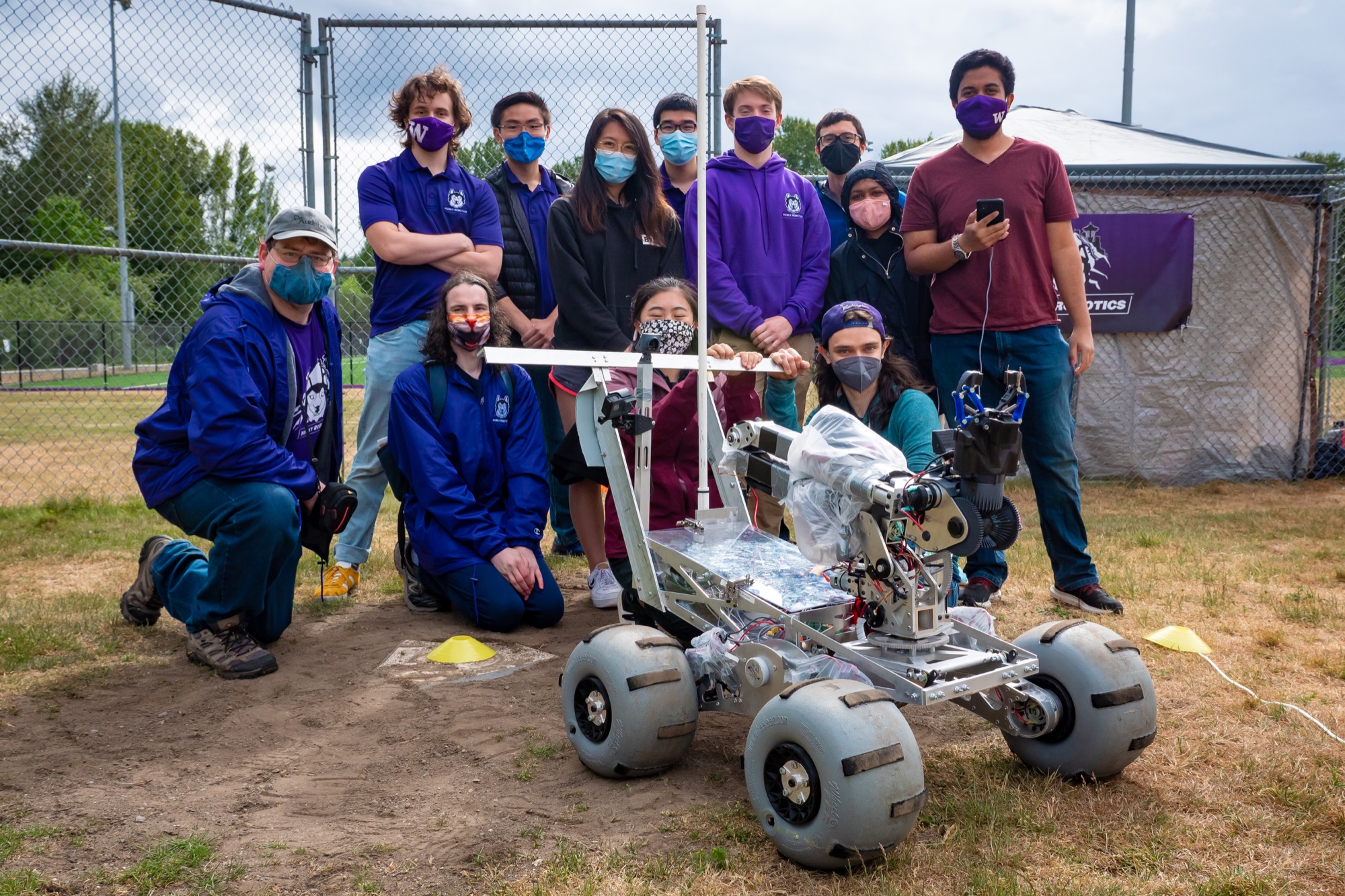 After a 3-foot daredevil free fall, Husky Robotics' Hindsight rover nailed the landing and made a full recovery to earn the only perfect score in the Extreme Retrieval and Delivery portion of the 2021 Virtual University Rover Challenge (URC). With the help of those points, the team took the top score by any U.S. team in the competition and third overall following two days of events on June 5 and 6. See the full results.
"It was an engineering challenge to get this one-meter drop to work," says Dylan Klavins, Chassis Lead for Husky Robotics. "We figured out the kinematics of the fall shortly before competition and had our dedicated team prepare this sort of spoiler-looking roll bar out of whatever we had on hand. When we drove off the ramp we had to brace for broken electronics and an imminent rebuild of the arm, yet our solution managed to easily break the fall."
The successful finish offered a high point to cap off a difficult year.
Normally URC teams test their rovers against rivals in the Mars-like environs of the Utah desert. Due to COVID-19, this year Husky Robotics instead set up their missions on a UW recreation field following detailed instructions from the URC judges. The competition included three missions: Equipment Servicing, Autonomous Navigation, and Extreme Retrieval and Delivery.
Though Husky Robotics encountered challenges with the first two missions, they made up for it with their stellar showing in Extreme Retrieval and Delivery. That mission was comprised of a series of six tasks, ending with a trip up a 30-degree incline and a dangerous 3-foot drop. Husky Robotics was the only team to attempt the uncontrolled descent and their gamble paid off. Watch the rover make its descent or see photos from the event.
Following their success in the URC, the team hopes to bring Hindsight to compete in person at the Canadian International Rover Challenge in Drumheller, Alberta, if conditions allow for international travel.