By Andy Freeberg
January 20, 2022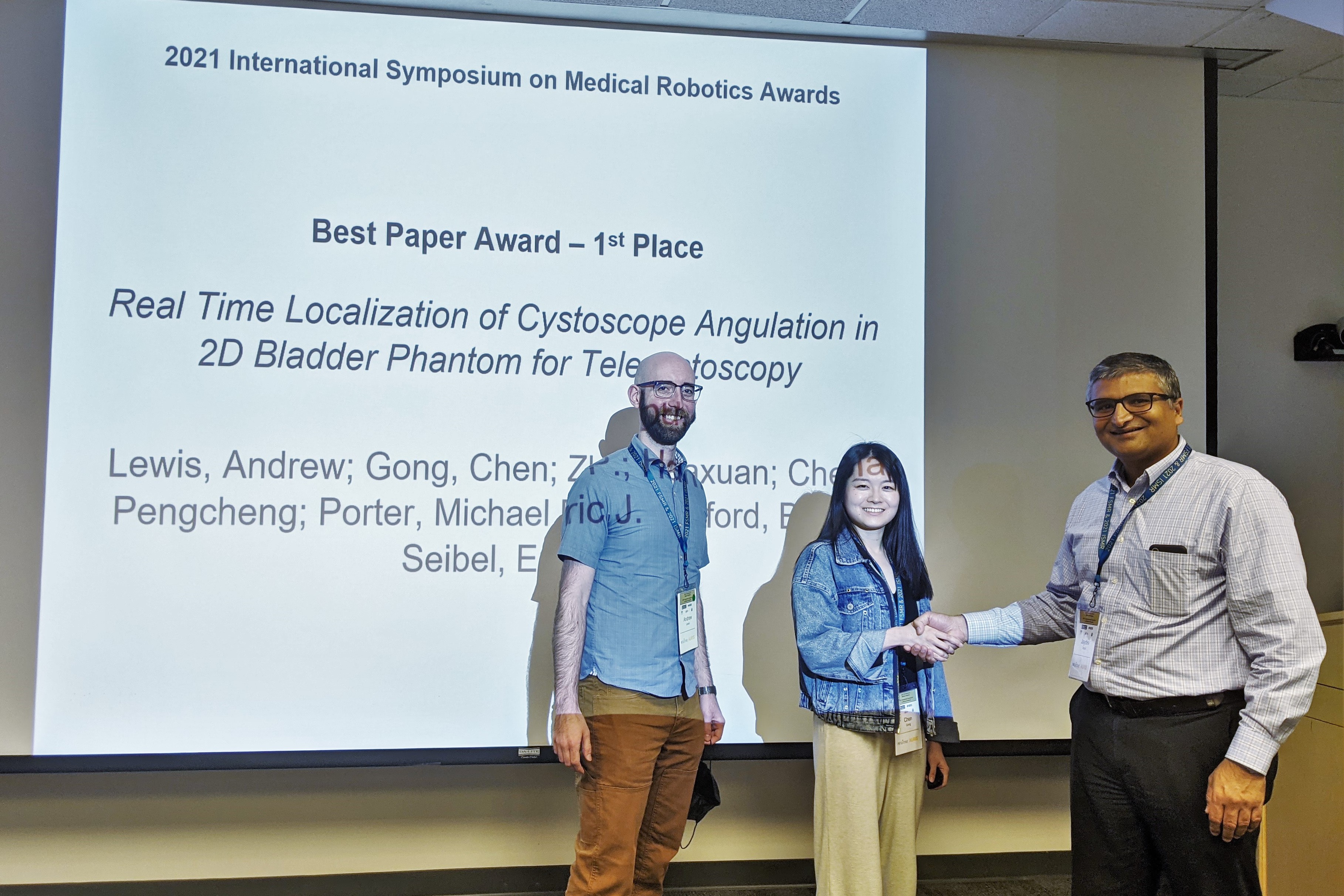 Bladder cancer is the sixth most common form of cancer in the U.S. and estimated to be the most expensive to treat. A major reason for the high cost is that once a person has had bladder cancer detected or treated, frequent checkups are needed to monitor for recurrence.
Research by ME graduate students Andrew Lewis and Chen Gong aims to increase access and lower costs related to bladder cancer by improving the capabilities of specialized cameras used to detect and monitor it. Their paper, titled "Real Time Localization of Cystoscope Angulation in 2D Bladder Phantom for Telecystoscopy," impressed colleagues so much, the team was awarded Best Paper at the 2021 International Symposium on Medical Robotics.
The winning paper describes a new method for precisely navigating a camera within the bladder to find and monitor bladder cancer. Though nearly 84,000 new cases of bladder cancer occur every year in the U.S., the type of camera used to look for bladder cancer, known as a flexible cystoscope, is very specialized and requires a trained urologist to operate it. As a result, anyone with bladder cancer who's located farther from an urban center must make regular long trips for their procedures. Lewis and Gong's work envisions a future where a nurse at a smaller clinic can administer a cystoscopy while a urologist operates it remotely.
To make that vision a reality, urologists need a robotically-controlled cystoscope that they can carefully maneuver and accurately know its location in the body even though they aren't the ones physically performing the cystoscopy procedure. The new paper that impressed medical roboticists at the recent symposium details innovations that could help make so-called telecytoscopy possible.
"As someone new to this field, this surgical robotics project has been very exciting," says Gong, who recently completed her Ph.D. studies in ME. "We're able to apply our engineering skills to contribute to solving real clinical and patient issues."
The UW research team also included ME Research Professor and Director of the UW Human Photonics Lab Eric Seibel, Urology Professor and Chief of Urology at VA Puget Sound Michael P. Porter, and Electrical & Computer Engineering Professor Blake Hannaford. The team received support from UW CoMotion.