By Chelsea Yates
ME senior Abby Simcox represented the UW in March for College Week 2022 on the word puzzle game show.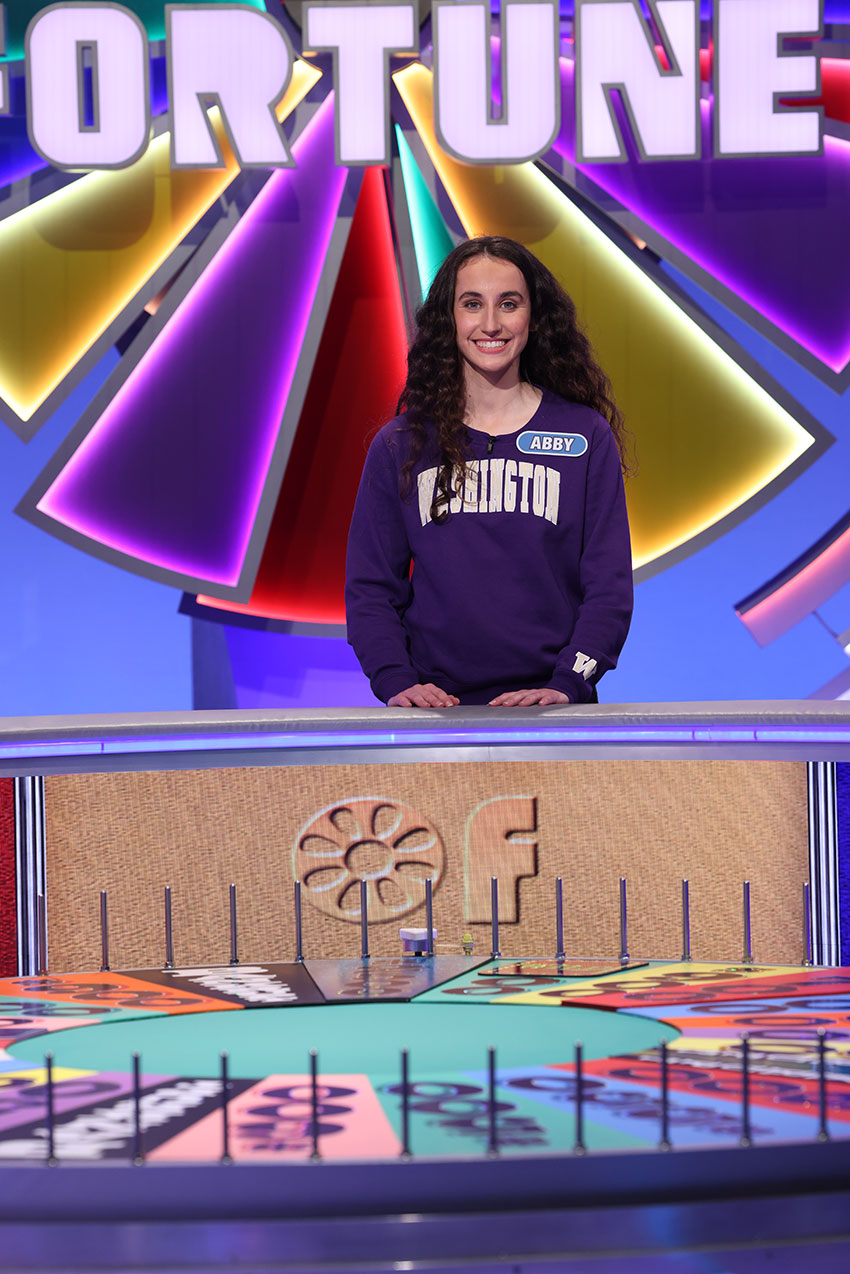 "I watched 'Wheel of Fortune' with my dad pretty much every night while growing up," she recalls. On a whim last June, Simcox decided to apply and was shocked when, three months later, she was contacted for a virtual audition. Not long after, she was invited to be on the show.
To prepare, Simcox practiced word puzzles and watched old "Wheel of Fortune" episodes. She also hit the gym.
"The wheel is surprisingly heavy, and so I wanted to get in shape to prepare," she says.
Taping day started early; contestants arrived at Sony Pictures Studios in Culver City, California, at 6:45 a.m. First, the contestants toured the "Jeopardy!" game show stage, which Simcox says is across the hall from the "Wheel of Fortune" studio. After a trip to hair and makeup, they practiced projecting their voices and spinning the wheel on the "Wheel of Fortune" set.
"The most surreal moment was when the opening music began to play in the studio at the start of the show," Simcox recalls. "My nerves were running wild!"
Simcox's episode was broadcast on Mar. 24. She watched it three times that day. "The first time was with my dad and my roommate. Then Dad drove me to my grandparents' house. They regularly watch the show but didn't know I was going to be on it that night so it was a fun surprise. And then later I watched it with my mom, sister and best friend from high school," she says.
Though she didn't win, Simcox says she's pleased with her performance. "I went in hoping to solve one toss-up and one puzzle, and I ended up solving two toss-ups and two puzzles," she says. She finished the game with $12,400, which she plans to put toward graduate school.
Next fall Simcox will begin her mechanical engineering graduate studies at UCLA. She hopes to become an amusement park ride designer — specifically, a roller coaster engineer.
"In UW ME, I've focused on developing a solid foundation in mechatronics, mechanics and structures to prepare," she says. "But really, I just want to use my engineering skills to make people smile."
Originally published May 3, 2022