Postdoctoral researcher Luci Baker and Assistant Professor Michelle DiBenedetto are using fluid mechanics to research microplastics in the ocean.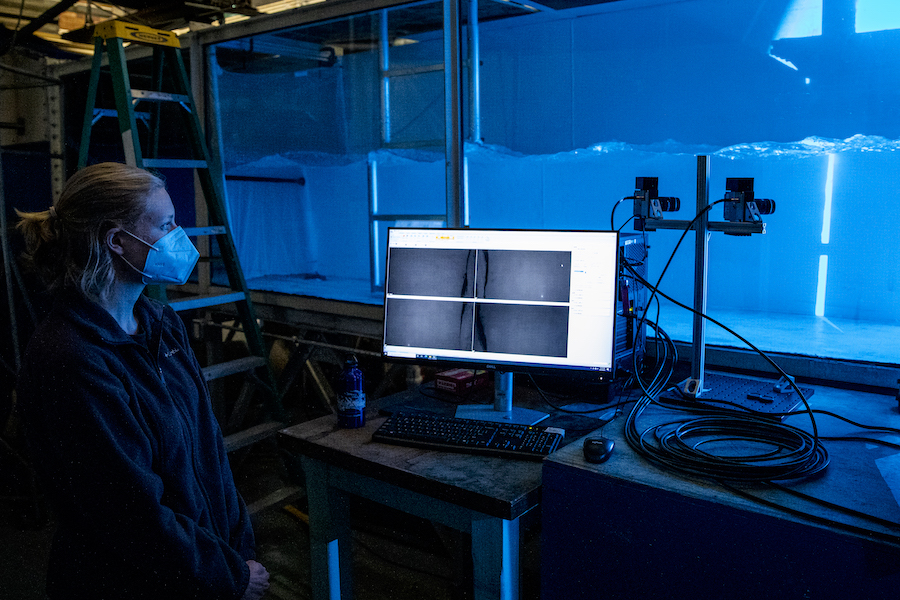 At the Washington Air Sea Interaction Research Facility (WASIRF), a wind-wave facility that simulates the ocean surface in the UW's Harris Hydraulics Laboratory, researchers are tracking how microplastics – tiny pieces of plastic less than five millimeters long – behave over large distances in a turbulent environment.
The goal is to better predict microplastics' transport, distribution and degradation in the ocean. According to the researchers, understanding how the pieces move can inform our knowledge of the speed at which they break down and where they end up, which could provide insight about how to manage and mitigate plastic pollution in the ocean as well as where to remove it.
Plastic degrades slowly with sunlight, but how long it takes to degrade in the ocean remains unknown. Researchers do know that the depth and orientation of the tiny pieces can determine how much sunlight each object receives. To track the particles, ME postdoctoral researcher Luci Baker actually images the particles' shadows projected onto a wall of the wave tank. She uses four cameras to track the shadows over long distances. Imaging and tracking the shadows provides particle depth and orientation information more efficiently than tracking the particles themselves.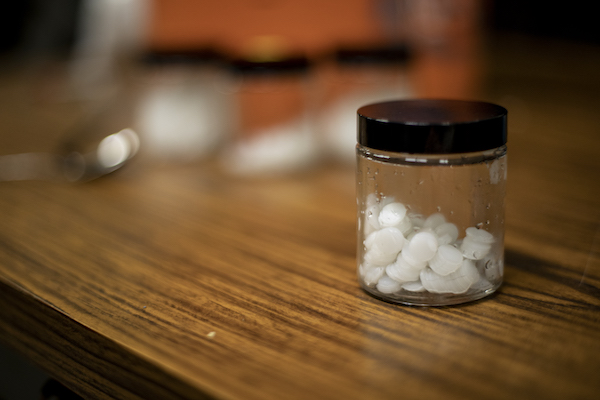 "The experiments will lead to tons of data," says Baker, who received an Ocean Sciences Postdoctoral Research Fellowship in 2021 from the National Science Foundation to support her research. "We'll be able to track particles' position and orientation through space, and the depth and concentration. That's the fun part."
Inessa Garrey, an undergraduate research assistant and civil engineering major, assists with the experiments by dropping the particles in the tanks, retrieving them after each run and controlling the wind speed. The small plastic pieces are different shapes – spheres, rods and discs – so the researchers can observe how shape affects their transport. The team also compares microplastics in the wind experiment with those in still water.
"Luci's research is fascinating and valuable given that microplastics are a growing issue, but we know so little about how they move, degrade and disperse," Garrey says. "Watching Luci plan and develop her experiment has been a great learning experience, and it's been wonderful to help her carry it out."

Using fluid mechanics to study microplastics
Microplastics have been found not only in the bodies of water, including the Arctic Ocean, but inside animals, humans and tap water.
"We need to know what's happening and where they are going," Baker says.
Assistant Professor Michelle DiBenedetto, who joined the ME department in 2020, shares Baker's concerns about microplastics – a topic she considers understudied in the fluid mechanics engineering community. Motivated by the problem of plastic pollution, DiBenedetto applied her knowledge of fluid mechanics to researching microplastics for her Ph.D. in 2019.

There is a lot that we don't know because microplastics are a new pollutant. The implications of microplastics in the ocean are unclear, which is all the more reason to study it. We are using engineering tools to explore these questions."
"There is a lot that we don't know because microplastics are a new pollutant," DiBenedetto says. "The implications of microplastics in the ocean are unclear, which is all the more reason to study it. We are using engineering tools to explore these questions."
Baker has also studied environmental fluid mechanics. While completing her Ph.D. in Aerospace Engineering and Mechanics at the University of Minnesota, she researched how particles interacted with turbulent river waters at the St. Anthony Falls Laboratory. DiBenedetto's research about microplastics in oceans piqued her interest, and she sent her an email.
In June 2021, Baker became the first researcher to join the DiBen Fluids Lab, which researches interdisciplinary fluid mechanics problems such as how particles behave in ocean waves, where microplastics go in the ocean and how small swimmers like plankton behave in turbulent conditions.
"It was exciting to connect with Michelle because she had these great ideas for doing research on microplastics in environmental fluid flows and a really cool experimental facility as well," Baker says. "Our expertise is really complementary. I have a lot of experience with particles in turbulent boundary layers and Michelle knows a lot about particles in waves and the ocean, and this project is a combination of those areas."

We hope our results will be useful for improving models of microplastic transport and learning how they break down and degrade in the ocean."
DiBenedetto says Baker's research could provide insight into how other non-plastic particles behave in the ocean.
"This research could potentially apply to other tiny materials, such as small animals, ice crystals, plankton and oil droplets from oil spills," DiBenedetto says.
As a next step, the researchers will examine the data they are collecting. The research may help validate and improve existing models that simulate how plastics behave at the ocean surface. It could also help create new models for researchers to use.
"We want to extract things like microplastic concentration, orientation and particle trajectories," Baker says. "We hope our results will be useful for improving models of microplastic transport and learning how they break down and degrade in the ocean."
Originally published July 29, 2022