Lyra Fontaine
Sensor technology, which is behind automatic faucets and lights that turn on when you walk into a room, can make life easier for people. UW's ME department is leading research on sensors that could improve people's ability to interact with technology through their movement.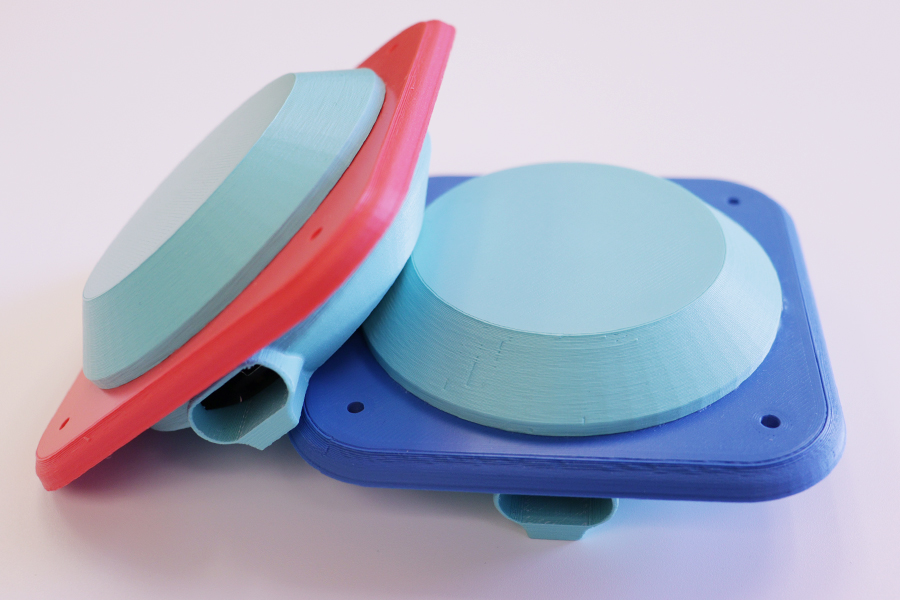 Sensors have numerous applications, including in health care, manufacturing and environmental control, and they can detect qualities ranging from light to temperature. Capacitive sensors, which function using a charge of electricity, can detect touch, distance, electric property and more. However, it's challenging to create small capacitive sensors with highly sensitive proximity detection.
In a March paper published in Advanced Materials Technologies, the researchers – led by ME Associate Professor Jae-Hyun Chung and ME Assistant Professor Krithika Manohar – presented an ultrasensitive capacitive sensor composed of nanostructured electrodes that can detect human body movement or gestures, with or without contact. Other faculty involved in the research included Anthony Dichiara, assistant professor of bioresource science and engineering, and Sang-gyeun Ahn, associate professor of Industrial Design.
"We found that a sensor with one nanostructured electrode made of fractured carbon nanotube paper composite fibers is more lightweight, sensitive and cost-effective compared to typical capacitive sensors with two electrodes," Chung says. "The sensors we created are versatile due to their small size."
The researchers found that the single nanoelectrodes enhanced the proximity and contact detection of human hands, when compared to traditional paired electrodes. In addition, the team's sensor requires less power and is less expensive than typical sensors.
The sensors can recognize human gestures and gait, as well as water mass. They could be added to robots in manufacturing facilities, enabling the robots to sense movement so that they don't run into people, or used in security systems to detect movement in place of a camera. The sensors could also be used in automatic drink dispensers or to detect rain on a car windshield – novel applications since other capacitive sensors can measure liquids in a limited volume.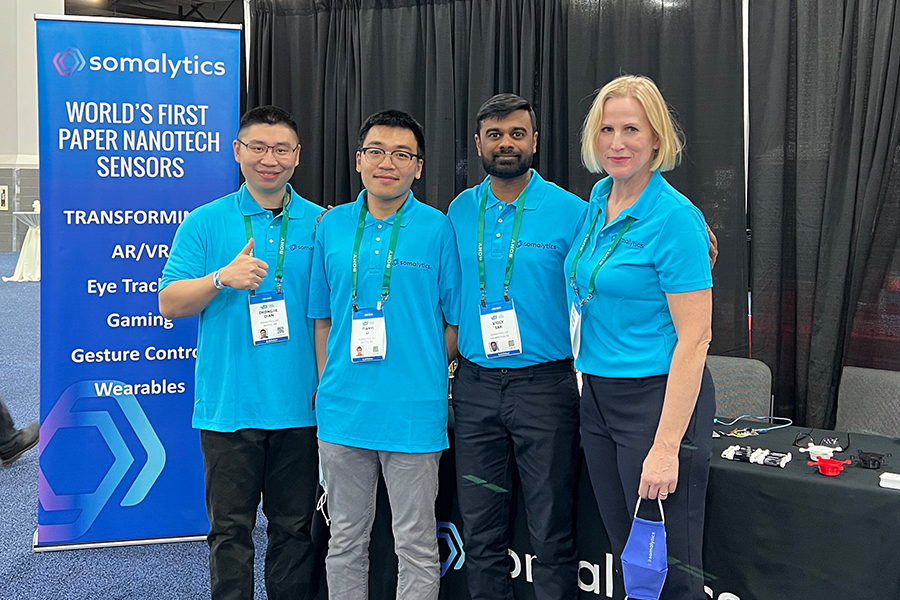 The researchers' work is being commercialized through the UW spinoff company Somalytics. Earlier this year, ME Ph.D. students Tianyi Li, Viggy Sak and Zhongjie Qian exhibited the sensors at CES 2022, a popular trade show organized by the Consumer Technology Association. Sak and Qian are Somalytics co-founders, along with Chung. Fast Company named Somalytics a finalist in its 2022 World Changing Ideas Awards, which honors ideas from companies that have been in business for four years or less.
"CES was an amazing experience to connect our research outcomes to potential users that we had not recognized," Li says. "Our sensing platform offers new opportunities for humans to interact with machines."
Combining the sensors with a wearable eye tracker
Another application for the capacitive sensors is an eye tracker that researchers say could be used in fields like neuroscience, rehabilitation and entertainment. A new paper from the researchers shows that integrating an eyeglass frame with the capacitive sensors made of fractured carbon nanotube-paper composites is effective in monitoring eye movement.
Eye tracking technology is challenging because of the uniqueness of eyes, facial geometry and gaze direction, according to the researchers. Camera-based eye tracking equipment, though popular, is bulky with a high computational cost and power consumption. The lighter capacitive sensor eye tracker improves upon currently available wearable eye trackers that require large batteries.
Using numerical analysis, the researchers tested the eye tracker with both a face simulator and a person. They found that the nanostructured capacitive sensors were more sensitive to eye movement than traditional capacitive sensors. The capacitive eye tracker showed similar horizontal and vertical eye movement signals when compared to a commercial camera-based eye tracker.

The study was funded in part by the National Institutes of Health and the National Science Foundation. Next, the research group plans to investigate how the eye tracker could be applied to wearable sensors, human-machine interface, sleep monitoring and neurological disorder diagnosis.
"We are very excited about our capacitive sensor eye tracker as it disrupts the current status quo with optical tracking technologies," says Sak, the first author of the paper. "We will develop it further to achieve a feather-like wearable eye tracker, which cannot be realized with current technology."
Originally published August 29, 2022