Supporting mobility in cerebral palsy
By: Lyra Fontaine
Photos: Mark Stone / University of Washington
Top image: UW researcher Alyssa Spomer demonstrates how she monitors the ankle movement of people wearing a robotic exoskeleton device, worn by University of Arizona researcher Ben Conner.
Ph.D. student Alyssa Spomer is exploring how a robotic exoskeleton device paired with real-time feedback can enhance rehabilitation therapy for children with cerebral palsy.
Whether she's researching how biofeedback systems can guide gait training in children with cerebral palsy or leading toy adaptation events with HuskyADAPT, ME Ph.D. student Alyssa Spomer is committed to advancing accessible technology.
Spomer's Ph.D. studies have been multidisciplinary, spanning ME and rehabilitation medicine. She uses her engineering skills to understand the efficacy of using robotic devices to target and improve neuromuscular control during walking.
"Delving into how the central nervous system controls movement and how these systems are impacted by brain injury has been such an interesting aspect of my work," Spomer says. "My research is a mix of characterizing the capacity for individuals to adapt their motor control and movement patterns, and evaluating the efficacy of devices that may help advance gait rehabilitation."
Testing a promising new device
With support from a National Science Foundation (NSF) fellowship and the National Institutes of Health (NIH), Spomer researches the effectiveness of a new, non-invasive rehabilitation strategy for people with cerebral palsy, a disorder caused by a brain injury to the developing brain that impacts one's ability to control their muscles. Traditional therapies include orthopedic and neurosurgeries, walkers, orthoses and physical therapy. To improve mobility, individuals with cerebral palsy typically undergo multiple surgeries with long recovery periods before they are teenagers.
"Developing non-invasive strategies that may reduce the likelihood of surgical intervention, or ensure that outcomes of surgery are positive, is a huge need within cerebral palsy care," Spomer says. "We are hoping to develop new tools that can aid gait rehabilitation and promote independent mobility."
In her dissertation work, Spomer is primarily evaluating how individuals adapt movement patterns while using a pediatric robotic exoskeleton paired with an audiovisual biofeedback system that she helped design. The exoskeleton device, developed by the Northern Arizona University Biomechatronics lab and commercialized by startup Biomotum, works to sense and support motion at the ankle during walking. It uses motors worn on a hip belt to provide either resistance or assistance to the ankles during walking. The audiovisual system is integrated into the device's app and provides the user with real-time information on their ankle motion alongside a desired target to help guide movement correction.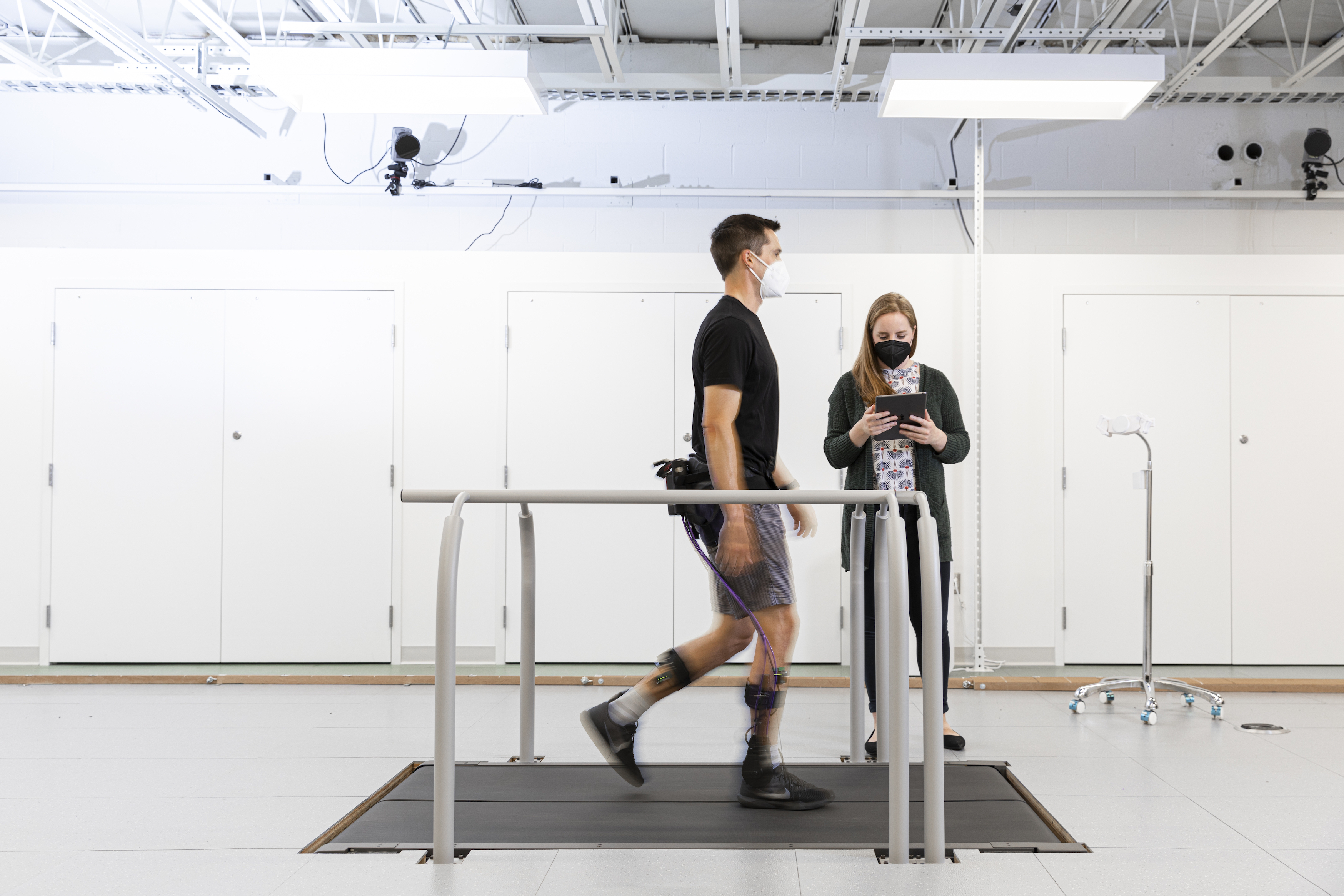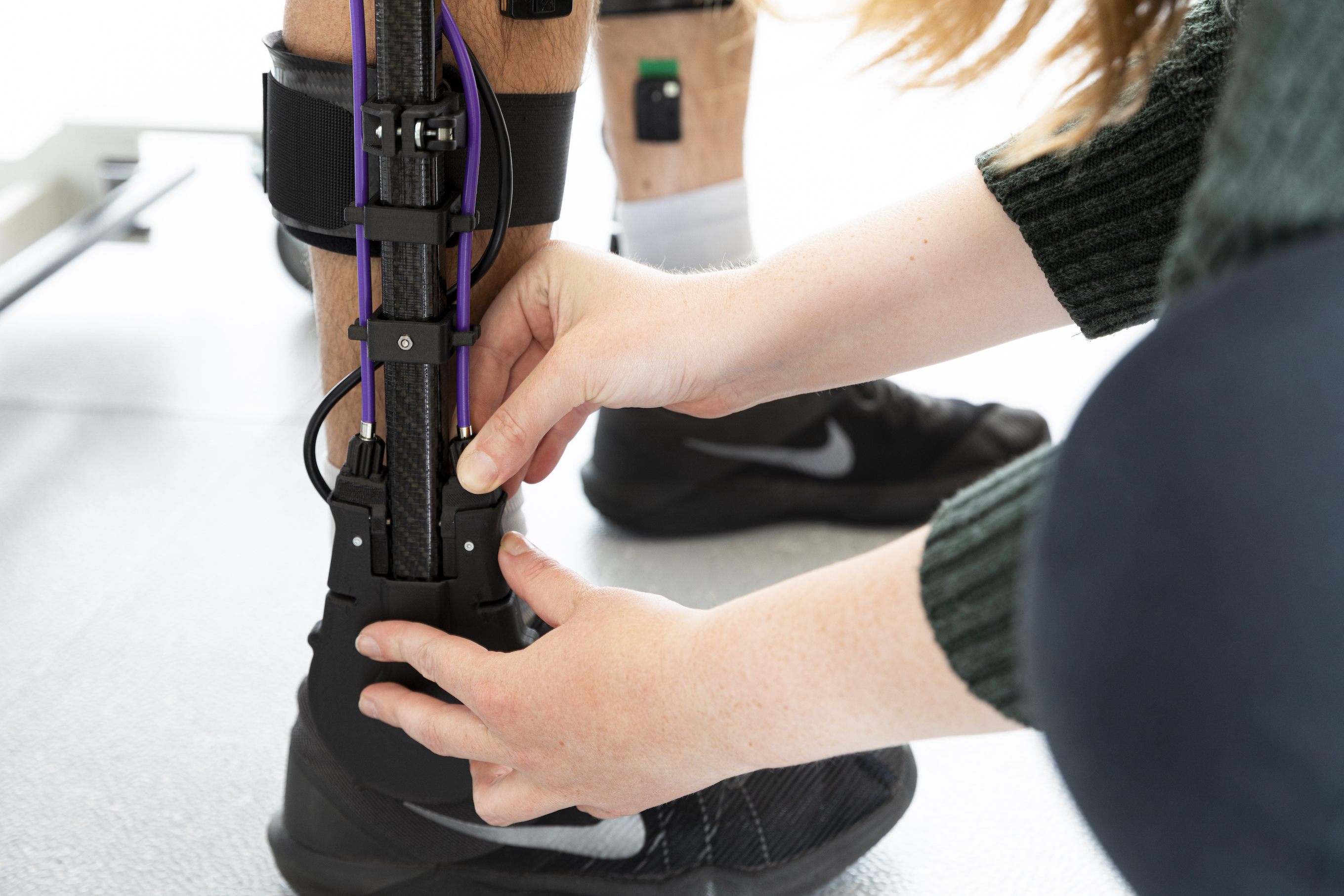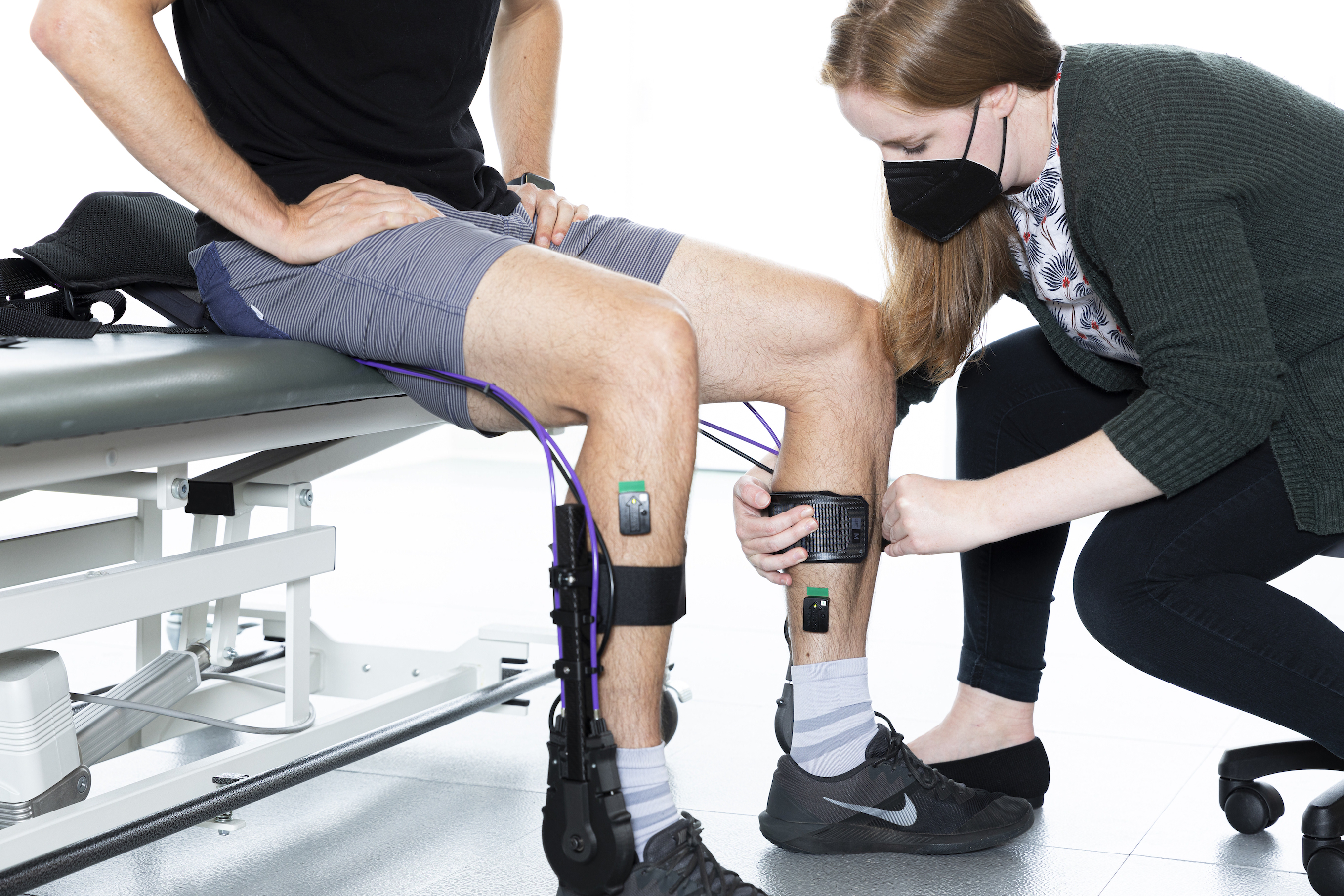 Spomer performed pilot testing with the device as part of her NSF internship, which is available to students in the NSF Graduate Research Fellowships Program. The study evaluated how individuals with cerebral palsy, primarily between the ages of 12 and 18, modified their motor control and movement patterns over a two-week training period with the device and audiovisual prompts. Using motion capture and electromyography systems, Spomer was able to precisely quantify how an individual's joint ranges of motion, muscle activity and motor control changes with training.
"The goal is to better understand how individuals use biofeedback systems and what factors may predict whether or not someone will respond to the therapy," Spomer says. "Characterizing this will both inform future system design choices and aid clinicians in developing individualized rehabilitation strategies."
Early tests with the device have shown promise in reducing individuals' energy consumption and improving their motor control during walking.
"Biofeedback and exoskeletons may be valuable as rehabilitation tools because they promote task-specific practice and self-initiated correction, both of which are foundational for motor learning," Spomer says. "And even beyond rehabilitation, the hope is that these types of devices could become part of the assistive tech space for everyday use."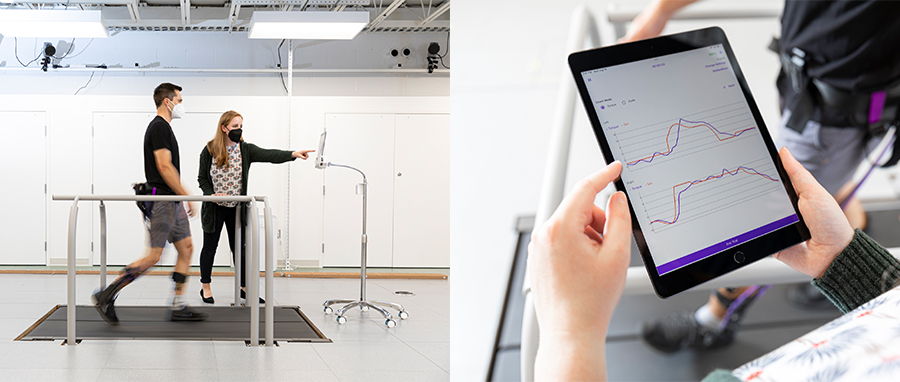 Passionate about accessibility
Spomer was drawn to ME by the Steele Lab's focus on enhancing human mobility through engineering and design. Working with Kat Steele, the Albert S. Kobayashi Endowed Professor of Mechanical Engineering, has been a highlight of her time at the UW.
"I really resonated with Kat's approach to research," Spomer says. "The body is the ultimate machine, meaning that we as engineers can apply much of our foundational curriculum in dynamics and control to characterize its function. The beauty of ME is that you are able to develop such a rich knowledge base with numerous applications which really prepares you to create and work in these multidisciplinary spaces."

The body is the ultimate machine, meaning that we as engineers can apply much of our foundational curriculum in dynamics and control to characterize its function. The beauty of ME is that you are able to develop such a rich knowledge base with numerous applications."
As a woman in engineering, it was important for Spomer to have a supportive female adviser.
"Kat has been an incredible mentor," Spomer says. "She is a huge advocate for all of her graduate students and wants to give us a well-rounded graduate school experience. She recognizes that we want to do impactful research and works hard to set us up in the best way possible."
Spomer has leveraged her technical expertise and industry experience to perform innovative Ph.D. research that bridges engineering and medicine, Steele says.
"Whether she is in the clinic, working with industry partners, or presenting at a conference, Alyssa is able to communicate with all audiences and unite different groups toward a common vision," Steele says. "Alyssa is a team player who is always willing to share her expertise, puzzle through challenging data or code and get excited about future possibilities."
Another significant part of Spomer's experience at the UW is her involvement and leadership in HuskyADAPT (Accessible Design And Play Technology). The student club has a design program where student teams get paired with needs experts in the community to develop solutions to accessible design challenges, and holds events to teach students, community members and industry partners how to modify toys to make them more broadly accessible.
"HuskyADAPT has been a natural extension of my work and allowed me to think more deeply about accessibility and equity," says Spomer, who currently serves as HuskyADAPT chair. "It's nice when extracurricular activities and work collide in such a way that they can help transform and inform one another."
Students in the club also hold donation events for all of the toys adapted at workshops – something that Spomer hopes to kick off at Gillette Children's Specialty Healthcare in Minnesota, where she will begin working this winter after she graduates.
About HuskyADAPT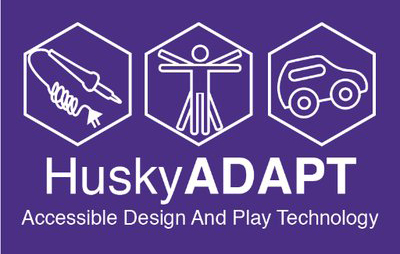 HuskyADAPT aims to foster an inclusive, sustainable, and multidisciplinary community at the University of Washington to support the development of accessible design and play technology.
Bringing an engineering perspective to a hospital
As a clinical scientist, Spomer will build a new research program in the Department of Rehabilitation Medicine at Gillette. She is primarily interested in studying acute recovery following intervention or neurological injury.
"We know very little about the early stages of recovery after neurologic injury," Spomer says. "I'm hoping to extend my dissertation work in order to better characterize recovery progression and the underlying plasticity of motor patterns, which I hope will help provide greater insight into  the efficacy of existing protocols and continue advancing the development of novel rehab tools."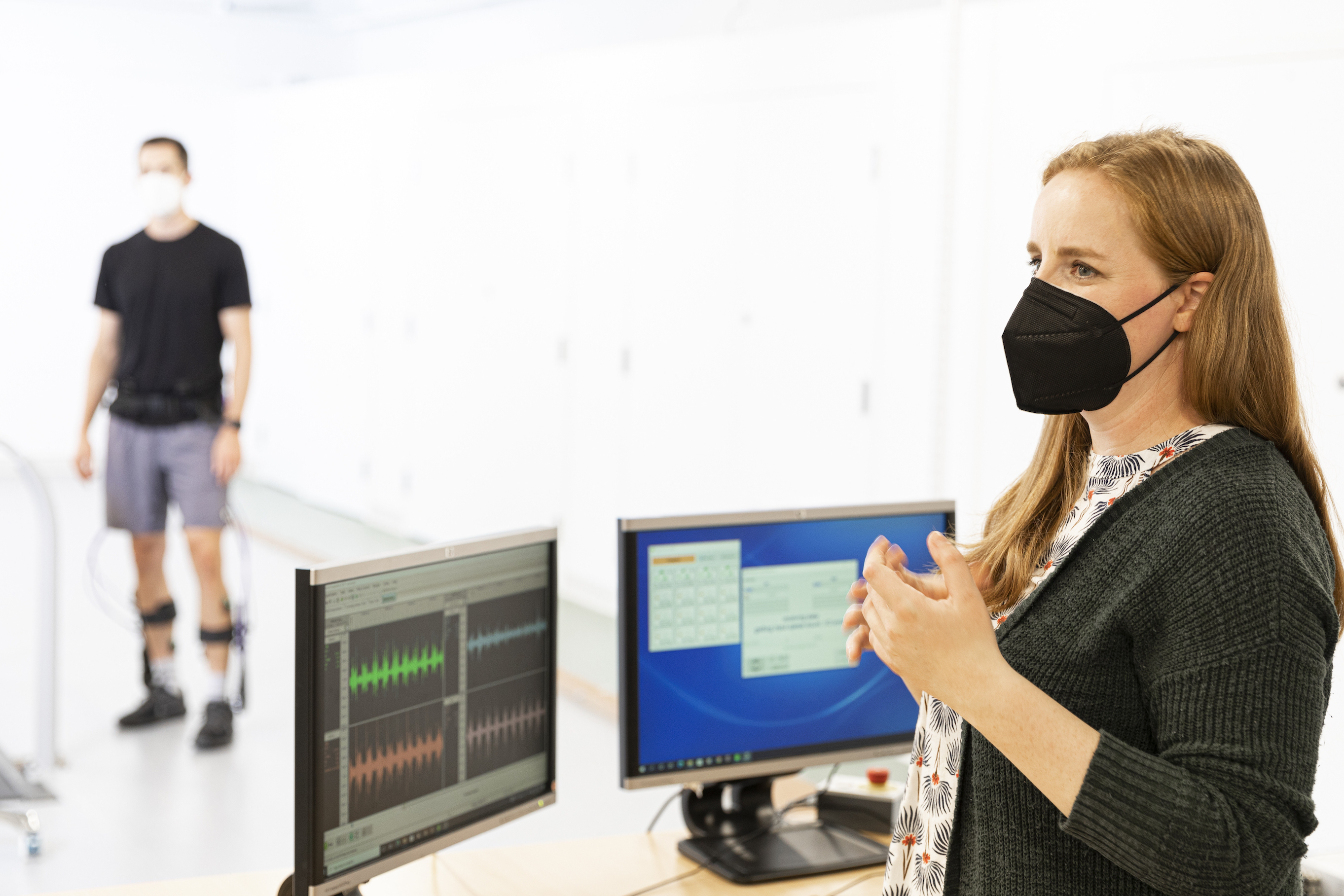 When Spomer first visited Gillette during her NSF internship, she was able to shadow clinicians working in different subfields to learn about cerebral palsy care at the hospital level and even observe surgical interventions. The experience piqued her interest in working at the children's hospital. In her new role, she looks forward to working with doctors and physical therapists to identify clinical needs that will guide her research and ultimately advance care.
"I am really excited to extend my skill set and dive further into the rehabilitation space in this position," Spomer says. "It is a huge challenge but an incredibly intriguing research direction to try and untangle the complexity of brain injury."
In relation to Spomer's dissertation work, the Steele Lab has received a $2.1 million NIH Research Project Grant to continue this research for the next five years. The lab will work with Biomotum and Gillette to evaluate adaptation in children with cerebral palsy in response to audiovisual and sensorimotor feedback, and how individual differences in adaptation can inform and optimize treatment.
"We will greatly miss Alyssa after she graduates, but are so excited for her future work and impact," Steele says.
At Gillette, Spomer is excited to pursue research that aligns with her Ph.D. work. Her goal remains the same: "How can we advance and improve the accessibility of healthcare strategies to help promote independent and long-term mobility?"
Related story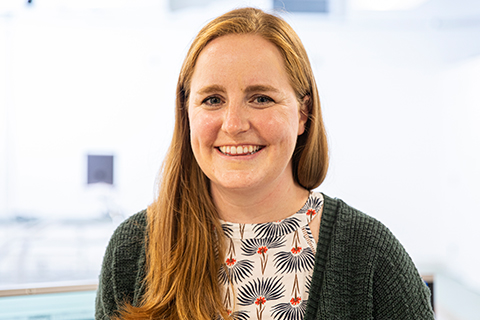 HUSKY EXPERIENCE
"I am passionate about making our communities more accessible for individuals with diverse abilities."