By Lyra Fontaine
September 22, 2022
A meeting for the planned Center for Data-driven High-rate Composites Manufacturing brought together UW researchers and industry representatives to discuss the future of composites manufacturing.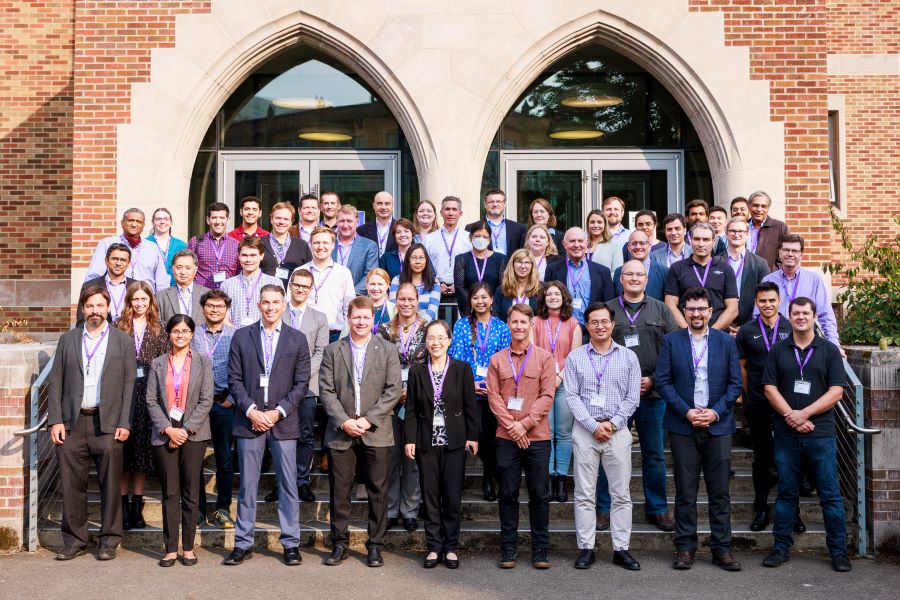 Both high-performance and lightweight, composite materials are used in airplanes, sporting goods, cars, infrastructure and more. UW researchers, including ME faculty, are leading projects that explore ways to accelerate the manufacturing, inspection and recycling of carbon-fiber-based composites; increase composites' longevity; improve ergonomics and safety for employees creating the materials and more.
UW researchers recently met with industry representatives from across the country to share their projects, discuss the future of composites and brainstorm how to address unmet industry needs. The event was part of a 2022 NSF Industry-University Cooperative Research Center (IUCRC) planning grant awarded to ME Professor Junlan Wang, along with co-principal investigators ME Professor Santosh Devasia, ME Associate Professor Xu Chen, Aeronautics & Astronautics Associate Professor Marco Salviato and Materials Science & Engineering Assistant Professor Navid Zobeiry. The grant supports industry partnerships, which could lead to the establishment of the Center for Data-Driven High-rate Composites Manufacturing (DH-COM). When established, DH-COM will create an additional mechanism to accelerate and drive research, as well as grow the industry network for the UW Advanced Composites Center (ACC).
"After nearly two years of active outreach and engagement, we are excited to bring multiple industry sectors together to discuss the current challenges and precompetitive research needs in the different composites industries," says Wang, DH-COM director and ACC co-director. "The meeting was a huge success in multiple ways. The active discussions and interactions helped to forge a strong convergence between the UW team and our industry partners on broad, cutting-edge, high-impact research needs. It also increased the industry relevance of our research direction, opening the doors for many new collaboration and partnership opportunities for both the proposed NSF center and the overall UW composites research."
DH-COM, along with the UW ACC, aims to advance data-driven composites manufacturing methods and accelerate the development and adoption of new materials and technologies, as well as training students with advanced composites and data science knowledge so they can become leaders in tomorrow's composites fields. Research focus areas include high-rate manufacturing methods, surface and interface science, model-based engineering, sustainability and physics-informed, data-enabled, closed-loop composites manufacturing.
The centers will benefit both UW researchers and industry members, Wang says. Students would work on industry relevant projects and receive mentorship from industry members while gaining expertise in both high-rate composites manufacturing and data science. Industry members from multiple sectors would guide the direction of projects to reflect their companies' needs. They would also have access to faculty expertise, UW's student talent network, the center's intellectual property and more.
Event speakers included Frank & Julie Jungers Dean of the College of Engineering Nancy Albritton; Tia Benson Tolle, Director of Materials and Sustainability for Product Development of Boeing Commercial Airplanes; and ME Professor Steve Brunton, who co-directs the AI Institute for Dynamic Systems.