By Lyra Fontaine
After two challenging years of virtual competitions, student clubs involving ME students saw a boost in memberships when they returned to in-person meetings during the 2021-22 school year. They've been busy training new members, building robots and human-powered submarines and winning awards this summer at in-person national and international competitions.
Husky Robotics wins second place in international competition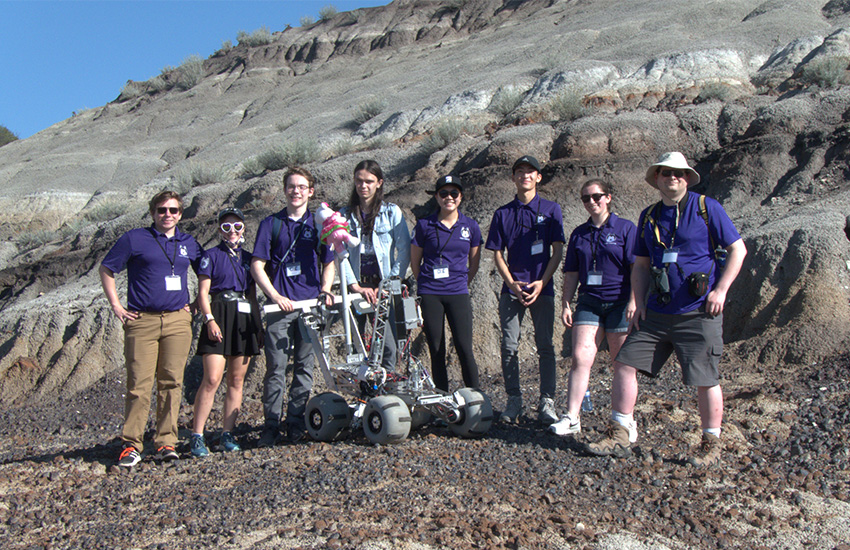 The UW Husky Robotics team is making a triumphant return. In August, the team placed second at the Canadian International Rover Challenge (CIRC), with a perfect score in arm dexterity. The success of their aptly named robot, Resurgence, demonstrates the team's resilience despite pandemic setbacks.
"It was great to be able to meet new people, interact with them in-person and work together on this design," says ME student Sydney Stone.
Each year, Husky Robotics builds a mock Mars rover to compete in CIRC and the University Rover Challenge. During the competitions, teams simulate the experience of being an early colony on an extraterrestrial planet. The robots perform challenging tasks such as traversing rocky terrain, taking soil samples to find out which areas would be habitable and even completing a search and rescue mission.
"I'm grateful that I had the experience to be able to learn something while having fun," says ME student Lucia Piotraszewski. "You're able to fail in a safe way that doesn't really affect you, it's just a learning experience."
ME graduate student Ben Estroff says the club is "an amazing place to find out what to do when things go wrong." For example, one member had to fix the rover arm during the competition, doing precise work under pressure.
"This is the bridge between the theory you learn in engineering and the tasks you do as an engineer," Estroff says. "It's gratifying to see people over the years develop into much more confident, competent engineers who are ready to go take on the world."
ARUW wins RoboMaster competition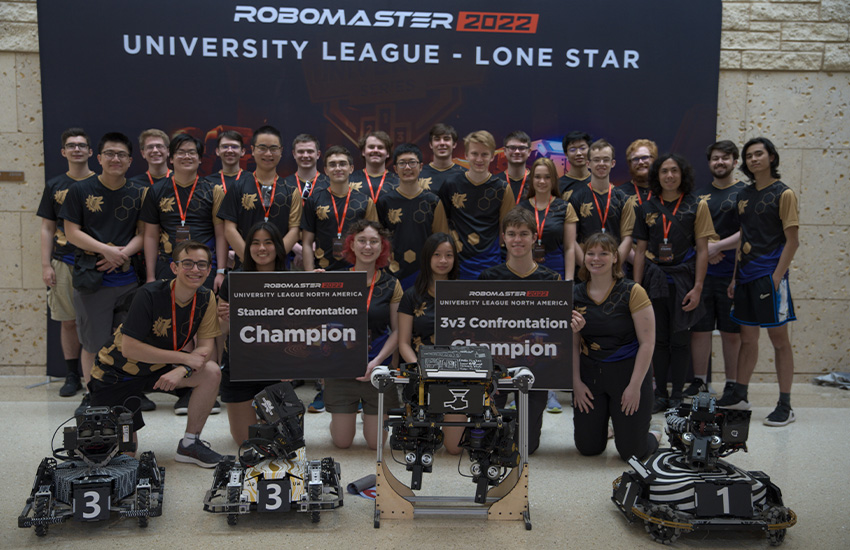 The interdisciplinary club Advanced Robotics at the University of Washington (ARUW) recently took home the championship title in the RoboMaster North America competition for the second year in a row. Next year, the competition will be hosted by ARUW at the UW. RoboMaster competitions are similar to multiplayer online battle arena video games. Each team builds a fleet of individually designed and constructed robots to compete against other universities. Robots battle by launching plastic projectiles at "armor plates" to deduct hit points, which "destroys" enemy robots and eventually their main base.
"Being able to travel and compete was fun and motivating, as it allowed our team members to reap the rewards of their year-long hard work," says Manoli Tramountanas, 2022-23 ARUW president and ME student.
Through designing and building different types of robots, ARUW members learn skills applicable to the rest of their engineering careers. They complete an end-to-end design process on each robot, and some perform advanced mechanical engineering skills such as structural analysis, system dynamics and controllability and fiber composites design and manufacturing.
"Mechanical team members see their project in action throughout software testing, continually working with the software team to revise and iterate the design," Tramountanas says. "ME students on our team frequently collaborate with students from other disciplines to gain broader knowledge of how each system comes together to make a whole robot."
Beyond technical skills, students also learn soft skills, including budgeting and creating a social atmosphere.
"The ARUW team did a fantastic job," says ME Associate Professor Xu Chen, a co-adviser for the club. "They developed essential soft skills such as critical thinking, leadership and time management."
"We doubled down on creating a warm and welcoming community at ARUW and have been able to achieve greater goals than before," Tramountanas says. "As we prepare for a new year of in-person learning, we are excited for a season of new team members working on and bonding over new engineering projects."
UWHPS wins Perseverance Award in England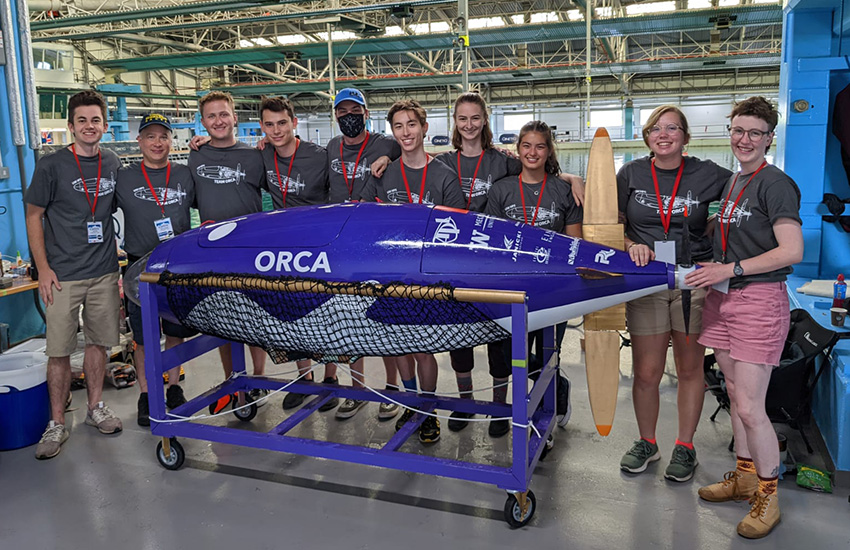 During the summer, the UW Human Powered Submarine (UWHPS) club's submarine Orca competed in England at the European International Submarine Races. The team was among the top four competitors and won the Perseverance Award. Many students saw the submarine competing for the first time at the competition.
"It was awesome to see the submarine in the water, and it was fun to meet other teams from England, Canada and Germany," says Zoe Long, UWHPS administrative director and industrial engineering student.
Notably, UWHPS was the first team to finish their "wet check," a test before the competition to make sure that the submarine works in the water and that the divers can communicate.
During the school year, UWHPS completed much of its design and machining process, then did pool tests. The club's scuba diving team completed 100 hours of dives and in-class training to become certified in scientific diving so they could gather data while underwater.
Students learn a variety of key skills through UWHPS as they participate in the design, manufacturing and testing phases of making the submarine, which operates like an underwater bicycle. They receive training to operate the CNC mill and the manual lathe in the machine shop, and they gain experience in 3D modeling software and composites.
This year's submarine focused on sustainability. For example, the students decided to use a resin infusion made of flax fibers to create the submarine body or hull, since they learned it was a more sustainable option than other composites.
Originally published October 17, 2022