By Lyra Fontaine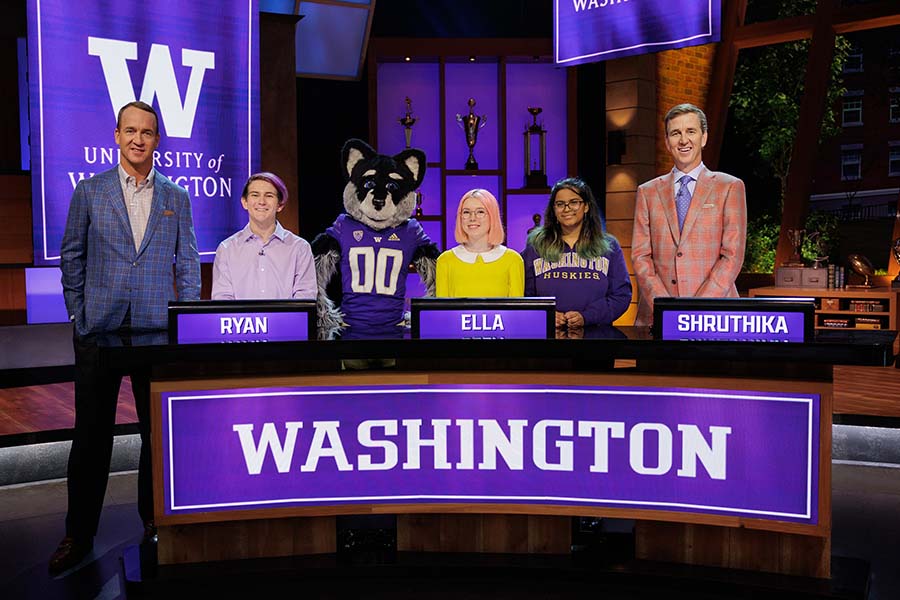 Growing up watching "Jeopardy!" sparked ME junior Shruthika Kandukuri's enthusiasm for trivia. When she began her first year at the UW amidst the COVID-19 pandemic, she joined the Quizbowl team to get involved and meet other students. She didn't realize that, two years later, she would showcase her trivia skills on national television.
Earlier this year, NBC's "College Bowl" quiz game show reached out to the student club to see if anyone was interested in participating. NBC selected Kandukuri and two other students from Quizbowl, Ryan Welch and Ella L'Heureux, to be on the show.
"I actually missed the call and saw a voicemail from someone in casting, so the anticipation and excitement built up while I waited for them to pick up my return call," Kandukuri says. "It felt really surreal – even as I was doing the paperwork and filming intro clips, I couldn't believe I was going to be on the show until getting to the studio."
The UW team made it to the quarterfinals, and each student won a $10,000 scholarship. Kandukuri enjoyed participating in the game and meeting players from other universities.
"It was a very fast-paced environment which was exciting, but there was quite a bit of waiting time between tapings so it was fun to hang out with other students and teammates," she says.
Kandukuri and her teammates prepared for the show together. They specifically practiced the "two-minute drill" round, when players try to answer as many questions correctly as they can within that time frame.
"I was so focused on answering the questions that I didn't really notice the cameras, so it was similar to Quizbowl in that regard," she says. "The kickoff round was also similar to Quizbowl structurally since it consists of a tossup where anyone can buzz in and answer bonus questions. The other rounds were much different, but they were still really fun. I enjoyed having multiple formats, since each tests the teams in different ways."
Though the UW's run ended in the quarterfinals, the team had the highest score in the qualifiers and the second-highest score in the quarterfinals. The students celebrated their run on the show by holding watch parties for the episodes.
"I'm still really happy with how we did," says Kandukuri, whose favorite trivia categories include science and literature.
Representing engineering
Kandukuri represented the College of Engineering on the show.
"I chose to major in mechanical engineering because I've always enjoyed seeing how different pieces fit together and how things work," she says. "When I was little, I used to put together a lot of flat-pack furniture with my parents and I would take apart my toys and broken electronics. That was when I realized I enjoyed building things and seeing how the pieces of the puzzle fit together."
Kandukuri is interested in sustainability and renewable energy, as well as robotics and manufacturing. At the UW, she has explored her interests by participating in student clubs like Formula Motorsports and conducting research in the Transformative Robotics Lab, led by ME Assistant Professor Jeffrey Lipton. She helped create a grip for Boeing employees that absorbs vibrations from power sanders.
One of her favorite ME courses so far focused on kinematics and dynamics. "We learned how things move, and I enjoyed how it applied to real-world situations," she says.
Last year, Kandukuri represented the College of Engineering as an Engineering Ambassador at outreach events and activities on campus and across the state.
"When I was younger, I enjoyed outreach events in the classroom and at science museums, so I wanted to pay it forward," she says. "I helped put together educational activities and hosted events for prospective engineering students. It's really rewarding to share engineering with the next generation and make it more accessible."
Kandukuri is now a hardware test engineering intern at one of the Tesla offices in California, where she tests components for fatigue and failure induced by vibrations. She is receiving course credit for her internship through ENGR 321.
"I've gotten to work on a lot of cool projects," she says, "and being able to see how such a large company works and all the different teams and elements that make up a car has been really interesting."

Originally published November 14, 2022