February 21, 2023
Join us in welcoming our new faculty member, Jenny Robinson. In January, Robinson joined the UW as assistant professor in ME and in Orthopaedics and Sports Medicine in UW Medicine. She is also the endowed chair in Women's Sports Medicine and Lifetime Fitness and core faculty in the Institute for Stem Cell and Regenerative Medicine (ISCRM). She will begin teaching in spring 2024.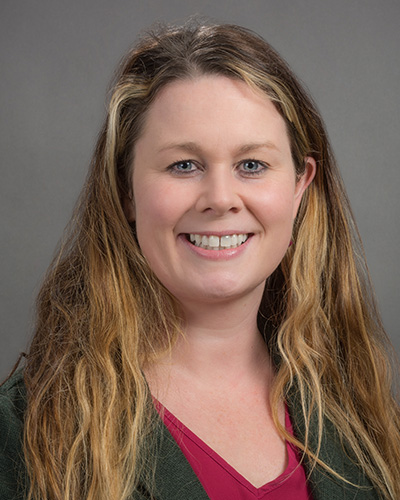 Robinson was most recently an assistant professor in chemical engineering at the University of Kansas. Previously, she was a postdoctoral fellow at Columbia University, a graduate researcher at Texas A&M University and a Whitaker Fellow at the National University of Singapore. She holds a Ph.D. in biomedical engineering from Texas A&M and a B.S. in bioengineering from Rice University.
The close collaboration between ME and UW Medicine, as well as the rich history of biomaterials research at the UW, were key to Robinson's decision to join the university.
She is interested in a cell's ability to sense mechanical change – such as torn fibers after an injury – and convert that to a biochemical signal that leads to cellular changes. "I've always been fascinated by how the environment within a tissue communicates to cells," she says.
Robinson creates biomaterials – materials created to interact with living cells, tissues, organs and systems – and tests them with human cells to see how they interact. Designing materials that could lead cells to regenerate tissue would impact people with injuries and diseases like osteoarthritis. Robinson also has a long-term goal of studying the role of biological sex differences in injury and aging.
Researchers in her lab are currently working on projects related to the knee meniscus. They're making fibers similar to collagen fibers found in the knee. Using a technique that applies an electric field to a conductive, polymeric solution, the researchers can alter the system to manipulate the fibers' properties to mimic properties after injury. This helps them understand how the immune system responds to the changes. The researchers are also building hydrogels, a material that holds large amounts of water, to mimic the viscoelastic mechanical properties of the meniscus. They are studying how changing the properties of the hydrogels impacts meniscus cells. The lab will then combine the fibers and hydrogels into a composite structure similar to the meniscus.
Robinson's interest in building biomaterials and researching cellular changes dates back to before her college years. She became interested in tissue regeneration after experiencing an injury from playing soccer.
"I have always been inquisitive and wanted to know how the world works," she says. "I really enjoy researching questions that no one has an answer to."
Robinson's role in the ISCRM
For Robinson, being part of an institute that sits at the intersection of biology and engineering is a natural fit – a place where a scientist and engineer who grew up building and fixing things with her father can pursue discoveries that help other people heal.