By Lyra Fontaine
Ph.D. student Shawn Swanson recently led a clinical trial for ThermoTape, a medical adhesive that becomes less sticky when time for removal.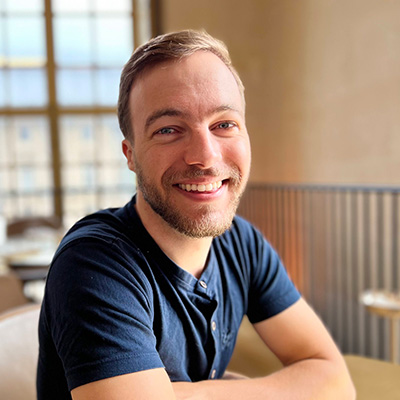 When he decided to pursue a Ph.D. at the UW, Shawn Swanson was looking for a dissertation research project that would directly improve human health. He found that in ThermoTape, a project started by ME Research Professor Eric Seibel focused on developing a medical tape that becomes less sticky when time for removal.
Swanson was interested in how the tape could reduce medical adhesive-related skin injury (MARSI). Medical tape removal can lead to pain, skin tearing and the dislodgement of critical medical devices such as intravenous catheters (IV), which could result in further complications for individuals who are already injured.
"The product could pretty quickly make an impact for patients and nurses," Swanson says.
After going through several iterations with the help of feedback from nurses, such as Seattle Children's nurse and consultant Ann-Marie Taroc, ThermoTape is now a strong adhesive that becomes less sticky only when ready to remove.
In the fourth year of his Ph.D. program, Swanson has led a clinical trial of the product with more on the way, written papers, drafted patents and helped secure funding for the project from WE-REACH, the Institute of Translational Health Sciences and CoMotion at the UW, as well as the National Science Foundation (NSF). The newest grant from NSF provides approximately $350,000 for the project. The eventual goal is to get the project through the U.S. Food and Drug Administration (FDA) requirements after the clinical trials are completed.
The journey to clinical trials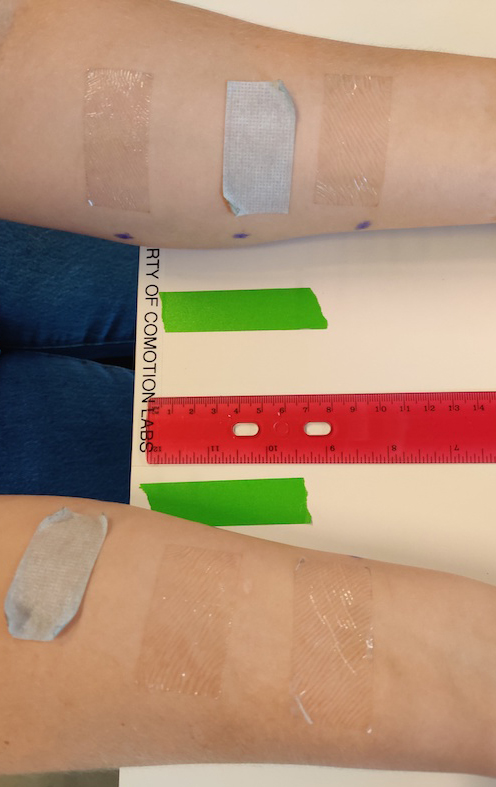 With the help of ME Affiliate Assistant Professor Leonard "Len" Nelson and former Department of Chemistry graduate student Christopher Fellin, the ThermoTape team created a polymeric additive that adhered the tape to skin until heat was applied. The researchers partnered with Henkel, a company that provided medical tape samples.
As the entrepreneurial lead, Swanson led the team's efforts in the NSF's Innovation Corps (I-Corps), a seven-week entrepreneurial training program that helps research projects move toward commercialization. Throughout the program, the researchers received feedback from nurses and other stakeholders about whether the products met their clinical needs.
"I-Corps is a valuable program for startups because it validates your market and your product," Swanson says. "Without that, you don't know if the product will succeed."
After receiving approvals from UW's Office of Research, Swanson and his team prepared for clinical trials. They then got to work recruiting students for participation in the trial through fliers and in-person outreach around campus. The study began in July and involved more than 50 individuals aged 18-25 with no history of skin conditions.
The researchers cleaned the subjects' skin and applied tape on both arms. The subjects then kept an activity log, then came back the next day. Researchers removed the medical tape from the individuals after applying a heat pack over the tapes in one arm, and without the heat pack applied to the other arm. They also measured the arm redness after removal.
Reducing pain
After analyzing the data they collected, the team found that ThermoTape led to a 58% reduction in self-reported pain when heat was used to remove ThermoTape compared to when heat was not used. The result is statistically significant. They also found that subjects experienced higher levels of pain when the heat pack was not used.
"Our goal was for the tape to have high adhesion and then reduce the adhesion when it's time to take it off," Swanson says. "We achieved that."
For the next clinical trial, ThermoTape will be tested on individuals ages 18 to 50. After that, the team hopes to do a clinical trial at Seattle Children's with kids, which is a higher-risk population since children have thinner skin.
Engineering for health
Swanson is no stranger to using engineering to advance the health-care field. While participating in the UW's Engineering Innovation in Health (EIH) program as a materials science and engineering bachelor's and master's student, he helped found a startup called MedsforAll that provides rescue drug autoinjectors to people who could otherwise not afford one.
Swanson decided to pursue his Ph.D. in ME not only to work on ThermoTape, but also to continue working with the EIH program. He became the first EIH fellow and has been involved in the program throughout his Ph.D – helping students prepare grant applications and pitches, create business plans and more.
"I love getting to mentor teams working on medical device innovations and helping them prepare for the competitions around campus. They do amazing work," he says. "EIH gives students critical medical device experience. Without the program, I wouldn't be where I am today."
Originally published March 20, 2023