March 27, 2023
Dayong Gao, the Origincell Endowed Professor of Mechanical Engineering and Director of the Center for Cryo-Biomedical Engineering and Artificial Organs at the UW, was announced as the president of the International Society for Biological and Environmental Repositories (ISBER) in March 2023. Gao will serve as president of the society from 2023 to 2026.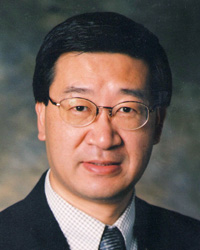 "I am honored and humbled to be elected as the president to lead ISBER and to serve ISBER members, researchers and biobankers all over the world," Gao says. "Today, in these polarizing times, there is much more of a need and urgency for ISBER to serve as a foundation for all biobanking researchers and practitioners to work together for the benefit of all humanity, regardless of race, color, religion, gender and national origin."
Founded in 1999 with thousands of members and collaborators from over 55 countries worldwide, ISBER is the only global forum that addresses scientific, technical, legal and ethical issues for biobanks and biorepositories of biological and environmental specimens. ISBER aims to foster collaboration; create education and training opportunities; provide a platform for the dissemination of state-of-the-art policies and research findings; and provide an international showcase for innovative technologies, products and services.
Related story
Biopreservation
The idea of freezing and later thawing out the human body has been a favorite of storytellers for decades, but the science of cryopreservation may be even more interesting.
At the UW, Gao's research has focused on mechanical engineering fields, including heat-mass transfer, mechatronics, design and manufacturing. His research applies to human health care, cryopreservation technology, biobanking, artificial organs and bio-instruments for cell-gene therapy, organ transplantation, regenerative medicine, bioconservation and medical diagnostics. He has published more than 500 peer-reviewed research articles and obtained more than 25 U.S. and international patents.
Gao and his research team invented and pioneered the world's first Single-Mode Electromagnetic Resonance (SMER) technology for advanced biopreservation. This technological breakthrough won two international awards in 2017 and 2021, the Exceptional Ph.D. Dissertation Award in Mechanical Engineering at the UW in 2021, and was featured in Forbes in 2022.
An internationally prominent scientist and educator, Gao served as the president of the Society for Cryobiology from 2016 to 2019. The "Dayong Gao Young Investigator Award" has been named and established by the Society for Cryobiology to recognize the most outstanding young cryobiologist and cryo-biomedical engineer in the world every year since 2019.