By Chelsea Yates
December 13, 2016
ME senior Bradley Wachter is working in the ME Ability & Innovation Lab to design body-powered orthoses to enrich the lives of those who depend on them.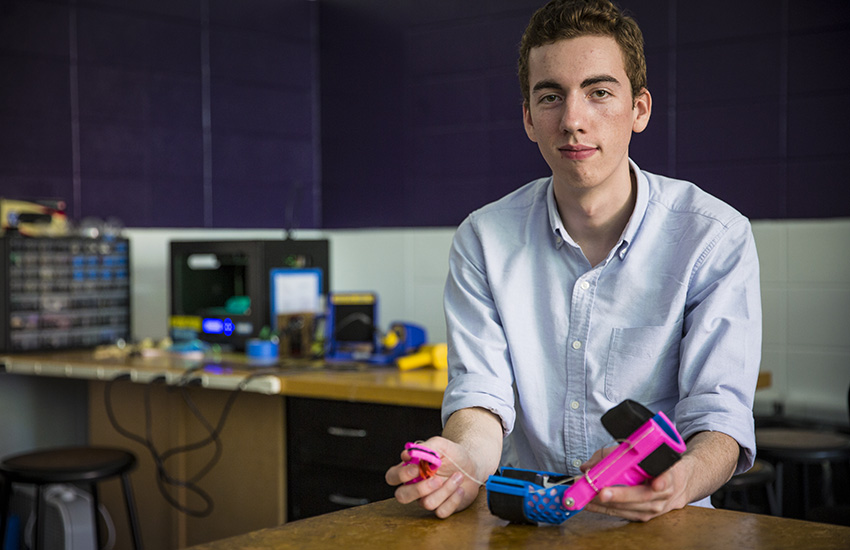 Bradley Wachter with the orthosis designed for Jayna Doll.
ME senior Bradley Wachter is featured in "Helping the body heal, feel and move again," a multimedia story about 10-year-old Jayna Doll, a participant in the Ability & Innovation Lab pioneered by ME assistant professor Kat Steele.
Bradley is working with Jayna to design body-powered orthoses to enrich not just her own life, but the lives of others.
We recently spoke with Bradley about his UW experiences and why he's studying ME.
ME: What inspired you to study ME?

BW: In high school, I took an anatomy and physiology class which inspired me to pursue a career as a doctor. Entering college, though, I became more interested in applying physics and math to the medical field and designing medical devices. Mechanical engineering has been the perfect choice for me because, through courses in biomechanics and mechatronics, I can prepare to enter the medical device industry.

ME: How did you get involved with the Ability & Innovation Lab?

BW: I told a friend that I was interested in medical devices and he recommended I contact Dr. Kat Steele, who directs the lab. I volunteered in the lab when I was a sophomore. The next year, Dr. Steele invited me to work on a project with ME student CJ Smith and lab manager Keshia Peters designing a 3-D printed orthosis for a little girl who had gone through a hemispherectomy, which is a procedure where half of the brain is removed to alleviate seizures.

ME: Tell us more about your experience working with her.

BW: Well, the procedure helped her overcome the seizures, but she developed some side effects, including impairment of her left wrist and fingers. The orthosis we've designed stabilizes her wrist and assists her in simple tasks like grasping a marker cap or playing with toys through the use of a hook. The device is body-powered and cable-driven, meaning it uses a cable that translates the movement of her elbow to open and close the hook.

ME: What do you like best about working in a lab that's exploring how to best use 3-D printing to create orthoses?

Bradley Wachter and Jayna Doll in the Ability & Innovation Lab.

BW: Many more options are available for those in need of prostheses (devices that replace missing or amputated limbs) than for those in need of orthoses (devices that are worn over existing limbs to provide support or give function). When developing an orthosis, we're designing something around part of the human body that may or may not have function or feeling. This poses a major issue: how do we design a singular device that can accommodate the needs of many?

The reality is that, unfortunately, no such device exists and probably never will. However, we can strive to make devices more customizable and accessible for those who need them. Dr. Steele's lab provides students opportunities to explore current problems in biomechanics and health, and she encourages us to apply what we learn in ways that will have a positive impact on people's lives.

---

Learn more about Bradley and the Ability & Innovation Lab at washington.edu/boundless/inclusive-engineering.