January 17, 2017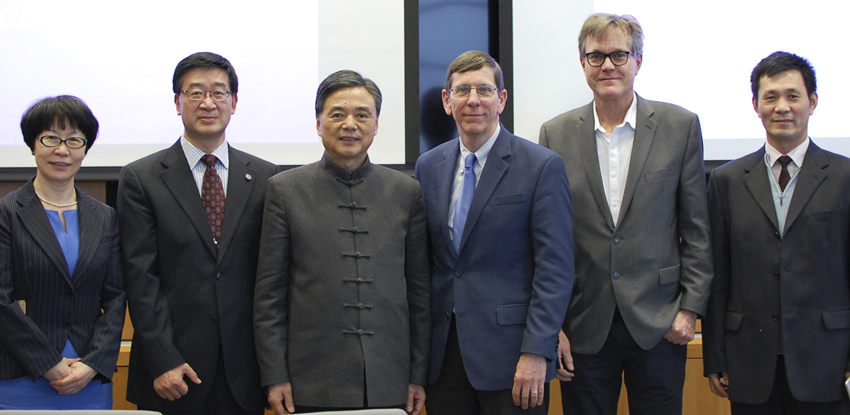 From left to right: Origincell Technology Group President Helen Yang, ME Professor Dayong Gao, Origincell Chairman Jianguo Qu, College of Engineering Dean Michael Bragg, ME Chair Per Reinhall, and Origincell Chief Technology Officer Xiaowen He.
Mechanical Engineering Professor Dayong Gao has been honored with the Origincell Endowed Professorship by the UW and Origincell Technology Group, a leading Chinese biotech company based in Shanghai that offers services in biobanking and cryopreservation of human stem cells and immune cells for their applications in medicine and healthcare.
Gao will work with Origincell to advance the methods, equipment and technology needed to safely and effectively store living cells for long-term cryopreservation — keeping them dormant but potentially alive at deep low temperatures of -196 C. The company collects cells from individuals when they are healthy and cryopreserves them so that the owners may access them later in life to treat diseases caused by aging or illness. Gao will also help the company advance systems, devices and protocols for re-introducing the stored cells back to their hosts' bodies when they are needed for health improvements.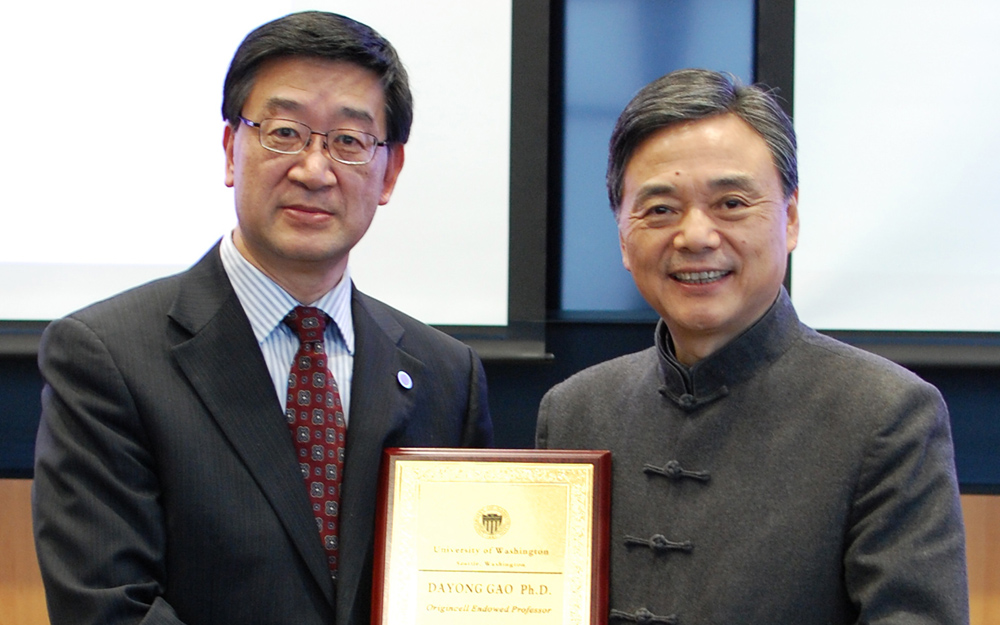 Dayong Gao (left) receives a plaque from Origincell Chairman Jianguo Qu.
Earlier this fall, Gao was elected as President of the Society for Cryobiology (International Society for Low Temperature Biology and Medicine). The Society's purpose is to bring together researchers who share the goal of applying scientific research of low temperature biology and medicine for the benefit of mankind. The Society will present Gao with its prestigious Luyet Medal later this year.
An innovative leader in cryobiology and cryo-biomedical engineering, Gao's work has applications in cryopreservation, regenerative medicine, gene and cell therapy, and organ transplantation, as well as in the development of bio-instruments and artificial organs. Since 1991 he has collaborated with hospitals and corporations to support and promote biobanking in medical practice and cell-tissue transplantation.
The Origincell Technology Group's Chairman and founder, Jianguo Qu, President Helen Yang, UW Vice Provost Jeffrey Riedinger, College of Engineering Dean Michael Bragg and Mechanical Engineering Department Chair Per Reinhall honored Gao with the professorship in-person at a ceremony on January 9, 2017.