By Chelsea Yates
November 28, 2016
ME students have developed a generator that converts heat energy from fires into electricity to charge phones.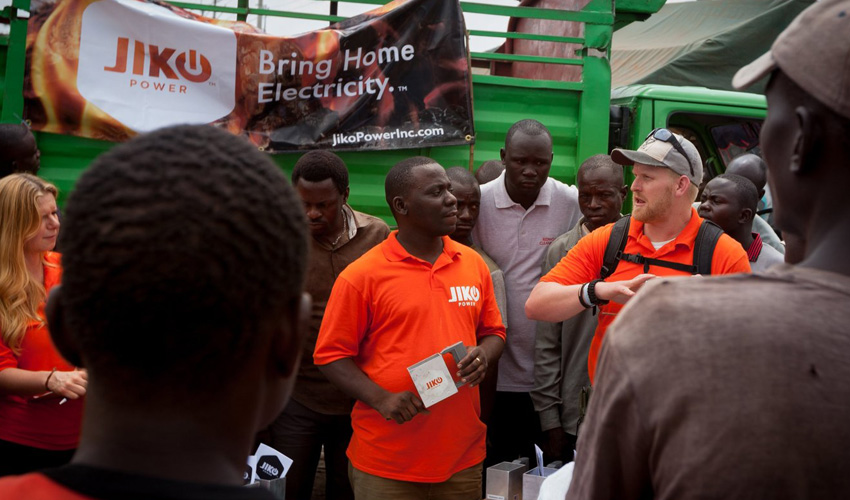 Ryan Ahearn (far right) presents the JikoPower Spark with teammates in Kenya.
The idea, ME senior Ryan Ahearn says, was sparked by his mom. She served as a relief worker in Haiti after a devastating earthquake and tsunami struck the country in 2010. One young boy she was treating needed medical supplies that were 10 miles away. Electricity was out, and though many people in the relief camp had cell phones, no one had a charge. She was unable to call for help and, unfortunately, the boy did not survive.
This story greatly affected Ahearn, who became even more concerned as he learned how frequently this scenario occurs across the globe, particularly in communities where people have cell phones but unreliable sources of power to keep them charged. A possible solution, he felt, had something to do with creating the right kind of portable generator, but he wasn't sure where to go from there.
Not long after starting the ME program, he learned about the Alaska Airlines Environmental Innovation Challenge (EIC) and met fellow ME students Aaron Owen and Dan Parrish. They, too, were interested in applying their engineering skills to help the greater good, so the three formed a team and entered the 2015 competition.
For the EIC, the students created a small thermoelectric generator that harnessed the wasted heat energy from fires and cookstoves and, through thermoelectric chips, converted it into electricity to charge cell phones, LED lights and other small USB-enabled devices. Their prototype proved that it had the potential for big impact, and they won both the Clean Tech and First Place prizes that year.
The students decided to call their team "JikoPower," a name meaning "stove power" in Swahili. With support from the 2015 EIC, along with 2016's UW Business Plan Competition and Social Venture Partner's Fast Pitch (in which they placed first and second, respectively), Ahearn and his classmates—now business partners—have transformed JikoPower from an experimental student team into a driven, determined startup company.
A small device with big impact
The JikoPower Spark charging a phone with heat energy.
Designed with durability and ease-of-use in mind, JikoPower's generator—now called the "Spark"—is lightweight and small. "It's perfect for rural lifestyles," Ahearn explains. "Since it uses heat that is otherwise wasted when people are cooking, it doesn't require anything else from users—they just set it up while they cook or have a fire going."
Though the device seems ideal for campers who might appreciate the convenience of charging their phone batteries on camping trips, the team is more concerned with having the Spark reach communities where it can help make a real difference in people's lives—places affected by disasters and low-resource communities across the globe.
"Our goal is to create a sustainable product that's affordable for people who need it most," Ahearn says. "If the Spark can help ensure that fewer people die from preventable deaths, like the boy my mom encountered in Haiti, then we want to make it as accessible as possible."
JikoPower estimates that 1.5 billion people across the globe do not have access to dependable sources of electricity and that 1.3 billion people regularly burn kerosene for light, emitting 270,000 tonnes of carbon dioxide into the atmosphere each year. According to the team, Southeast Asia, Sub-Saharan Africa and parts of South America are home to nearly 600 million people who own cell phones but do not have reliable electricity.
"One of the most rewarding parts about being involved in this project has been knowing that our device is truly making a difference," says ME undergraduate Tessa Gomes. She joined JikoPower last year and serves as one of their lead engineers.
"Working with partners, such as ACON and Project Stoke, we began testing the Spark last year in Uganda and Kenya," she says. "They're helping us introduce our generator to people who can really benefit from it, who need it."
JikoPower reports that Kenya is home to some of the most populated regions in Africa without electricity, and it has one of the largest disparities between the number of people with cell phones and electricity. Nearly 80% of Kenyans own cell phones, yet only 20% of them have access to a steady power source.
As a result, phone owners must visit charging stations, where they pay to power up their phones. Often these stations are expensive and hard to come by, so people must travel far distances to access them.
JikoPower is currently working to introduce the Spark into communities large and small across Kenya. The team attests that, with the generator, people won't need to travel as much, money can stay local, phones can maintain charges, and emergency services can be called when needed.
Moreover, Gomes adds, with the Spark, people are three times more likely to use a clean cook stove. With steady access to sustainable electricity, families won't need to rely on costly kerosene for light. This will reduce their carbon footprint, as well as household expenses.
Encouraging innovation
The EIC provided the students with a framework to start investigating their idea and the encouragement to make it a reality, and the support they've received from ME has helped solidify it. "Our engineering classes and instructors have instilled in us an analytical way of engaging problems, as well as the confidence that we can come up with the solutions, no matter how challenging the problems seem," Ahearn says.
Gomes agrees. "Designing and developing a prototype is one thing; moving a device from prototype through to manufacturing for large-scale production is quite different," she says. "I'm thankful for professors like Ashis Banerjee, who has advised us at many stages of development and has been very generous with his time and guidance."
Ahearn cites courses in project management, design, organization and communication as most valuable, as well as a CAD solid modelling course he took a few quarters ago. "I use those skills all the time," he says.
For Gomes, classes in statics, dynamics, mechanics and heat transfer have been essential. "So has the ME Machine Shop," she adds. "It's an amazing resource and the shop managers have assisted us more than they know."
Both students plan to graduate in 2017 and devote themselves fully to JikoPower. The company is currently seeking support through Kickstarter and plans to pursue additional clean energy product patents down the road.
But, in the meantime, the students are grateful for their time on campus.
"Seattle and the UW encourage innovation in such unique, inspiring ways," Ahearn says. "Honestly, I can't think of a more supportive place to be doing the work we're doing."
Learn more at www.jikopowerinc.com.