September 19, 2016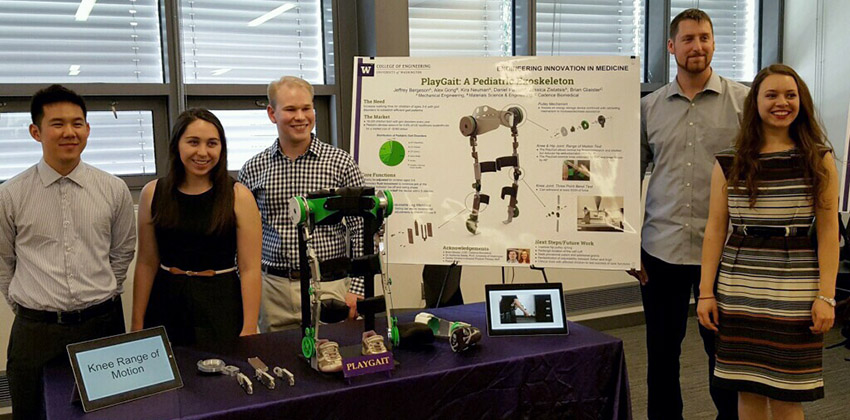 The PlayGait student team at the spring 2016 Engineering Innovation in Health design showcase.
Congrats to PlayGait, a team of students, engineers and clinicians that has been awarded a grant to continue development of a pediatric exoskeleton for children with cerebral palsy!
The UW team is one of four winners of the competition, which was held by New England Pediatric Device Consortium (NEPDC), Center for Translation of Rehabilitation Engineering Advances and Technology (TREAT), Pediatric Orthopaedic Society of North America (POSNA) and the Foundation for Physical Therapy.
NEPDC, TREAT, POSNA, and the Foundation for Physical Therapy awarded $150,000 in grant funding and over 400 hours of in-kind service to the commercialization of four medical devices designed to meet crucial needs in pediatric rehabilitation, including the PlayGait.
The UW team came together through UW's Engineering Innovation in Health program last year and includes ME students Daniel Parrish, Jeffrey Bergeson, Kira Neuman and Jessica Zistatsis, and MSE student Alex Gong.
Their device, PlayGait, is a pediatric exoskeleton designed to improve the walking time for children ages three to six years old who have neurological walking disorders, such as cerebral palsy.
"Approximately 16,000 children are born each year in the U.S. with the need for an assistive device, but currently there is no pediatric exoskeleton on the market," explains Zistatsis. "We've designed a completely mechanical exoskeleton utilizing an exotendon, an innovation developed by our partners at Cadence Biomedical which can effectively store and return energy while walking."
Other features of the PlayGait include adjustable leg struts, an innovative spring mechanism to control the tension of the exotendon, the ability to put on and remove the device in less than 5 minutes, and the ability to use the device in locations beyond a clinic.
At the UW, the students will continue to develop PlayGait, with ME assistant professor Kat M. Steele's Ability & Innovation Lab, partners at local start-up Cadence Biomedical including Brian Glaister, and Kristie Bjornson, a pediatric physical therapist at Seattle Children's Hospital. With the support of the grant, they aim to test and improve the device with feedback from clinicians and patients at Seattle Children's Hospital.
More news: