July 22, 2016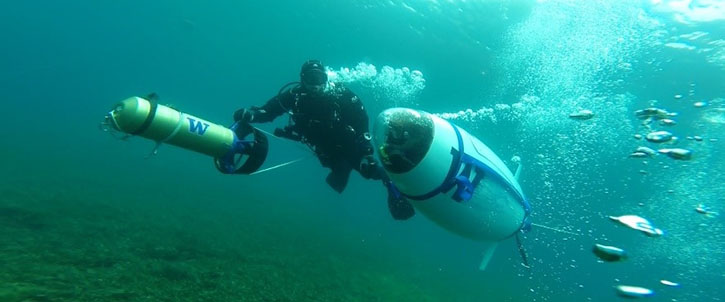 The 2015-16 UW Human Powered Submarine Team has placed third at this year's European International Submarine Races! The team traveled to Gosport, England, to participate in the competition, which took place July 6-15, 2016. Twenty teams from across the globe registered, and twelve qualified to race in the finals. Competition was close: The top three teams were separated by only 1.6 points in their final scores, out of 100 points total. And a mere 0.1-point difference was all that kept UW from second place.
In addition to its third place win, the UW placed first in the category of "top speed by a female pilot," thanks to Carol Nishikawa, a psychology student who graduated this spring.
The European International Submarine Races challenges teams of university students to design, build and race human-powered submarines against the clock on an out-and-back course. The concept combines engineering design challenge with technical skill development.
Submarines are piloted by a single scuba diver, who must be fully enclosed within the hull of the machine. All propulsion power must be provided by the diver during the race. The overall prize for the competition is awarded based on a range of evaluations, including performance tests, production quality, design creativity and safety.
A UW team first participated in the challenge in 1989 and has maintained a regular presence ever since. In 1990, the team was moved to the Mechanical Engineering department (where it continues to be housed today) and offered as an undergraduate student design project. The team is made up of more than 40 students from across the College of Engineering, as well as other disciplines.
The overall project is funded through donations and corporate sponsorships, which cover the costs of parts, manufacturing, registration fees and travel to competitions.
Learn more about the team and how to get involved.