December 16, 2016
The second floor of UW's Fluke Hall was a-buzz this December as participants of the second annual Hack for Access: Holiday Toy Hack begun filling CoMotion Makerspace. They came together to adapt toys for children with disabilities just in time for the holidays!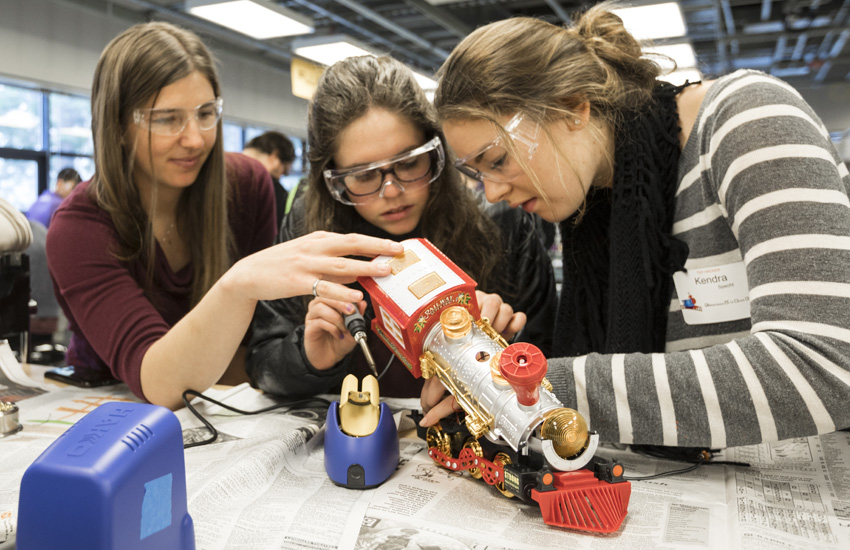 Photos by Mark Stone / University of Washington
Approximately 50 volunteers from UW and the community — including caregivers, therapists, practitioners, and self-identified "hackers" (people who enjoy tinkering or building things as a hobby or profession) — adapted 30 toys at the event, which took place on Dec. 11, 2016.
The Holiday Toy Hack brought together students and faculty from across the UW as well as community members and was led by the Taskar Center for Accessible Technology from the Department of Computer Science & Engineering, Bioengineering Outreach, Mechanical Engineering's Ability & Innovation Lab, and AccessEngineering.
Anat Caspi, director of the Taskar Center for Accessible Technology (TCAT), said the event this year was bigger and better in large part due to new collaborators in toy and play adaptation at UW. This and other Hack for Access events are a response to an unmet need in the community for affordable adaptations of everyday items to make them accessible. Everyday technologies that are not medically necessary, from toys, kitchen utensils, to tablets and phones, often present challenges to people with disabilities. TCAT has cultivated a vibrant community of practice that engages people with disabilities, caregivers, therapists and practitioners, many of whom joined the Toy Hack effort. The community comes together to address challenges that may be resolved with little technical changes and a lot of creativity.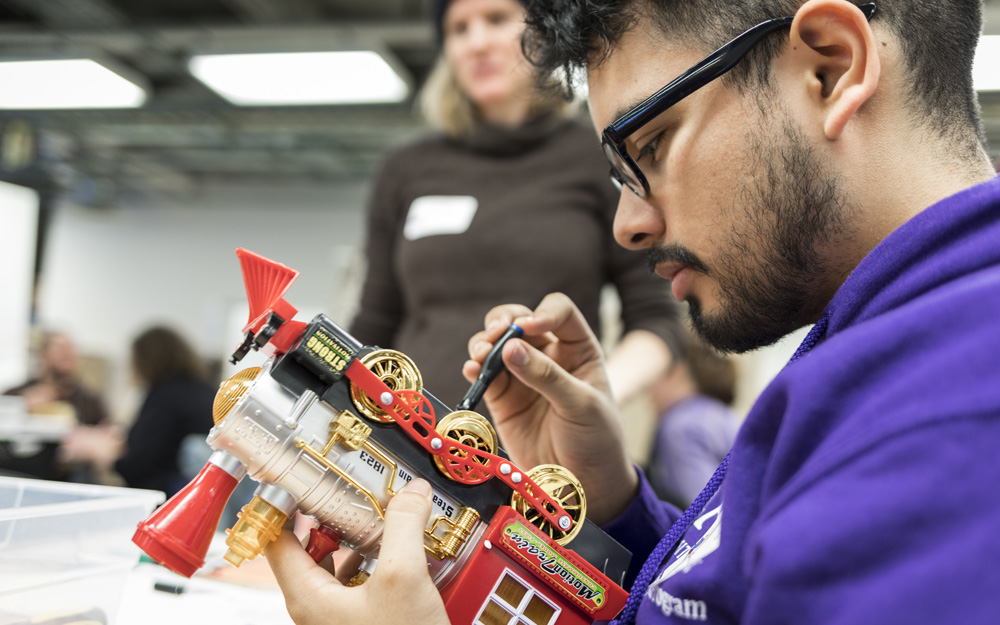 "Toy hacking is just one way to bring community together and really demonstrates how simple transfer of knowledge can have a big impact. We are not just adapting holiday toys. Our community of practice, all these therapists, parents and practitioners, will now take this work further by adapting other toys and other items to improve quality of life and independence for people with disabilities."
Toy adaptation involves modifying a toy to enhance the user's experience. At the Holiday Toy Hack, volunteers added a universal switch to each toy so that a child can activate and play with the toy using his or her unique abilities. For example, instead of pushing a small button to activate a toy, a child can activate the toy by tilting their head, pulling on a string, or pushing a large button.
Adapting toys is important because play is crucial for cognitive and social development, as it teaches children simple concepts such as cause and effect and provides an opportunity for children to interact with their peers and the environment. Toy adaptation is an example of universal design in engineering, which is the design of products and environments for all people.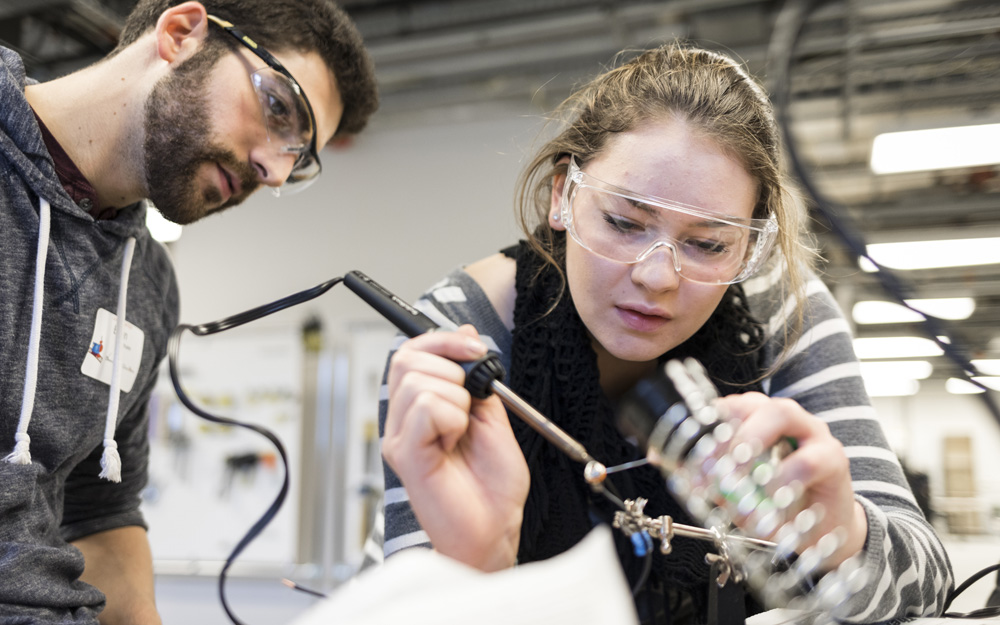 Kat Steele of the Ability & Innovation Lab emphasizes that Toy Hacks are a great opportunity to not only help others, but also train and inspire engineers in universal design, "What if we didn't have to adapt toys? What if more toys were accessible off-the-shelf to individuals with diverse abilities? Hopefully all the students will remember these small lessons as they design products and environments in the future."
At the Holiday Toy Hack, volunteers worked in small teams led by a UW student or staff member. A team of Bioengineering students, led by Dianne Hendricks and PhD student Molly Mollica, trained their peers in how to adapt toys before the workshop. Roujia Wang, Philip Lee, Alexander Novokhodko, and Moritz Lange are all Bioengineering seniors who will continue to lead toy adaptation workshops throughout the year as part of their honor's project.
Molly, who also helped launch the Toy Adaptation Program at Ohio State University, is enthusiastic about mentoring the honors team "I worked on toy adaptation in Ohio for three years and am excited about being able to do so in Seattle as well. I'm passionate about toy adaptation because of its community impact and its impact on students. While adapted toys teach children important concepts such as cause and effect, the process of adapting toys teaches participants circuitry, soldering, universal design, and reverse engineering. Perhaps most importantly, it demonstrates the community impact that is possible using introductory engineering skills."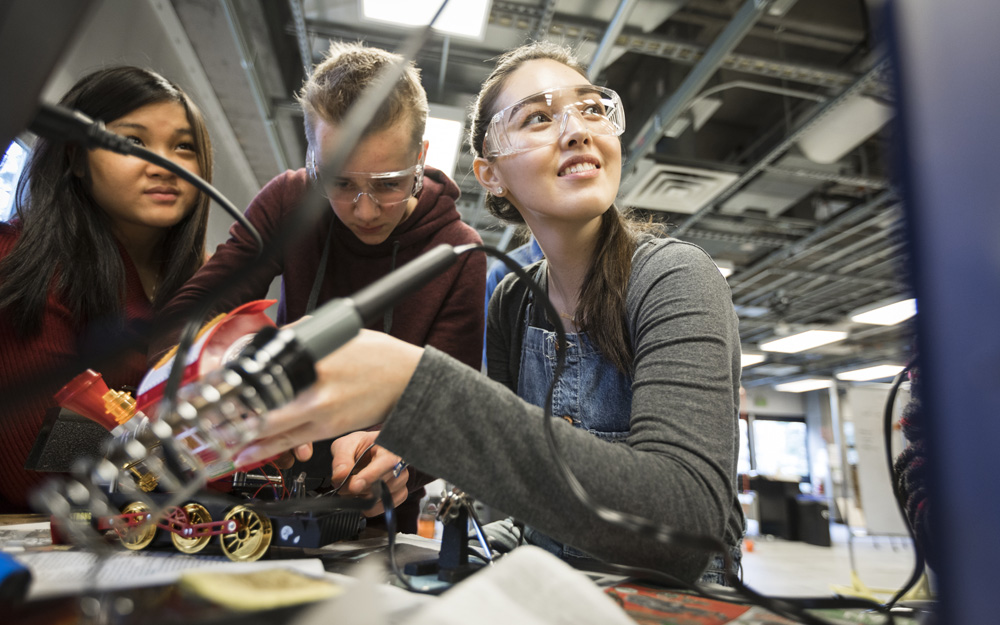 Hendricks adds, "The altruistic component of toy adaptation is tremendous! I am so fortunate to have this opportunity to combine my favorite things — service, teaching, and mentoring. As an educator, I valued this excellent opportunity to teach students the importance of universal design and to engage with children with disabilities and their families at this event. In addition, toy adaptation is a great opportunity for students to practice real-world engineering skills such as soldering, and also cultivate their communication, mentoring, teamwork, and problem solving skills."
After the Holiday Toy Hack, organizers will continue to collaborate by launching HuskyADAPT (Accessible Design and Play Technologies), an initiative that will provide College of Engineering students the opportunity to create accessible and affordable assistive technology.