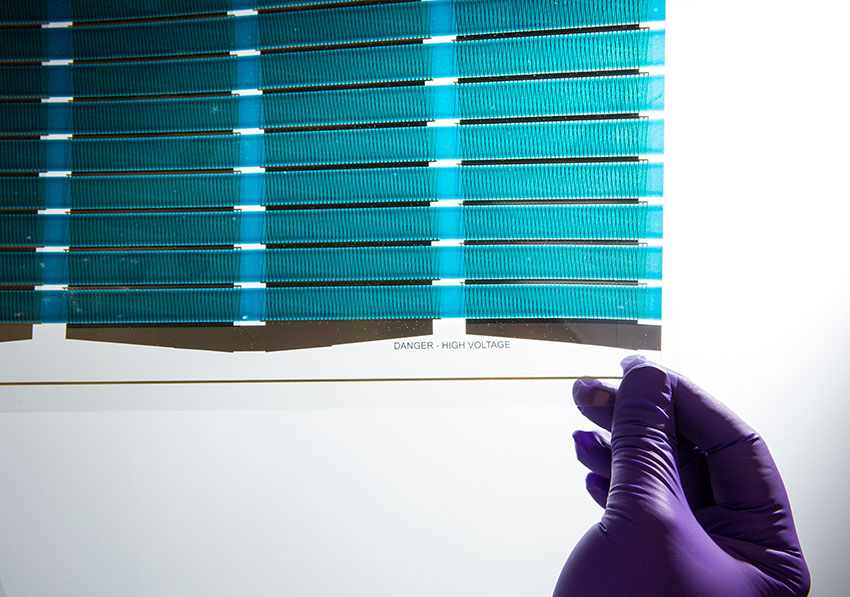 Working in conjunction with the UW Clean Energy Institute (CEI) and Washington Research Foundation, ME faculty are helping to advance clean energy by developing next-generation solar energy and battery storage materials, devices and systems. Whether they are investigating how to build high-efficiency, low-cost solar cells or are pushing the envelope on batteries that can store more energy and perform better than current technology allows, our faculty are at the leading edge of sustainability research. We highlight a few of their projects here.
Advancing solar energy and electronics at the Washington Clean Energy Testbeds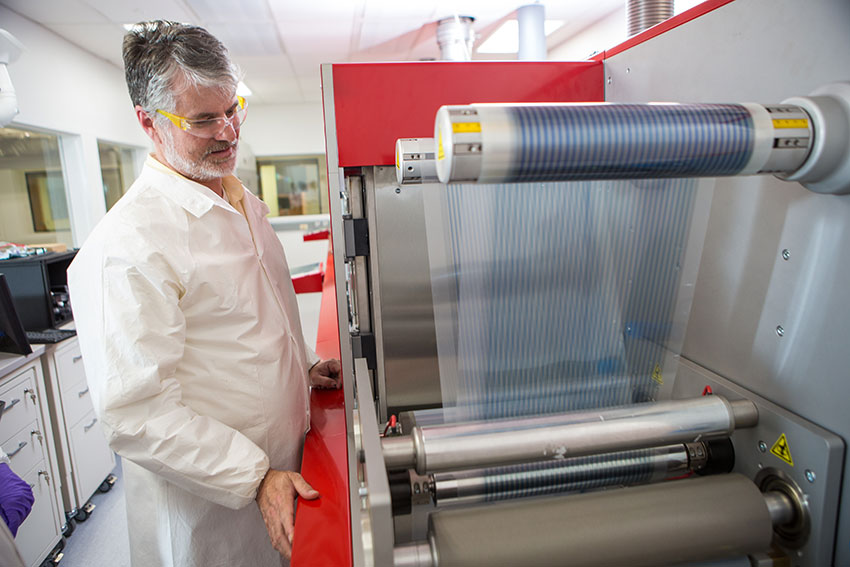 ME and MSE associate professor Devin MacKenzie is a Washington Research Foundation Innovation Professor of Clean Energy, member faculty of the CEI, and technical director of the Washington Clean Energy Testbeds, a laboratory and workspace that provides industrial, government and academic users access to fabrication tools, analysis instruments and professional staff.
MacKenzie's research team, the Scalable Printed Electronics and Energy Devices (SPEED) group, is exploring more sustainable ways to make electronic and energy devices. Much of their research focuses on printed and roll-to-roll processed large area solar cells and involves perovskite, a new material with a unique crystal composition that allows it to be printed on flexible materials. It may offer an alternative to silicon solar cells, thus making solar energy more accessible and affordable.
The team is also investigating new ways to fabricate flexible electronics and sensors through low-carbon footprint additive printing. Flexible electronics represent a new class of electronics; lightweight, bendable, stretchable and robust, they have the potential to shape manufacturing and energy sectors on a global scale. Additionally, SPEED is researching photonic film nanomanufacturing to improve the efficiency of solar modules and smart windows. The team is also working with new energy-dense, low environmental-impact batteries for a variety of applications, including storage, body sensors, wearable electronics and electronics for extreme environments. In addition to their stand-alone potential for impact, the diverse research thrusts in the SPEED lab are part of a vision to create integrated devices with sensing, control and power capabilities combined and printed on one substrate and formed in a single manufacturing process.
Creating better lithium-ion batteries
ME associate professor Corie Cobb is a Washington Research Foundation Innovation Professor of Clean Energy and member faculty of the CEI and Molecular Engineering & Sciences Institute. In her Integrated Fabrication Lab at the UW, Cobb is investigating new additive manufacturing and computational design methods to revolutionize energy storage and other complex engineered material systems. Her research centers on lithium-ion batteries — rechargeable batteries that have high energy density and are used in smartphones and other consumer electronics with potential extensions to electric vehicles and aerospace industry applications.
In particular, Cobb's work focuses on new design and manufacturing processes for better-performing lithium-ion batteries, beginning with the materials out of which they are made. By integrating the fields of design theory, computation, manufacturing and materials science, she studies the formulation and processing of new 3-D material architectures to better understand how materials can be controlled and engineered. She hopes to develop new additive manufacturing processes for fabricating and enhancing batteries that will improve the overall performance quality, accessibility, cost and efficiency of lithium-ion batteries.
Cobb is part of the local organizing committee for the 2019 International Battery Association conference, a prestigious gathering of scientists and engineers who are blending fundamental research with practical applications in the field of advanced battery materials and systems. She is also co-organizing a new symposium at this fall's Materials Research Society meeting on advanced manufacturing for energy storage.
Bringing battery innovation to market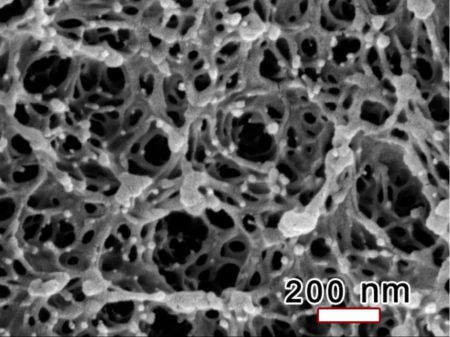 ME professor Vipin Kumar and ME alumnus Krishna Nadella, MS '02, PhD '09, are developing nanostructured thin films for lithium-ion batteries at the Washington Clean Energy Testbeds thanks to $225,000 in Small Business Technology Transfer funding. Their research is taking place through their startup company Vesicus, which is creating and commercializing novel cellular materials.
For its project at the Testbeds, the team is exploring how to apply a nanoporous polymer thin film as an ion-exchange membrane in lithium-ion batteries. The film will have a higher porosity and thermal stability than the membranes used in existing batteries. Compared to the current multi-step process for fabricating battery membranes, Vesicus hopes its continuous process will result in higher productivity.
Vesicus is using the Testbeds' roll-to-roll printer and characterization tools for this work. Along with lithium-ion batteries, other applications of these films include substrates for flexible electronic circuits, separators for the oil and gas industries, and filter membranes for biological technology.
---
Learn more about ME's clean energy research.
Originally published November 19, 2018