June 13, 2022
Undergraduate students showcased a range of senior capstone projects focused on solving real-world challenges in health and medicine, robotics and manufacturing, transportation and more during the inaugural Mechanical Engineering Capstone Expo on June 2.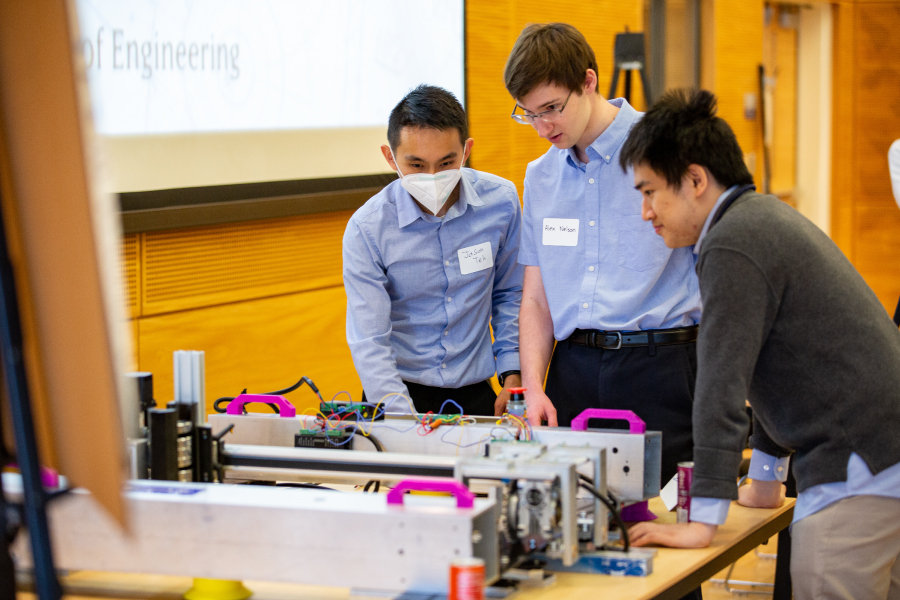 Students presented their projects to the ME community as well as industry mentors and sponsors through posters, prototypes, exhibits and demos. The event also celebrated students' hard work and achievements and recognized team posters for most effective communication.
Teams created a tool for testing a more effective way to collect tissue samples needed to diagnose bile duct cancer, investigated how to monitor drone damage, worked to understand how the UW campus could become carbon neutral, identified types of floats that best convert wave energy into mechanical power and more.
Jason Teh was one of five team members who designed a mechanical fixture for surface treatment of thermoplastics, which are used as parts on aircraft structures, for Boeing. The team created a flexible two-axis CNC machine attached to a curved aircraft body structure via suction cups, carrying a plasma nozzle to treat the surface of thermoplastics so that they can bond to them for repairs. The team's solution could be used on more areas of the aircraft than the current solution.
"On the capstone, I became the project manager, structural designer, and CNC control lead," Teh said. "I learned to take initiative on unknowns such as tackling our complex CNC electronics, how to manage/integrate people under pressure when individuals needed work or emotional support and design with active criticism for improvement on various subsystems."
Projects involved 160 ME undergraduates across 50 capstone teams, including industry capstone projects sponsored by businesses such as Amazon and PACCAR, faculty-sponsored projects and student-proposed projects. More than 20 of the teams were interdisciplinary and most students worked on their projects for at least two quarters.
Through capstone design projects, students experience the rigor and structure of a full-cycle design, from defining the problem to prototype fabrication and testing. All projects also involve a written report that includes risk and liability, ethical issues, impact on society, impact on the environment, and cost and engineering economics.
"It was a blast to see all the progress the teams have made and see how excited they were to talk about their work," said Eli Patten, ME Assistant Teaching Professor, Capstone Design.
"The biggest takeaway from the capstone is that if you put your heart and passion on your goals through stressful times, then you will prevail and it will become a reality," said Teh, who plans to work at Boeing as a Structural Design Engineer on the 737 MAX after graduation.