ME's new Diversity Equity and Inclusion Officer shares the experiences that led him to DEI work and efforts underway to increase representation in the department.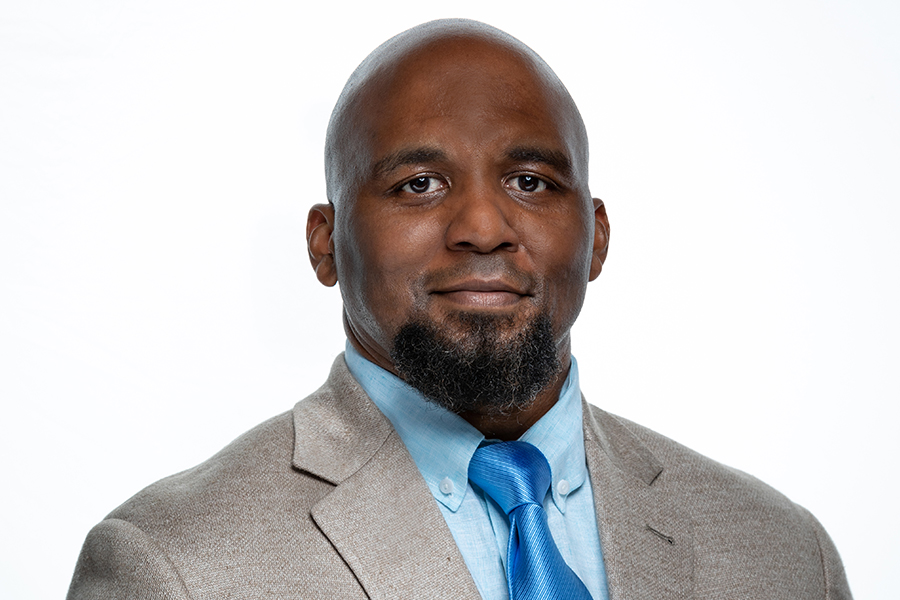 Less than a year after he became ME's first Diversity Equity and Inclusion (DEI) Officer — a position jointly created by the department and the College of Engineering's Office of Inclusive Excellence (OIE) — Corey Clay has been busy facilitating discussions about topics like critical race theory, working with student groups and faculty and creating a long-term plan to improve representation in ME. This year, Clay received the Alfred Adler Social Justice Award from Adler University, where he is currently working on his Ph.D. in industrial and organizational psychology. Here, Clay shares what drew him to the UW and DEI work and what he's looking forward to in his new role.
What led you to this role?
In 2020, my wife and I moved from Houston to Vancouver, B.C. Then George Floyd was murdered, and not long after I created the Pacific Northwest Institute for Racial Trauma (PNIRT). Through PNIRT, I give talks on racial trauma, anti-racism, allyship and workplace inclusion, with a focus on having conversations about the Black male form and what that entails, including the inherent dangers.
After moving to Seattle about a year ago, I worked at a homeless shelter while pursuing graduate studies and opportunities to focus on DEI work. As an academic, as well as a U.S. Army veteran and former law enforcement officer, I felt like I had this wealth of knowledge that I could use when working with students, faculty and staff to implement DEI into a strategy. I'm continuing to work on my Ph.D. in industrial and organizational psychology. That discipline pairs well with DEI.
What were your experiences like in the military and in law enforcement?
After college, I joined the army. While stationed in Hawaii, I experienced incidents of blatant racism. I was in the military for three years, then I used my G.I. Bill. Because I was infantry, on the front lines, I was qualified to do law enforcement type jobs, so for me that was a natural progression. I returned to my hometown in Texas and worked in the jail. That's when I began to see race-based disparities in who gets arrested for what and why, and who is let go.
Witnessing those massive inequities prompted me to go back to school and get my master's degree in criminal justice. Then I became a probation officer, where I saw even more systemic discrepancies about who gets probation versus who doesn't. I wondered how I could make a positive change.
How did you get interested in working in DEI and higher ed?
Once I realized that I wanted to focus on implementing change, it seemed that academia and academic administration would be a better fit for me. I taught at universities in Houston and in Portland and at both I ended up being the DEI point person.
At Warner Pacific University in Portland and the University of St. Thomas in Houston, I taught courses in psychology and criminal justice. One focused on sentencing and corrections, and many students had no idea about the inequities that people that look like me go through in life. As the faculty advisor for the Black Student Union in Houston, I found myself advocating for marginalized and underrepresented students.
Through examining inequities, having discussions with students and mentoring students, I realized I was doing DEI work. I really enjoyed working with students and opening doors for them while helping them learn to avoid some of the pitfalls that I have experienced. That advising and teaching experience gave me insight into how I can engage students and be there for them.
What are some of your responsibilities as ME's DEI officer?
My main goal is to work with ME and with OIE to create a strategic long-term plan for the department. We want to ensure that the department is more reflective of society itself. Representation matters. I was brought in to implement a plan for DEI and facilitate conversations about race, sex, gender and so on that may be difficult for some.
Being able to look at OIE's strategic plan on a college-wide level and the successes the team has had has been instrumental as I work with ME to create a strategic plan for the department. This means looking at the data, identifying the numbers we want to increase and how we will go about doing that. Metrics will give us a baseline so that we can pinpoint our strategies to recruit underrepresented populations. Diversity isn't always about skin color; it's also diversity of thought and of different backgrounds. For example, what are our considerations for recruiting veterans or people who have disabilities?
So, this summer I'm working on a plan that will roll out in the fall. It will focus on how to create a diverse workforce and grow the faculty and student body. It will also ensure that ME is inclusive of who we represent.
What are you most looking forward to in this role?
I really enjoyed the monthly forums I facilitated for ME last spring. The first one was about George Floyd. I felt that his murder is in many ways the impetus for why I'm at the UW, so I wanted to unpack it with the ME community. The second forum focused on disability and ableism. The final one was about critical race theory, which I felt was important since there's a lot of misinformation about what it is and what it isn't. I look forward to continuing to host forums like these this school year.
Why is it important for an engineering department like ME to embed DEI in all that it does?
Nearly every industry has concluded that diversity increases output and that the more successful businesses are diverse businesses because they're made up of people with different lived experiences and perspectives. I'm not skilled to go into a classroom and teach mechanical engineering, but I am skilled to have discussions about diversity, equity, inclusion and social justice — which is just as important when it comes to educating tomorrow's engineers.
There's still work to be done, but I'm very encouraged by the ME department. ME Chair Alberto Aliseda and Associate Dean Karen Thomas-Brown have been incredibly supportive, and I've been impressed by the work of ME's diversity outreach committee and student groups such as the American Society of Mechanical Engineers (ASME) and the Mechanical Engineering Graduate Student Association (MEGA). All are important vehicles to help educate the department. I've also been impressed by how much female representation there is in ME among students, faculty and staff. I had the chance to attend a "Women in ME" panel last spring, which was amazing. ME is a very male-dominated field, so to see a department really working hard to expand representation is a good thing.
Anything else you'd like the UW and ME communities to know about you?
My door is always open if staff, faculty or students want to stop by. I'm ready to work with people and come up with solutions and plans to make change. I'm here as a resource and my role is to facilitate, so please reach out.
Learn more about diversity, equity and inclusion in ME
The best things we do as mechanical engineers, we do as a team and as a community. We value the perspectives and contributions that each unique individual brings to our discipline.
Originally published July 25, 2022