By Lyra Fontaine
Starting graduate-level studies and research can be a major transition for students. A new ME course offered to master's and Ph.D. students aims to ease that transition and help students become more confident, independent and inclusive engineers.
The "Entering Research" course has two sections: practical research competencies taught by Sara Berk, counseling services coordinator for ME's master's program, and equity and inclusion awareness and skills taught by Corey Clay, ME's diversity, equity and inclusion (DEI) officer.
The curriculum covers research comprehension and communications skills, practical research skills such as rationale for selecting research methods, research ethics, researcher identity, and professional and career development skills. Students receive credits that count toward degree requirements.
"We wanted to support graduate students of all backgrounds," Berk says. "We are excited to offer a class that helps provide a road map for graduate students to succeed in their educational experience."
The course, which was held for the first time in fall 2022, merges research and social justice topics. Berk provided assignments that encouraged student researchers to brainstorm considerations for inviting diverse speakers to campus and to discuss roles and expectations with their lab's principal investigator (PI), while Clay facilitated conversations about topics such as allyship and pay disparities.
Companies are looking for engineers with cultural sensitivity, Clay says.
"The students were happy to have an outlet to discuss diversity, equity and inclusion issues, which led to great conversations," Clay says. "It was wonderful to be able to make those connections. Our goal is to help students become well-rounded engineers."
The feedback for the class was positive, and ME will offer the course again in fall 2023. Below, three ME students share their experiences taking the course and what they're excited to investigate in their research at the UW.
René Arvizu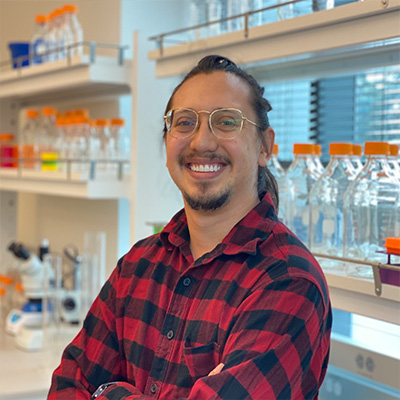 First-year graduate student René Arvizu took "Entering Research" to learn strategies for balancing new responsibilities. "My expectations were to learn how to tackle the juggling between classes, research and personal life in a mindful way," he says.
Arvizu benefited from assignments that included having important conversations with his mentor and from DEI discussions in class, such as conversations about systemic barriers.
"I learned a lot about how the culture and relationship with supervisors and peers should be in a research lab. My biggest takeaway is that the relationship and the environment is as important as the actual research itself," he says. "I also learned that diverse labs provide various points of view that can more effectively innovate in research procedure."
Arvizu is excited to continue his research on microfluidics in Assistant Professor Ayokunle Olanrewaju's lab.
"Being part of the Olanrewaju Lab has been everything I was looking for in graduate school, with great mentorship, innovative research and strong community building," Arvizu says. "I'm thankful for Ayo's mentorship and support. He wants to see growth in his researchers."
Seohyun Park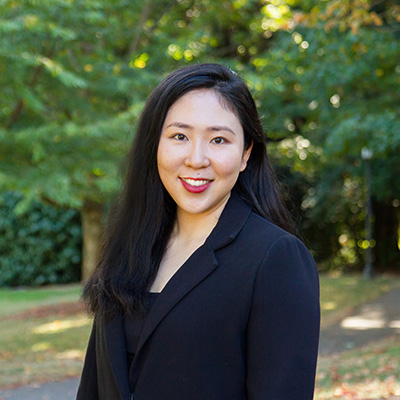 First-year master's student Seohyun Park is interested in researching flexible and wearable electronics, particularly in integrating sensors, actuators and energy-harvesting transducers into a single component.
"I chose to research flexible electronics not only because of their robust functionality but also because they can contribute to prolonging the well-being of humans and the environment," she says.
As Park began her research in the iMatter Lab, she decided to take the "Entering Research" class.
"Coming from a non-engineering background, I wanted to learn the general process of engineering research – from finding a lab and communicating with a PI to developing my own research ideas," she says. "In addition, I was interested in incorporating social justice into engineering research and wanted to learn more about it."
The class helped Park identify essential topics to discuss with her mentor, such as roles, expectations and research procedures. She also found value in learning about diversity and inclusion in STEM. "It validated my beliefs that engineering requires fostering interdependence among individuals," she says.
Ehsan Aalaei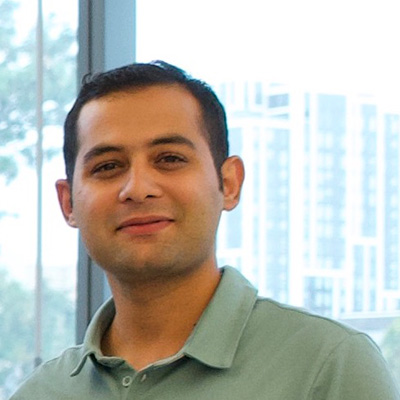 Ehsan Aalaei, a first-year Ph.D. student from Iran, took the course to become familiar with academic and research procedures at the UW and communicate with other students in a safe space.
"As a new international student, communicating in English was a challenge," Aalaei says. "This class provided me with a safe and lively environment to improve my English by communicating with other students in our groups during the class as well as speaking in front of the whole class."
Aalaei says he learned how to support historically underrepresented groups to ensure a healthy workplace for all. Using the skills he learned, Aalaei organized an event at the UW to support Iranian people and women's rights in Iran. In addition, the class helped Aalaei communicate with his PI and research group members.
"It helped me to make a clear plan for my next quarters," he says. "I think these skills and getting familiar with our rights and expectations are essential to doing effective research in academia."
Aalaei is studying cancer under the supervision of Olanrewaju.
"As a researcher and a cancer survivor who knows the sufferings of this disease very well, it is very important to me to do research in this field," he says. "I received a valuable fellowship award, the Milton and Ann Bohart Fellowship, which means a lot to me. I hope to be effective in finding ways to prevent and treat cancer in the years ahead."
Originally published February 13, 2023