Ph.D. candidate and instructor Elijah Kuska is advancing biomechanics research while meeting students where they are.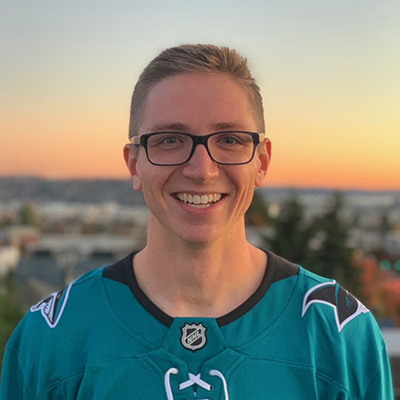 Elijah Kuska discovered the field of biomechanics as an undergraduate student at the University of Dayton. He became fascinated with how it applied mechanical engineering principles to human movement.
"It resonated with me because it could make a difference in people's function and walking," says Kuska, who went on to complete a master's degree in the field at the University of Dayton.
Today, Kuska is a fourth-year ME Ph.D. student who's passionate about improving treatment for individuals with neuromuscular disorders. He's also an instructor who helps students learn about mechanical engineering principles and discover what excites them about engineering.
In the Steele Lab, Kuska focuses on modeling and simulation of gait in individuals with neuromuscular disorders, specifically cerebral palsy. Cerebral palsy is a disorder caused by an injury to the developing brain primarily affecting one's coordination and ability to control their muscles, known as altered motor control. Kuska simulates changes in neuromuscular control and investigates how those changes affect an individual's walking pattern, function and fatigue.
"I utilize modeling and simulation to inform clinicians, helping them to better understand how changes in neuromuscular control affects walking and function," he says. "Modeling and simulation allows us to ask fundamental questions that we're unable to investigate experimentally. We hope this research can help inform clinicians so that interventions and treatments are more effective."
Common cerebral palsy treatments include physical therapy, assistive devices and orthopedic surgeries, which mostly focus on targeting weakness, muscle rigidity and spasticity. Previous work in the lab found that these treatments don't improve motor control in children with cerebral palsy. Thus, altered motor control persists in children with cerebral palsy. Kuska's work suggests that treatment should focus on motor control, in addition to other impairments, to more effectively improve individuals' function and mobility.
Joining the Steele Lab, run by Kat Steele, the Albert S. Kobayashi Endowed Professor in Mechanical Engineering, was a major factor in Kuska's decision to pursue his Ph.D. at the UW.
"Kat is a prolific member of the biomechanics community who I look up to, and I feel a strong sense of community in the lab and ME department," says Kuska, who also enjoyed fostering community through participating in the Mechanical Engineering Graduate Student Association (MEGA).
Accessible teaching using real-life examples and emojis
Teaching has been an important part of Kuska's academic experience. He was recently a primary lecturer for ME 230: Kinematics and Dynamics, a large class that many engineering students take. Inspired by his mentor and previous co-instructor, Samantha Hoang ('22 Ph.D.), Kuska took an interactive approach to teaching, using polls and group projects to boost participation.
He created simulations to help students understand complex problems, and each lesson had a "real-life assignment" to help students understand how concepts learned in class applied to areas that interested them. For one assignment, students found examples of systems where potential energy is converted to kinetic energy – such as a bow and arrow, pinball machine, rollercoaster or hydroelectric dam – and described how the energy is stored, released and conserved.
Committed to accessibility, Kuska opted to continue hybrid teaching throughout the past school year. Students could access lectures in-person or remotely, both live and asynchronously. They also had an online platform to discuss topics covered in class with Kuska and their peers. Similarly, he offered office hours in-person and virtually. By providing many modes and mediums to learn, he enabled more options and flexibility for students, including for those who could not attend class for medical reasons or because they work a full-time job.
"My three teaching pillars are constant feedback, building connections and accessible learning," he says. "Making courses accessible to all is a fun challenge, and one I think all teachers must do."
Kuska enjoyed connecting with students through jokes, asking questions and using emojis to help students engage remotely and in-person. Emojis were particularly effective when soliciting feedback from students about their comfort with the subject matter. If students weren't up for talking in class, they could respond via "thumbs-up" or "thumbs-down" emojis on their computer. He continued his lighthearted approach to engagement throughout the course, and in the final days of class, he invited students to make memes about the class. Students created memes with jokes about dynamics coursework and his teaching style.
At the end of the course, students gave Kuska a big "thumbs-up": His teacher evaluation scores were the highest that an ME 230 teacher had ever been given.
Starting in January 2024, Kuska will serve as an assistant teaching professor at the Colorado School of Mines, teaching project-based learning courses as well as dynamics and biomechanics. In his new role, he hopes to continue to inspire students to pursue their engineering interests.
"I had a lightbulb moment while teaching," he says. "I realized that this is what I'm meant to do."
Originally published May 30, 2023