By Chelsea Yates
November 2, 2016
An alumnus who aligned his passions for diving and oceanography with mechanical engineering, Glenn Piper, '80, spoke with ME about the value of hands-on learning.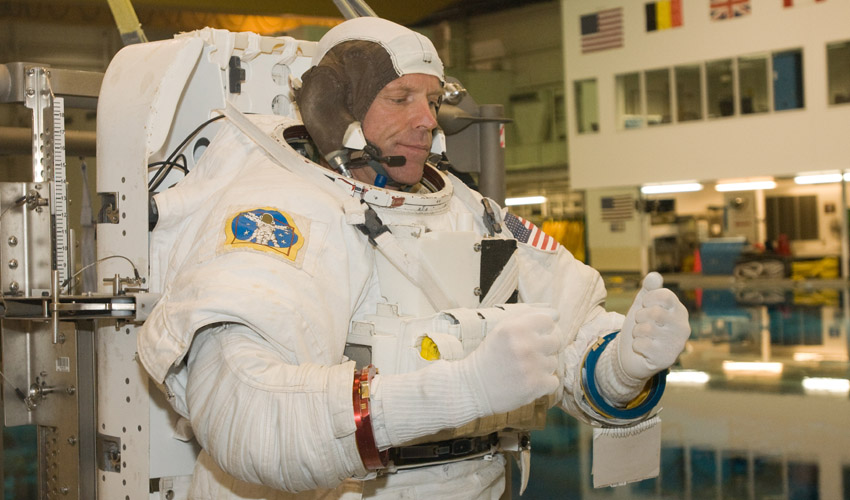 Glenn Piper at NASA's Neutral Buoyancy Lab.
Glenn Piper, '80, has rescued stranded oil tankers from coastlines, cleared sunken ships from ports across the globe, repaired submarines and prepared NASA astronauts for space travel. An alumnus who aligned his passions for diving and oceanography with mechanical engineering, Piper recently spoke with Mechanical Engineering about the value of hands-on learning and why he and his wife Heidemarie (Heide) Stefanyshyn-Piper, a former NASA astronaut and naval engineer, choose to support UW students and programs.
ME: You graduated from the UW in 1980 with a degree in mechanical engineering. Then you attended MIT for grad school. How did you get involved with undersea salvage and rescue?
GP: In high school I loved scuba diving and was very interested in oceanography but also in fixing things. I've always been a bit of a "Mr. Fix It." I enlisted in the U.S. Navy after high school graduation and was stationed for a time on the Washington coast. I loved the Puget Sound and the people. Upon being selected for an officer conversion program (a program that gives enlisted servicemen and women an opportunity to earn commission as officers), I decided to attend the UW. After graduating from the UW, I qualified on submarines and entered the Navy's Engineering Duty Officer community and MIT's mechanical engineering program to focus on marine engineering. That's where I met Heide, who was studying mechanical engineering through a Navy ROTC scholarship.
After graduation from MIT, we both attended Navy Dive School in Panama City. As Engineering Duty Diving Officers, we started our careers in diving, salvage and ship maintenance—repairing Naval surface ships and submarines and managing diving teams. Throughout our time in the Navy, we supported each other and accomplished things we could not have done alone.
ME: Tell us about some of the salvage and rescue projects you assisted with.
GP: Heide and I have been involved with the search, salvage and repair of ships, aircraft and spacecraft. In the 1980s, we worked on the plan for the Peruvian Navy's salvage of the Peruvian submarine Pacocha. We also developed the plan for the de-stranding of the tanker Exxon Houston off the coast of Oahu in Hawaii, after the ship had broken loose from its anchoring during a storm.
I was also involved in the salvage of the Space Shuttle Challenger and the removal of sunken ships blocking ports in Honduras and Eritrea. In Eritrea, the wreck removals allowed United Nations' food aid to reach the country, which was experiencing a massive famine at the time. Most recently I was a member of the onsite team investigating the sinking of the Korean ROKS Frigate Choenan by North Korea.
Heide Stefanyshyn-Piper and Glenn Piper training at Johnson Space Center.
ME: Your wife was selected by NASA as an astronaut candidate in 1996; did your line of work change, too?
GP: We moved to Houston so Heide could begin astronaut training, and I initially worked as a contractor, then later as a government civilian employee, at NASA's Neutral Buoyancy Lab. Astronauts train for External Vehicular Activities (EVAs), also known as space walks, underwater in a large pool that is 100 feet wide by 200 feet long by 40 feet deep. My team built the underwater mock-ups and training structures for them at Johnson Space Center. I was a part of the training for the STS-126 team—it delivered equipment and supplies to the International Space Station in 2008 on the Space Shuttle Endeavor. This experience was especially memorable because Heide was on this team. It was her second spaceflight.
ME: In what ways did your experience at the UW help set you up for success in your career?
GP: I'm very much a hands-on person, and I benefited greatly from mechanical engineering professors William Love and Dale Calkins, who taught mechanical engineering and design. They both helped me understand the importance of learning beyond textbooks. Of course, foundational, textbook-based studies are important, but not everyone learns best that way. These two professors were proponents of learning by experiencing. Through them I had the opportunity to carve my own path. I realized that, in order to learn, I had to do—to work with my hands, to create, build and test—and both of these professors gave me the space to grow.
ME: What's your favorite memory of being at the UW?
GP: Honestly, whenever I think about my time at the UW, I mostly remember the classes and the amount of studying! But I was fortunate in that I never felt like I was alone—even though the coursework was challenging at times, my classmates and I relied on each other. We pushed each other, and we were there for each other. That feeling of connection, of camaraderie, drove me to do my best and to evaluate things from other perspectives—to work as a team and learn from one another.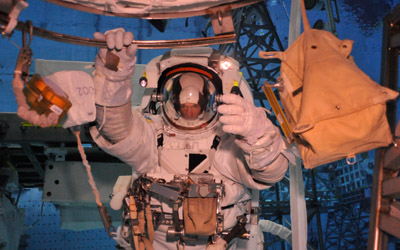 Glenn Piper working on an underwater training structure.
ME: For years, you and your wife have been advocates for students through your support of student clubs, such as the Human Powered Submarine Team, and access programs like STARS. What is it about these teams and programs that interests you most?
GP: We value programs that help students create in-roads into engineering in a variety of ways. Programs, like STARS, set up students from underserved, low-resource high schools and communities for success in math and science classes. We're interested in helping students see a place for themselves in engineering, no matter their background or abilities or supposed barriers.
We also strongly believe in the value of experiential learning and community, and many of the clubs and teams offer just this. As a diver and submariner, I'm a bit partial to the Human Powered Submarine Team, but it's just one of many student-run groups that opens pathways to learning beyond textbooks, computers and lectures. Participating in clubs and teams can push students to think in creative ways, take risks and work together.
ME: What advice would you give to undergraduates today?
GP: The university experience—the Husky Experience—is so much more than classes and grades. Find students who share your passions and interests and work with them—through clubs, organizations, teams and so on. These opportunities will enhance your classroom learning, and they'll make the whole experience of college more meaningful and rewarding.
Learn more about Mechanical Engineering and the many programs and clubs that are open to engineering students at the UW.