By Lyra Fontaine | Photos by Dennis Wise / University of Washington
Ph.D. candidate Malia Steward shares her journey to researching renewable energy and how she's working to improve solar cell efficiency.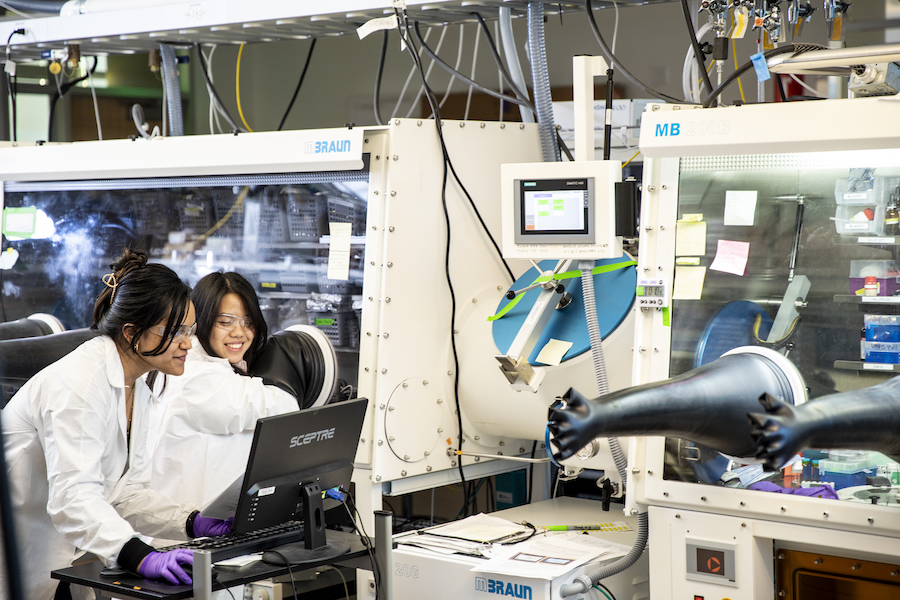 ME Ph.D. candidate Malia Steward's work focuses on solar energy – the fastest-growing source of new electricity in the country, according to the U.S. Department of Energy. Photovoltaic or solar cells are made of semiconductor material that absorbs the energy of sunlight and converts it to electrical power.
Steward finds the process of building solar cells layer-by-layer using microfabrication equipment, then using tools to measure the cells' performance, to be immensely satisfying.
"When you change a specific layer of the solar cell, you also change the overall performance, either for better or for worse," she says. "A high-performing solar cell excites me because it tells me that my original hypothesis – such as changing the thickness of a specific layer or modifying the semiconducting layers – was correct. This encourages me to expand further into the work with additional experiments, possibly discovering something new along the way."
Steward aims to understand solar cells' ability to convert light into electricity, as well as other contributing factors to their performance – including the surface's appearance on a tiny scale, the surface's profile and its light absorption. She also researches how placing solar cells within 3D textured structures can trap sunlight to generate more electricity.
The importance of mentorship
Steward's interest in renewable energy began as an electrical engineering undergraduate student at the UW Bothell, where she transferred after completing prerequisites at Bellevue College. She began participating in solar cell research led by Seungkeun Choi, associate professor of electrical engineering at UW Bothell. She went on to earn bachelor's and master's degrees from the program, continuing her research with Choi as a graduate student.
Throughout the years, Choi's mentorship has helped Steward stay motivated, even when experiments became frustrating and repetitive.
"Having a good mentor who sees something in you is a prized possession to hold onto," she says. "My mentor has had a huge impact on my academic career, for which I am incredibly grateful."
After completing her master's degree, Steward considered going into industry, but Choi encouraged her to apply for the National Science Foundation (NSF) Graduate Research Fellowship Program. Steward ended up receiving the award, and she decided to pursue her Ph.D. studies.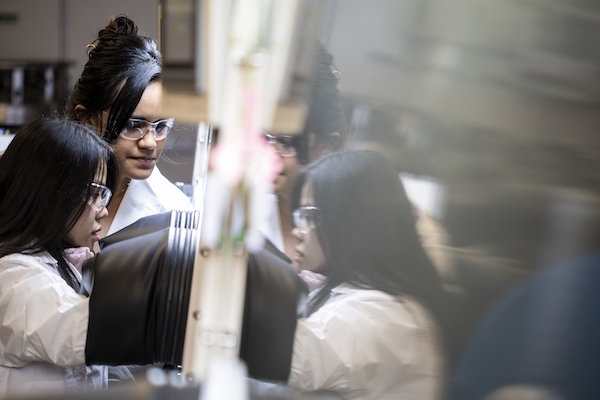 Steward's electrical engineering background allows her to understand the conversion efficiency of solar cells and the amount of power that can be generated. However, she wanted to gain a deeper knowledge of material properties and how to create textured surfaces, which would require an understanding of advanced materials and manufacturing – one of ME's research areas.
She chose the UW's ME department for her Ph.D. program because of the faculty, the access to the Washington Clean Energy Testbeds at the Clean Energy Institute (CEI) and the microfabrication equipment in the Institute for Nano-Engineered Systems (NanoES). While continuing her solar energy research with Choi, she's also conducting research with J. Devin MacKenzie, Washington Research Foundation Professor of Clean Energy and an associate professor in ME and materials science and engineering.
Steward credits support from ME faculty like MacKenzie and staff, such as her adviser Wanwisa Kisalang, for her success in her Ph.D. studies. She's also enjoyed being a teaching assistant for the CEI course Energy Materials, Devices, and Systems, which enables her to share her research with students across a variety of disciplines.
"It's exciting to see how the students react to their first exposure to measuring a solar cell after they fabricate them by hand," she says. "Because the students are from various disciplines, they ask questions based on their understanding and knowledge upon analyzing the data. I respond in a way to answer their questions that makes sense to them, and our collaboration also helps me to look at my own research from a different perspective."
Related story
Clean energy research
A multi-disciplinary course is training students across the scales of clean energy — from materials and devices to storage and power grid integration.
Improving solar cell efficiency
One part of Steward's research focuses on how the different conditions of solar cells – such as changing the semiconductor's thickness, altering the softness of the polymer that serves as the solar cell's base or adding a wrinkled structure – can impact its light absorption and ability to generate electric power.
Another part involves depositing solar cells on wrinkled, textured structures. Typically, solar cells are mounted on a flat, solid glass sheet under a semiconducting polymer. When the sunlight bounces against the semiconductor and the top electrode, the semiconducting polymer can only absorb the sunlight once. Steward is exploring how 3D textured surfaces can trap the light and lead to multiple bounces within the semiconductor.
"When incorporating light-trapping structures, you can enhance light absorption within the semiconducting layer," she says. "You're able to harvest more sunlight due to the multiple light trapping capabilities, which involves scattering and increasing the path length of light within the semiconducting layer. As a result, this can improve solar cell efficiency."
Steward is excited about the potential applications of her research – the creation of wrinkled structures could lead to more efficient organic-based LED lighting, for example.
"It's exciting to be part of a field where your time dedicated to studying and research will help create impact," she says. "It's a pivotal time for students and researchers to collaborate and bring in new, innovative ideas to help make significant, positive changes to the planet, such as combating climate change."
Originally published December 20, 2022