Composite Shop
For Composite Shop updates and news, sign up for the MEcomposites mailing list.
Safety orientation
All users of the Composite Shop equipment, including the autoclave, hot press, and fabric cutter, must complete a lab safety orientation session before working in the shop.
Check the safety orientation calendar for upcoming sessions, then e-mail Michelle Hickner at mhickner@uw.edu to register for a session. Orientation sessions are mainly held in the first few weeks of each quarter.
Equipment scheduling
To schedule time on Composite Shop equipment, use UW CORAL. You must register for an ME Shops CORAL account before scheduling equipment.
Equipment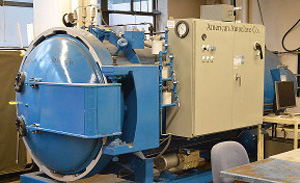 Autoclave 3' x 8' (American Autoclave)
Maximum part dimensions are approximately 31"(H) x 33"(W) x 101"(D)
3 vacuum ports available
CNC Fabric Cutter (Autometrix Advantage)
Maximum fabric dimensions are 62" x 94"