The Mechanical Test Lab has facilities for quasistaticload testing, cyclic fatigue testing, and a drop tower for impact testing. Also available are a variety of extensometers, load cells, and grips.
Instron test frames
Scheduling
E-mail Bill Kuykendall at billkuyk@uw.edu to schedule an appointment on the Instron load frame, in MEB Room 127. Check availability to see when the equipment is booked. Scheduled classes have priority on this equipment, which means that there are limited appointments available on weekday afternoons during autumn and winter quarters.
If you need assistance with fixtures or other aspects of your setup, please contact the lab engineers at least 24 hours in advance of your appointment. When deciding how much time your tests will take, please allow for adequate time to install and remove your fixtures.
Instron 5585H 250 kN electro-mechanical test frame
For quasi-static load testing in Tension and Compression. Block programmable for low-frequency (< 1 Hz) cyclic testing.
Two load cells available: 250 kN and 2.5 kN
A variety of fixtures are available- talk to the lab engineers about appropriate fixtures for your project
Instron 8511 20 kN servo-hydraulic test frame
For cyclic-fatigue or quasi-static load testing in Tension and Compression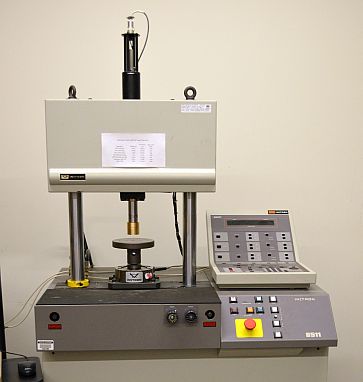 Instron Dynatup 9250HV impact tester
Drop-Tower for impact testing. Environmental chamber option allows testing from -40°F to +350°F.